Best Western Grand Strand Inn & Suites
1804 S Ocean Boulevard Myrtle Beach, SC 29577-4634
1-800-987-9852
Chat Now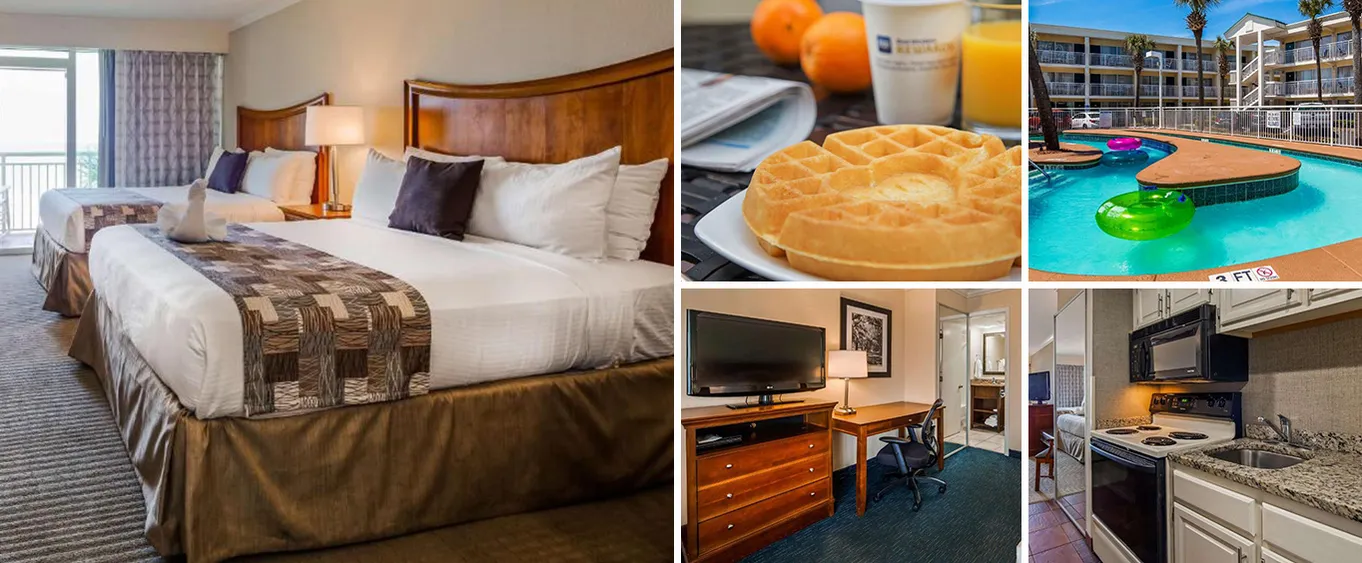 Related Lodging by Category:
Best Western Grand Strand Inn & Suites Nothing compares to a stay at Best Western Grand Strand Inn & Suites on Myrtle Beach. The beachfront hotel overlooks the famous Grand Strand extending more than 60 miles. While at the Atlantic Ocean city, visit Ripley's Believe It or Not Museum. Only two miles from the hotel, you have a chance to view the wackiest exhibits worldwide. Get rolling with thrilling rides and games at Family Kingdom Amusement Park a mile away. Delight in an almost similar experience at Radical Ropes Park on 19th Avenue. Also, marvel at exceptional themed artifacts in William H. Miller Studios. Other intriguing attractions include the Art Museum, Brookgreen Gardens, and Collectors Café. Best Western Grand Strand Inn & Suites offers guests a chance to choose where to stay. You can either live at the oceanfront building or the other one across the street. Delight in the continental breakfast buffet served in the main building daily. Afterward, sunbathe at the beach or swim in heated pools and tubs. Later, take a river cruise and explore loads of scenic beauty on the way. The family apartments have high-power internet, flat-screen TVs, microwaves, and fridges. On request, you can get coffee makers and ironing facilities. Most impressive, the facility allows guests to bring pets on board. Altogether, Myrtle Beach International is only 1.7 miles from the hotel. Sports diehards can have a field day at John T Rhodes Myrtle Sports Center. Downtown Myrtle offers some of the best Sushi spots like Art Burger Sushi Bar. Sample other delicacies at the Drift, Luigi's Trattoria, and Mediterranean Bistro. Additionally, the area boasts several shopping malls and centers. Recommended spots include Myrtle Beach Mall, Hudson's Flea Market, and Barefoot Landing.
Visitors can also browse other great lodging options like the Hilton Myrtle Beach or check out fun activities like shark fishing Myrtle Beach, Medieval Times Myrtle Beach, Legends Show, or Ripley's Aquarium of Myrtle Beach to complete their vacation packages to the area.
Reviews

Sandi Metcalf
Marshall, NC
✓
Verified Traveler
Great hotel, friendly staff, fabulous breakfast, clean rooms, and a great pool. Beautiful stretch of beach. Very close to everything. This is on the south part of the beach though, so be aware.
Tip: We saved a little money by staying in the main building, across the street from the beach.

Carol Mitchell
Seabrook, NH
✓
Verified Traveler
I had a room on the ocean front this time and have decided that i want that room anytime i go there. The view and cleanliness of the hotel is impeccable. The employes there are the best. Breakfast (and theresa) was always perfect and never lacked a thing!

C. Mitchell
Seabrook, NH
✓
Verified Traveler
Since we drove down, we got there 2 days earlier than our reservation. They were kind enough to give us the same room that we were going to have in the beginning, so we did not have to move. We had a slight prob. With the fridge, but we went out and came back to find another one in it's place. The staff goes above and beyond to make you feel very welcome. I want to go back there again....Soon.

Mike Denoncourt
Ogdensburg Ny 13669
✓
Verified Traveler
This best hotel i ever stay at the people are awesome took real good care of me i would go back again they know how treat people right. Awesome job mike h wayne c fred b
Book Now!