Good Vibrations: Best Of The 60s, 70s & 80s at The Carolina Opry
Location: The Carolina Opry,
1-800-987-9852
Chat Now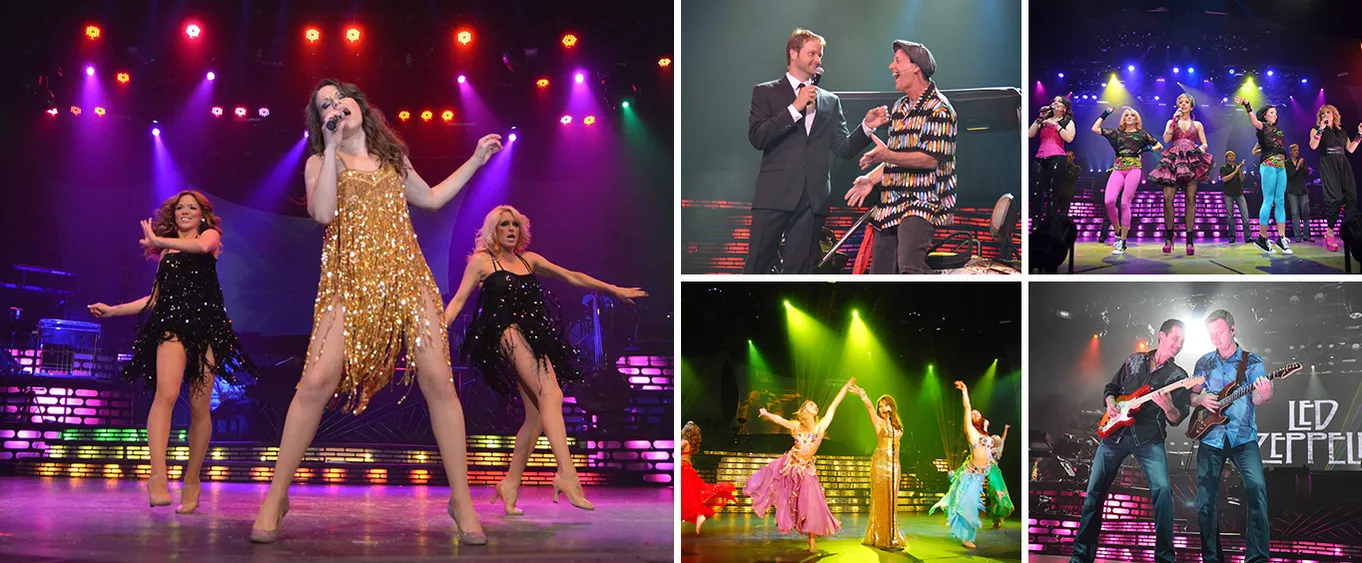 As a performing center that has gained national acclaim, the Carolina Opry continues to be voted Best Show by readers of the Myrtle Beach Sun News for their entertaining music show. Whether you are a longtime music fan of the past eras or want to share some classic music with your loved ones, the Good Vibrations: Best of the 60s, 70s, and 80s show is certain to delight!
Started by Calvin Gilmore, a skillful musician, the Carolina Opry is credited with putting Myrtle Beach on the map as a music hotspot. Now, the performers continue to wow audiences with a special Good Vibrations show featuring music from the 60s, 70s and 80s. This extraordinary upbeat variety show explodes with 36 talented singers, dancers, musicians and comedians who delight audiences and have created quite a buzz in the music world. Tap along with some of your favorite artists and music from the past!
Performing familiar music mixed with comedy and dancing, the entertainers continue to create more and more fans of the show. You will soon be a fan too, after experiencing the high-energy, diverse musical numbers performed by these extremely talented people. This show is fun for the whole family, and will definitely make for a great evening of music, laughter and memories when you visit Myrtle Beach. Book tickets today for a great full day of shows on your next vacation.
Reviews

Carol Mitchell
NH
✓
Verified Traveler
"Best variety show on the beach."
Best variety show on the beach. The male tap dancers were my favorite. Cheech and chong were hysterical. Many of the entertainers sounded like the original artists and the comedy part was great. They let you take pictures in there as well. We loved it. Cheech and chong rode onto the stage in an old car and got out along with a cloud of smoke. It was just great.

S. Berry
SC
✓
Verified Traveler
"We really enjoyed this show."
We really enjoyed this show. Carolina opry is one of our favorites any time of of the year. This show was so neat and hearing all of the tunes from my teenage years was awesome!

C.J. Bordeaux
NC
✓
Verified Traveler
"You will enjoy all the Opry shows, I guarantee it!"
Having seen all the other opry shows we were excited in august 06 to finally see the good vibrations show. It was absolutely a hit! The music was authentic and brought back so many memories. The cast always impresses me with their talents in both singing and putting on the show. For us baby boomers this show is a must. You will enjoy all the opry shows, i guarantee it!

Bob Boyd
GA
✓
Verified Traveler
"Its a great experience for all ages!"
Good vibrations was one of the most enjoyable shows i've seen. Its a great experience for all ages!