Kirby VanBurch Magic Show
Location: Crystal Theatre at the Lodge of the Ozarks,

Description
Kirby VanBurch Magic Show Photos (9)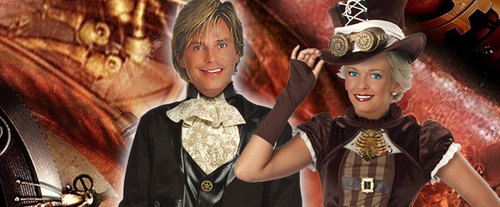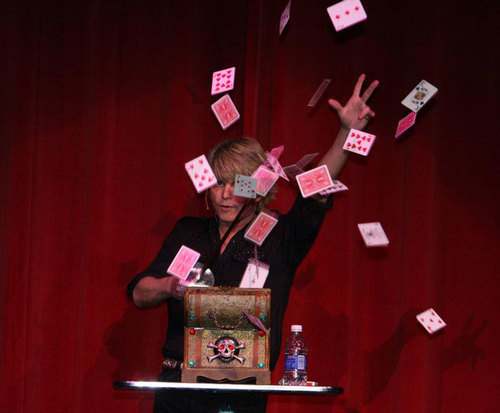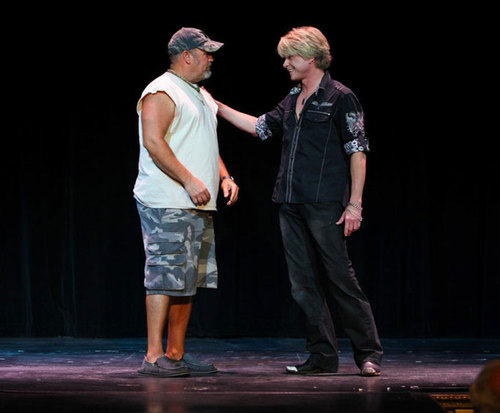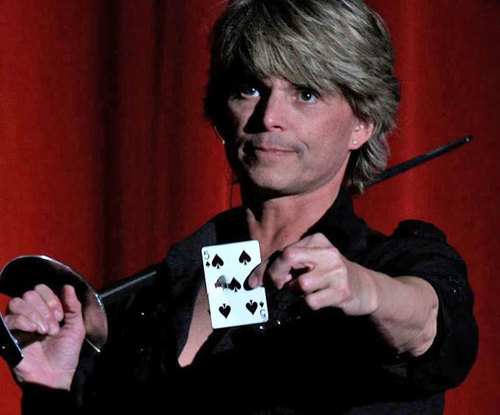 Kirby VanBurch has performed in over 23 countries, wowing audiences worldwide with his skill in his trade. He now offers a tremendous up-close show complete with amazing showmanship and perfected illusions. Trained by the legendary Siegfried & Roy, Kirby has practiced and sharpened his skills and tricks of the trade, earning the title 'Prince of Magic'. See the magic man and his stunning assistant Bambi VanBurch in action as they bend reality to create illusions that will have you wondering how they do it.
The up-close and personal show brings a new light to Kirby's talents as he and Bambi spend time in the audience, where there is virtually no way to miss the magic. You can expect plenty of audience interaction as he shows his prowess in Sleight of Hand and other perplexing illusions that will leave you wondering where you can learn tricks like that! Be prepared to witness amazing disappearances, Sleight of Hand, swordplay and card tricks, and impressive levitation.
You'll watch in awe at the two performers' teamwork, as well as their individual skill as they give you glimpses into the world of magic. They will spend a majority of the show in the aisles of the theater, giving you a personal look at their tricks and illusions. Bambi will amaze you with her unique mind-reading skills while blindfolded onstage, and disappear completely as a part of Kirby's mind-boggling magic tricks. You'll be amazed by these two magicians and their expertise in the world of magic, and you'll want to come back to experience the show again and again.
About Kirby VanBurch
Kirby's fascination with magic began at the age of seven, and ever since his passion has entertained friends, family, and larger crowds with breathtaking illusions. Starting small, he mastered small simple tricks and went on to conquer bigger, more dangerous and difficult feats. Kirby became the youngest star in downtown 'Glitter Gulch' when he moved to Las Vegas, and success and fame quickly followed. Gaining national attention with an escape stunt that could have cost him his life, VanBurch was inducted into the Ripley's Believe it or Not! museum collection. He has performed in over 35 countries worldwide, and was invited to perform at the Royal Palace in Thailand, earning his nickname 'Prince of Magic' from the Princess of Thailand. He was also named 'World's Best Illusionist' at the 2008 World Magic Awards.
About Bambi VanBurch
Bambi began her show business career at the age of five, performing on dance teams through high school and college. She moved to Branson with her family and auditioned for the Kirby VanBurch Show as a dancer/assistant. Before long, she was a leading female magic assistant falling in love with the art of illusion. Shortly thereafter, she was performing her own illusions on the show and has earned titles such as 'International Female Magician of the Decade', 'Illusionist of the Year', and 'International Female Magician of the Year' from 2007-2009.
Awards and Accolades
Merlin Award - Magician of the Year
Merlin Award - Entertainer of the Year
World Magic Award - World's Best Illusionist
Reviews
4.6 |
110 reviews
Stacy
MO
✓
Verified Traveler
A few weeks ago we visited branson. Needless to say, with a young child that really digs magic. We saw every magic show that branson had to offer, including the sivlver dollar city sideshows. Kirby and bambi, by far, were the absolute best illusionists. Not to mention their wonderful personalities off of the stage. My son went on stage with him for an act and got to take pics with bambi and kirby after the show. Wow was my son excited!! Not only are they great magicians they have wonderful hearts.Thanks kirby and bambi we'll be back at the end of the summer to see the spectacular show again!!
Gary and Pam Killion
Fairview Heights Ill.
✓
Verified Traveler
We have taken our grandson to branson for the past five years and kirby is the one show we see every year. We are going back in june and i am booking our tickets today. [this is a must see show] last year kirby stayed after the show and worked with our grandson on a magic trick for two hours. God bless you both
Joseph
MO
✓
Verified Traveler
Far from amateurs, both kirby & bambi are international award winning magicians and when you see their show, you will not believe your eyes. They repeatedly perform mind boggling illusions both individually and together. You'll laugh yourself right out of your seat when kirby brings a child on stage to help with an illusion. The child has a good time and is rewarded quite well as a thank you. (sorry, not going to spoil the surprise of what the gifts are, but i know of no child who would not be absolutely thrilled.)
William Hollerman
Rensselaer, Indiana
✓
Verified Traveler
We loved the show and still wonder how they performed the various illusions
MOST POPULAR THINGS TO DO
IN MISSOURI