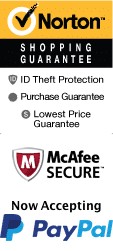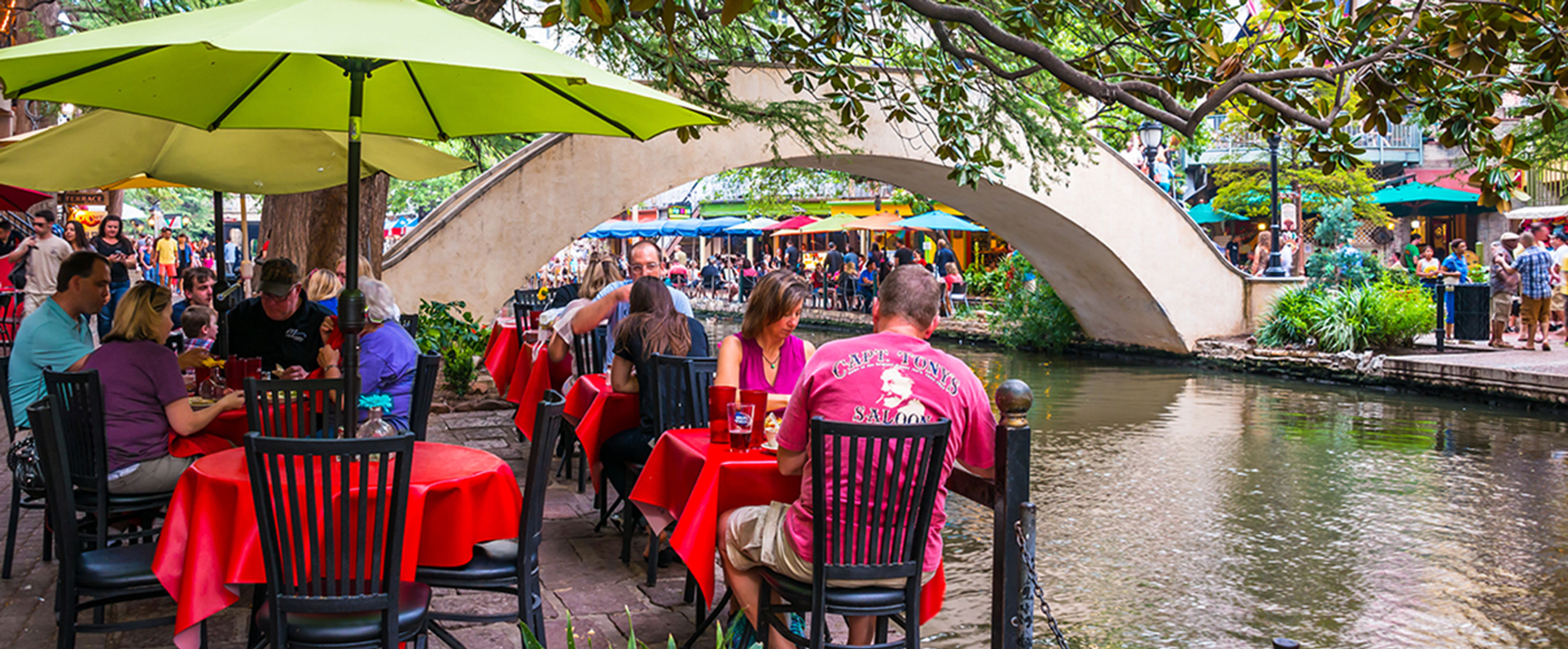 Guide to the Riverwalk
One of the most iconic and coveted places in San Antonio, TX is the Riverwalk. With gorgeous riverfront views and a plentiful selection of restaurants, attractions, and shopping options, spending a day on the Riverwalk is one of the best ways to get to know the city. We've compiled a helpful list of some of the hottest places on the Riverwalk to make your vacation easy!
Historic Landmarks / Parks
There are some iconic places you won't want to miss out on seeing when you travel to San Antonio, TX. From the Alamo to one of the great parks in the area, be sure to check them out!
The Alamo
300 Alamo Plz, San Antonio, TX 78205
You truly cannot experience the essence and wonders of San Antonio, TX without a visit to the Alamo. This iconic landmark is a must. As the site of the Battle of the Alamo, this landmark is important to Texas history as it was the turning point to Texas independence. As such, it is perhaps the most important place that you could visit in the area. The Alamo offers extensive tours and exhibits that detail the Battle, the Texas Revolution, and Texas history, making it a great stop for guests of all ages. Visitors can check out the museum, many artifacts, and explore the Alamo Garden.
San Fernando Cathedral
115 W Main Plz, San Antonio, TX 78205
As a designated Historic Landmark, this stunning cathedral offers a glimpse into the vast history of San Antonio. Constructed in the 1730s, the Catholic Cathedral is a gorgeous testament to the rich culture of the area. Today, it is used as a gathering place for weddings, baptisms, performances, and many tours that allow visitors to explore its beauty, history, and impact on San Antonio.
Travis Park
711 Navarro St, San Antonio, TX 78205
As one of the eldest parks in San Antonio, Travis Park has a rich history. The park has hosted events and many different festivities since its establishment in 1870. Spanning an impressive 2.6 acres, the park combines the contemporary feel of its modern urban vibe and its history. There are many festivals and other celebrations held here throughout the year, and guests can even enjoy adventures like carriage rides in the park.

Hemisfair Park
434 S Alamo St, San Antonio, TX 78205
As the official site of the 1968 World's Fair, Hemisfair Park is one of the most iconic places in the city. Within this park district, visitors can check out places like Yanaguana Garden, a landscaped area for the kiddos including a Sand Play area and Splash Pad. There are also many different events held in the park, from festivals to family-friendly gatherings. It's a great place for a picnic or to help the kiddos burn off some energy during your vacation!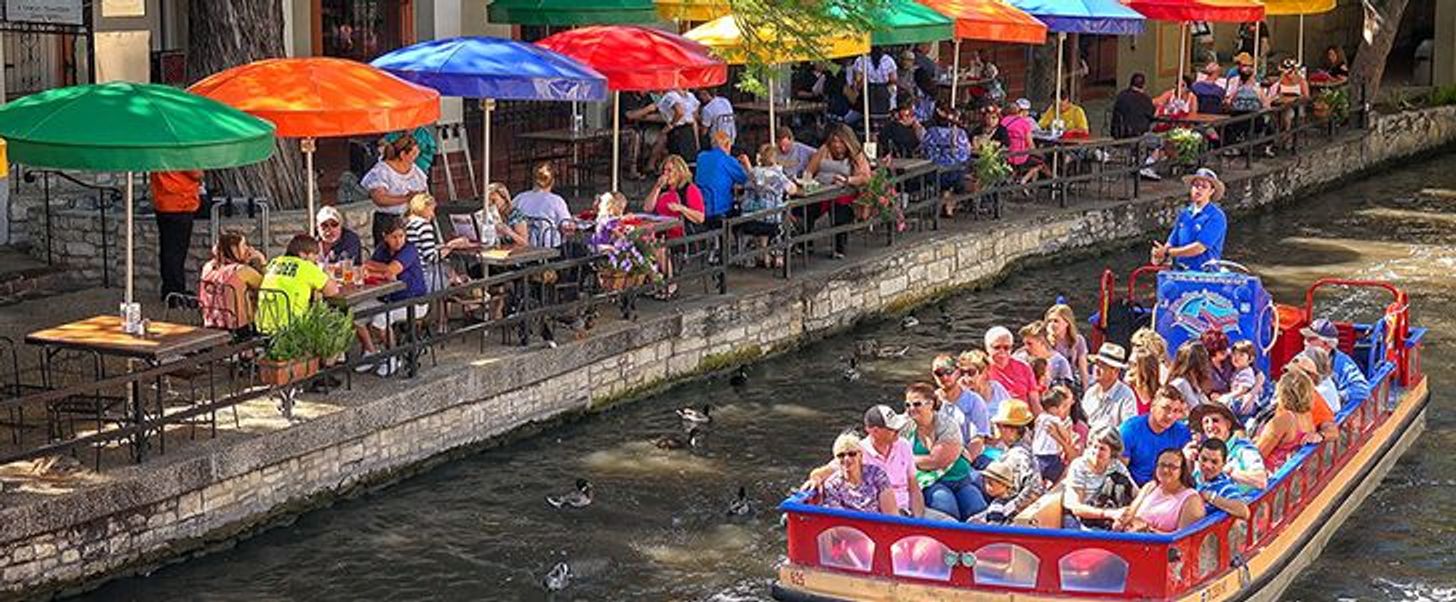 Attractions (Prices Vary)
Whether you want to hop on a Riverwalk Cruise, visit Legoland with the family, or check out the history of the cowboy culture of San Antonio at the Buckhorn Saloon, there are many different affordable attractions and adventures to book while visiting the city.

Go Rio Cruises
849 E. Commerce Street San Antonio, TX 78205
Take a narrated river cruise along the Riverwalk for an exciting time! As you set out on the gorgeous and well-maintained Go Rio Riverboats, you will be able to see some of the best restaurants, attractions, and shopping opportunities on the Riverwalk. These vibrant and colorful adventures are the best way to get to know the Riverwalk. Each tour lasts approximately 35 minutes.
LEGOLAND Discovery Center
849 E. Commerce Street Suite 910, San Antonio, TX 78205
Bring the entire family along for a day of creative fun at San Antonio's LEGOLAND Discovery Center. Everyone loves LEGOs, and at LEGOLAND, you can embrace your inner child with tons of fun building opportunities and hands-on exhibits. Get the creativity flowing and create something awesome on your vacation!

Ripley's Attractions
301 Alamo Plaza San Antonio, TX 78205
Experience the wacky and wild parts of the world at Ripley's Believe It or Not Museum and the other Ripley's attractions found at the Riverwalk. There are four different Ripley's attractions to enjoy: the Odditorium, Ripley's Illusion Lab, Louis Tussaud's Waxworks, and Ripley's Moving Theater.

Tower of the Americas
739 E Cesar E. Chavez Blvd, San Antonio, TX 78205
The Tower of the Americas is an impressive attraction that towers 750 tall over the Riverwalk. It affords some amazing 360-views of the San Antonio skyline and features a 4D theater, gift shop, and a cafe where you can grab a bite to eat.
Buckhorn Saloon
318 E Houston St San Antonio, TX 78205
Explore the history of San Antonio at the Buckhorn Saloon and Museum. This venue was established more than a century ago. It features two different museums as well as more than 500 species of taxidermied wildlife. Learn all about the cowboy history of San Antonio, and be sure to grab a bite to eat at the Saloon as well!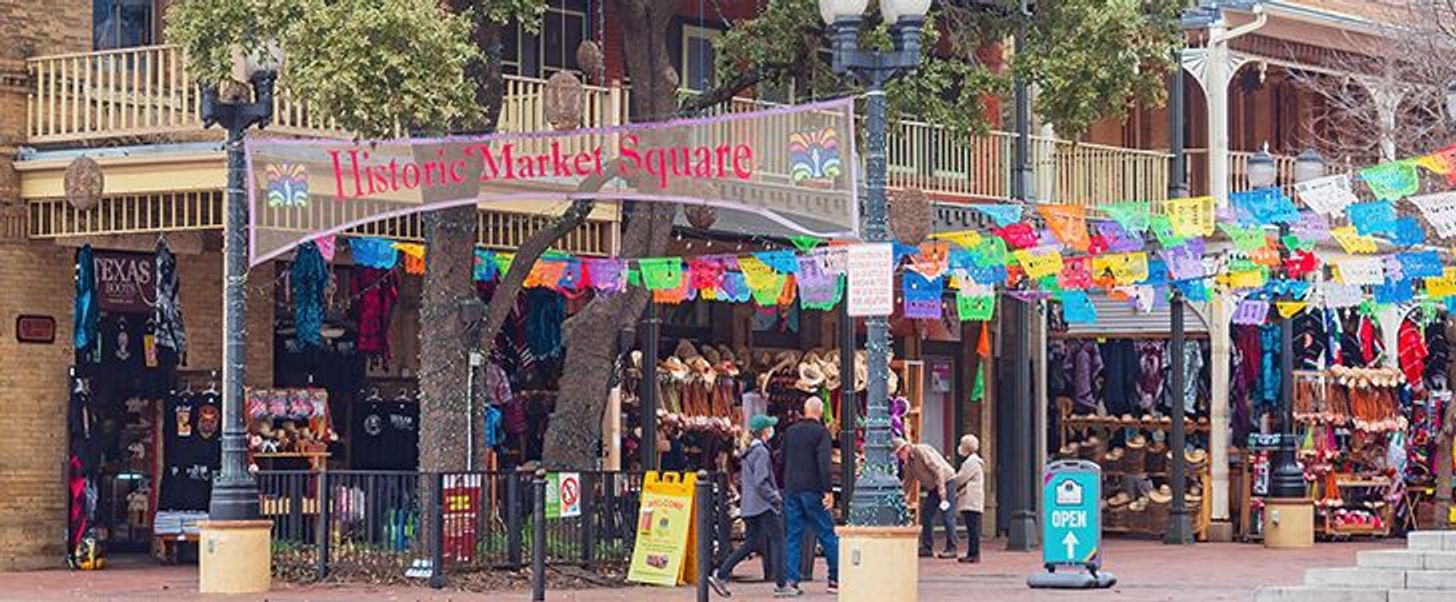 Free Things
Whether you are visiting San Antonio on a budget or just want to make the most out of a full itinerary by enjoying some free adventures, there are plenty of great adventures to attend! These free activities are great for the entire family. Just walking along and browsing the Riverwalk can be great, as you can enjoy some fantastic scenery and get to know the culture and history of San Antonio. Since it is a public park, just visiting the Riverwalk by itself is free, so you can enjoy all of the cultural events and fun!
Tour the Alamo Church
Touring the Alamo Church is free, offering a unique glimpse into the history of this iconic place. Visitors will be able to explore the inside of the church for thirty minutes and marvel at its stunning architecture. It is a peaceful and lovely experience!
Attend a Riverwalk Festival or Event
There are many things going on throughout the year at the Riverwalk. Guests will find a variety of events to enjoy, including festivals like:
Fiesta de Noche del Rio (June - August)
From June to August, guests can witness the colorful performance of Fiesta de Noche del Rio. Its goal is to raise money for local charities, so a donation is welcome but the show is free.
Fiesta de las Luminarias (Weekends in December)
This glowing celebration sees the Riverwalk come aglow with thousands of gorgeous, sparkling lights. Bathed in a surreal glow, you can browse the Riverwalk and make some lasting memories at this beautiful festival.
See art demonstrations!
San Antonio is a city that is filled with culture and gorgeous art, and the Riverwalk not only showcases some great art galleries, but live demonstrators do art at the market and other parts of the Riverwalk, making it the perfect place to go to see some wonderful artwork.
Enjoy a picnic!
There are many parks in the area, and the Riverwalk is a great place to have a picnic. Take to the water's edge with a blanket or stake out a spot underneath the shade of some of the gorgeous trees along the Riverwalk. Its river views and colorful culture makes the best spot for a bite to eat!
Visit the San Antonio Museum of Art
200 W Jones Ave, San Antonio, TX 78215
Free a select Sunday each month, the San Antonio Museum of Art offers a glimpse into the culture and artistic history of the area. With famed artists' works displayed throughout the year with traveling and permanent exhibitions, you're sure to be impressed by these wonderful pieces.
Learn about the Riverwalk at the Father of the San Antonio Riverwalk Plaque
This plaque is dedicated to the work of the architect, Robert HH Hugman, who played a large role in the architecture of the Riverwalk. Learn about his story and the construction of the Riverwalk at this memorial plaque.
Visit the DoSeum
2800 Broadway St, San Antonio, TX 78209
Dedicated to expanding children's minds, this child-oriented museum features some amazing interactive displays to help spark creativity and wonder within young minds. It is the perfect place to visit for those with little ones to entertain!
Visit Mission Reach
Home to some of the most gorgeous places on the Riverwalk and in San Antonio itself, Mission Reach is a part of the Riverwalk that you won't want to miss. It is home to several missions, which offer free viewings and plenty of gorgeous photos to take. The missions include Mission San Juan, Mission Espada, Mission San Jose, and Mission Concepcion. The Alamo is also part of this reach and offers free tours of the church.
Hear live music!
Whether it is live mariachi music or acapella performers, the Riverwalk is alive with cultural music and sounds to enjoy. Sit back and relax as you hear the notes of San Antonian culture come alive!
Enjoy the plants and botanical wonders!
The Riverwalk is stunning and landscaped perfectly. With tropical and local plants, the walkways are adorned with beautiful blooms to enjoy throughout the year. Just a few of the plants you will see include elephant ears, Southern cypress, and hibiscus.
Enjoy the architecture!
Old buildings, stone steps, and cascading waterfalls are just a few of the features that come together to make the Riverwalk so admirable. Snap some selfies among the lush views or simply sit back and enjoy the view. You may even see some cute ducks swimming in the water!
Marvel at the Bridges
There are several bridges on the Riverwalk. Walk among their stone structures to get a new vantage point, snap a photo, or just marvel at the architecture of the area. Just a few of the key bridges include the Arneson Theater Bridge, Selena Bridge or the Love Lock Bridge.
Visit a Park
Visiting the local parks is also free! There are plenty of great places, including Travis Park and Hemisphere Park. Often, there are events and festivities to enjoy, or you can just bring a lunch and enjoy a picnic.
Browse La Villita, Historic Market Square, and other Shopping Adventures
Window shopping is free, and there are many places to visit to enjoy culture and art in San Antonio. Just a few of these places include Historic Market Square and La Villita, both of which feature artisan demonstrations and allow visitors to view some great art for free.
During the holidays, visitors can see the Riverwalk lit up with gorgeous lights. There are also free cultural events and festivities that happen throughout the year, so no matter when you visit there will be some great adventures to enjoy at the Riverwalk!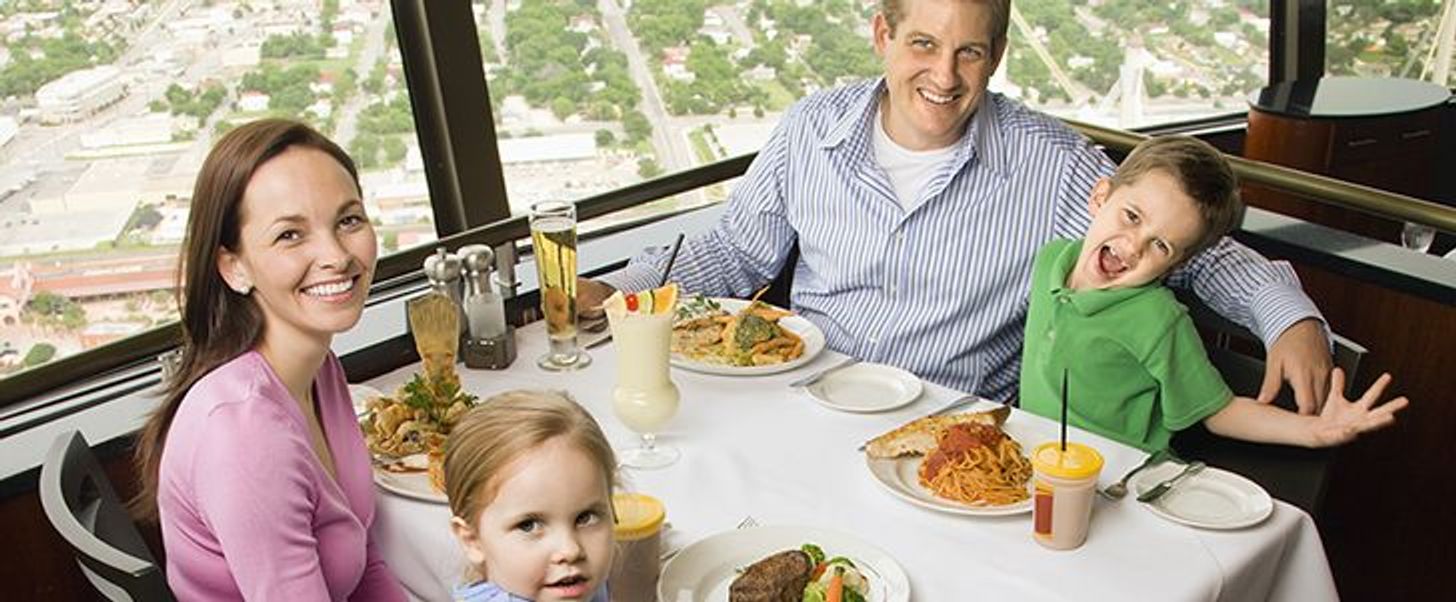 Restaurants
Whether you have a craving for seafood or are looking for a family restaurant to enjoy on your trip, there are plenty of flavorful restaurant options available in the Riverwalk area of San Antonio! Most of these restaurants have an amazing riverside view and offer great vantage points among the mouthwatering food and eclectic cuisine. Whether you take to some awesome outdoor dining or choose to dine inside at a fancy steak restaurant, you will find an array of yummy dishes to satisfy your appetite.

Rainforest Cafe
110 East Crockett, San Antonio, TX 78205
For reservations call: (210) 277-6300
For a cool family meal, the Rainforest Cafe is perhaps the best option in San Antonio! This awesome themed restaurant brings the wild atmosphere of the jungle right to the city. Among the decor, rainforest sounds, and animatronics, guests will find a flavorful menu that will tantalize any set of taste buds. Try the Beef Lava Nachos, Caribbean Coconut Fried Shrimp, or the Top Sirloin. Top it all off with a delicious cocktail!
Bubba Gump Shrimp
406 Navarro St, San Antonio, TX 78205
For reservations call: (210) 224-4867
Modeled after the character in "Forrest Gump", Bubba Gump Shrimp is the place to go for some delicious seafood. The very first location opened in 1996, and since then the franchise has served hundreds of thousands of guests from across the country. As well as some delicious shrimp dishes and mixed drinks, the restaurant also offers a glimpse at memorabilia, photos, reproduced scripts, and more from the iconic movie. Combine dinner and some awesome pop culture at this location!
Dick's Last Resort
406 Navarro St, San Antonio, TX 78205
For reservations call: (210) 224-0026
Perhaps one of the most controversial and hilarious dining experiences awaits you at Dick's Last Resort. Flavorful dishes like Buffalo Shrimpies, Mama Dick's Mac 'n' Cheez, and Dick's Huge 12" Inch Wiener are served up alongside a healthy serving of banter and sarcasm. Not for the faint of heart, the humor will have you laughing while you top the delicious meal off with some moonshine or a cocktail. Be sure to make a reservation, because this restaurant and its humor is in high demand!
Margaritaville
849 E Commerce St, San Antonio, TX 78205
For reservations call: (210) 973-5911
The famous Jimmy Buffett's Margaritaville has a home in San Antonio! Found on Commerce Street, this iconic restaurant serves up some awesome island vibes that will help you relax and unwind during your trip. With some delicious tropical-themed dishes, mixed drinks, and an uplifting atmosphere, it's a great place to go during your travels.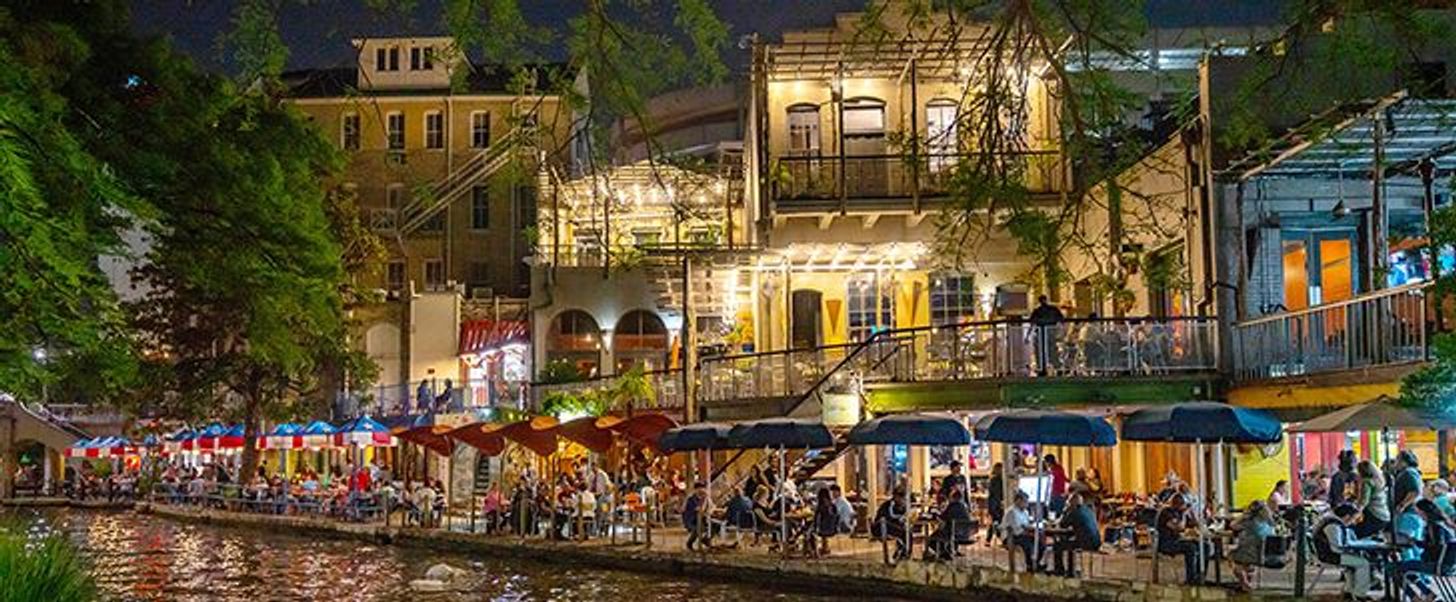 Other Great Riverwalk Restaurants
Iron Cactus
200 River Walk Suite 100, San Antonio, TX 78205
For reservations call: (210) 224-9835
This restaurant serves up tacos, enchiladas, tamales, margaritas, and other Mexican-style foods.
Joe's Crab Shack
212 College St, Suite 100, San Antonio, TX 78205
For reservations call: (210) 271-9981
Classic seafood joint featuring shrimp, crab boils, and more.
Lone Star Cafe
237 Losoya St, San Antonio, TX 78205
For reservations call: (210) 223-9374
The Lone Star Cafe is a classic staple offering up hamburgers, steaks, seafood, BBQ, and other flavorful dishes!
Durty Nelly's Irish Pub
200 S Alamo St, San Antonio, TX 78205
This pub has tons of character! Be sure to try the grilled Reuben, onion rings, or Nelly's wings. Of course, a pint (or two) is a must!
Little Rhein Steakhouse
231 S Alamo St, San Antonio, TX 78205
For reservations call: (210) 890-2225
Housed in the historic Otto Bombach House, Little Rhein is a classic favorite and has served movie stars, musicians, and tourists alike. Be sure to try the sirloin!
Dave & Busters
849 E Commerce St #740, San Antonio, TX 78205
Classic American fare like burgers and appetizers are served up alongside drinks and some fantastic arcade games, making Dave & Buster's a great option for the entire family.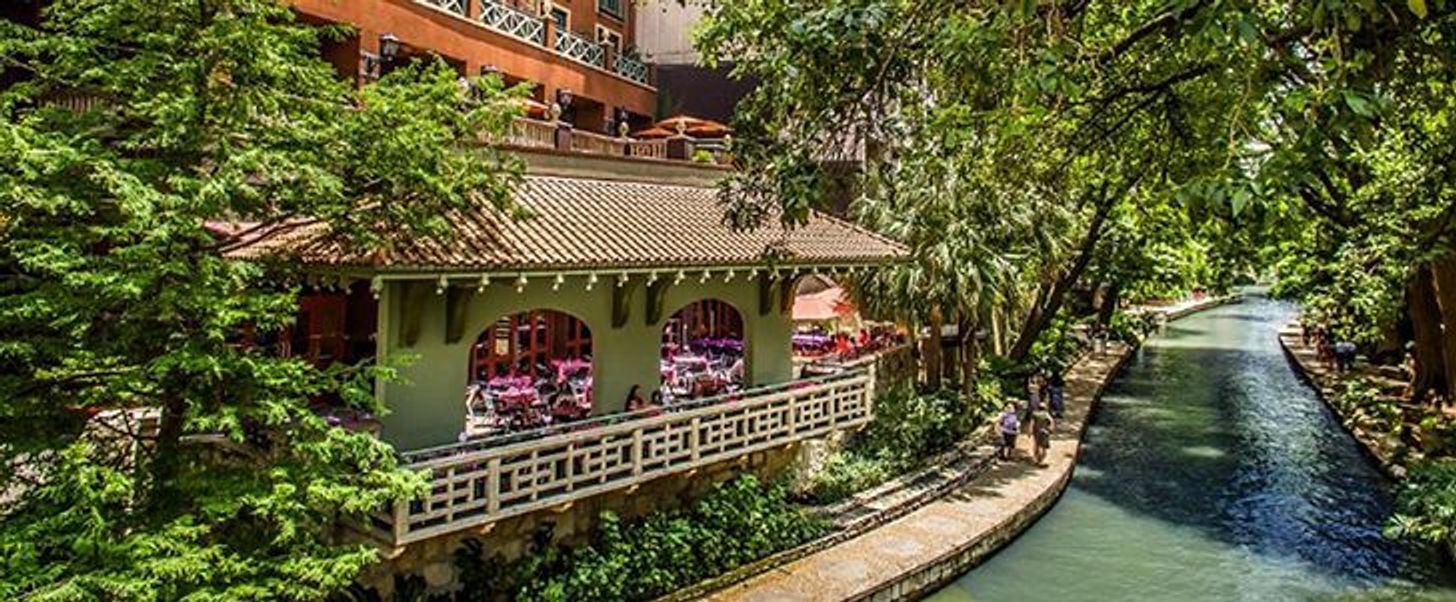 Lodging
For the most convenient vacation, visitors can choose to stay right on the Riverwalk with an array of great lodging options in the area. From fancy hotels to more affordable accommodations, you'll find a lodging selection to suit every vacation.
Hotel Valencia Riverwalk
150 E Houston St San Antonio, TX 78205
Experience the beauty of the San Antonio Riverwalk at this gorgeous hotel. The hotel features a lounge, restaurant, and other great amenities.
La Mansion Hotel
112 College Street , San Antonio, TX 78205
This stunning luxury hotel features opulent Spanish colonial architecture and a year-round pool.
Hotel Contessa
306 W Market St, San Antonio, TX 78205
This Riverwalk hotel has a spa, fitness center, and an outdoor pool as well as an onsite restaurant.
Menger Hotel
204 Alamo Plaza, San Antonio, TX 78205
This hotel is a great option. It features an outdoor pool with a spa tub as well as Victorian vibes and the onsite Colonial Restaurant.
TownePlace Suites by Marriott
409 E Houston St, San Antonio, TX 78205
Contemporary accommodations meet the history of San Antonio at this great hotel option. With more than 100 rooms, a gorgeous outdoor pool, and plenty of amenities, you'll be comfortable here.
Embassy Suites
125 E. Houston Street, San Antonio, TX 78205
This downtown hotel has great river views and is located close to the Alamo. Amenities include free breakfast, an onsite restaurant, and a business center.
Wyndham Garden Riverwalk Museum Reach
103 9th St, San Antonio, TX 78215
This great hotel is close to all of the great museums on the Riverwalk. It features an onsite restaurant, outdoor pool, and many other great amenities.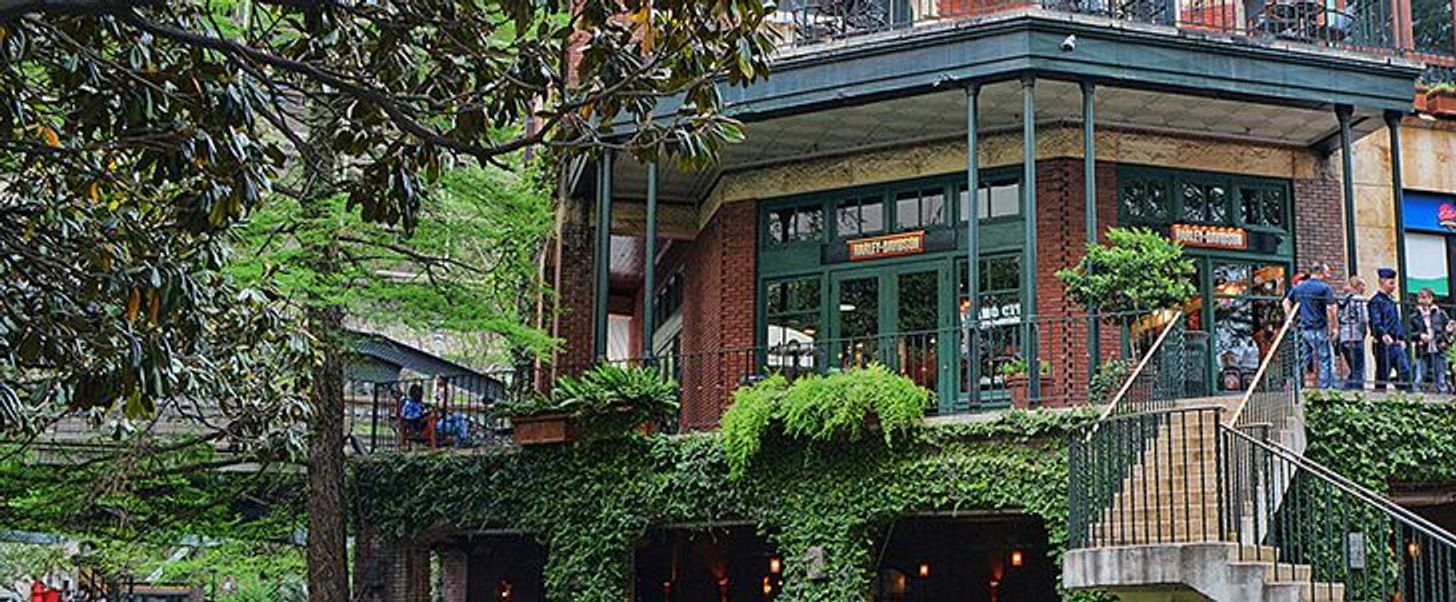 Shopping Options
Whether you're a shopaholic or just looking to score some amazing deals while traveling to San Antonio, these Riverwalk shopping options will help you get out and find some awesome souvenirs and the latest threads.
The Shops at RiverCenter
849 E Commerce St, San Antonio, TX 78205
This awesome shopping center has more than 100 retailers to visit and offers some great attractions, restaurants, and two theaters. Just a few of these include:
Legoland Discovery Center
SeaLife Aquarium
Liggettville Ropes Course
Landshark Bar and Grill
AMC 11
IMAX Theater
Aeropostale
American Eagle
Buckle
Starbucks
Claires
Chipotle
Dallas Cowboys Store
Dave & Buster's
Gamestop
Hot Topic
iHop
Journeys
Historic Market Square
514 W Commerce, San Antonio, TX 78207
The culture, history, and wonder of Old Mexico comes to fruition at the Historic Market Square. Here, guests will find an array of vendors peddling everything from hand-crafted jewelry to crafts, food, and drinks. More than 100 locally-owned businesses set up shop here, making it a great place to visit for those looking for a unique piece of San Antonio to take home with them!
El Mercado is just one of the iconic parts of Historic Market Square, and it offers places like:
Artes Metalicas
Casa Grande
De La Luz Imports
Galeria Taxco
JB Leather
Jesse's Jewelry
La Morenita Imports
Little Mexico Imports
Mi Pueblito Arts & Crafts
Naturaleza Celestial
Tesoro De Mexico
Texas Toms

Guests can also visit the Farmer's Market at the Historic Market Square. Shops here include:
A Little Bit of Texas
Baptismal Boutique
Boone's Fine Prints
Claus's Beautiful Gifts
Del Sol
Earth to Market
Gueros
International Market
Julia's Jewelry
Lone Star Souvenirs
Tejano Lou's
Santiago Mexican Imports
Tienda Paseo del Rio
Truqe Imports
One of the coolest parts about the Historic Market Square is the working artisans that set up shop and do demonstrations. Just a few of the artist featured here include painter Alejandra Salazar, Blas Martinez who does caricatures, Cecilia Trejo-Ortega who does braiding, and Meeok Martinez who does henna and face painting. These artisans offer a cool experience for anyone wanting to experience the market!
La Villita Artisan Village
418 Villita St. San Antonio, TX 78205
Jewelry, paintings, and plenty of unique crafts can be found at La Villita Artisan village, an area of San Antonio that breathes life into the local art scene. There are also local artisans and craftsmen who do demonstrations, with the work of more than 200 artists showcased around La Villita. A few of the shops found here include:
Angelita
B.Link
Bird & Pear
Capistrano Soap Company
Casa Manos Alegres
Copper Gallery
Sifuentes Metalsmith
Little Studio Gallery
Marisol De Luna Foundation
Plaza Taxco
River Art Gallery
Starving Artist Art Gallery
Villa Tesoros
Yolix Luna Fine Art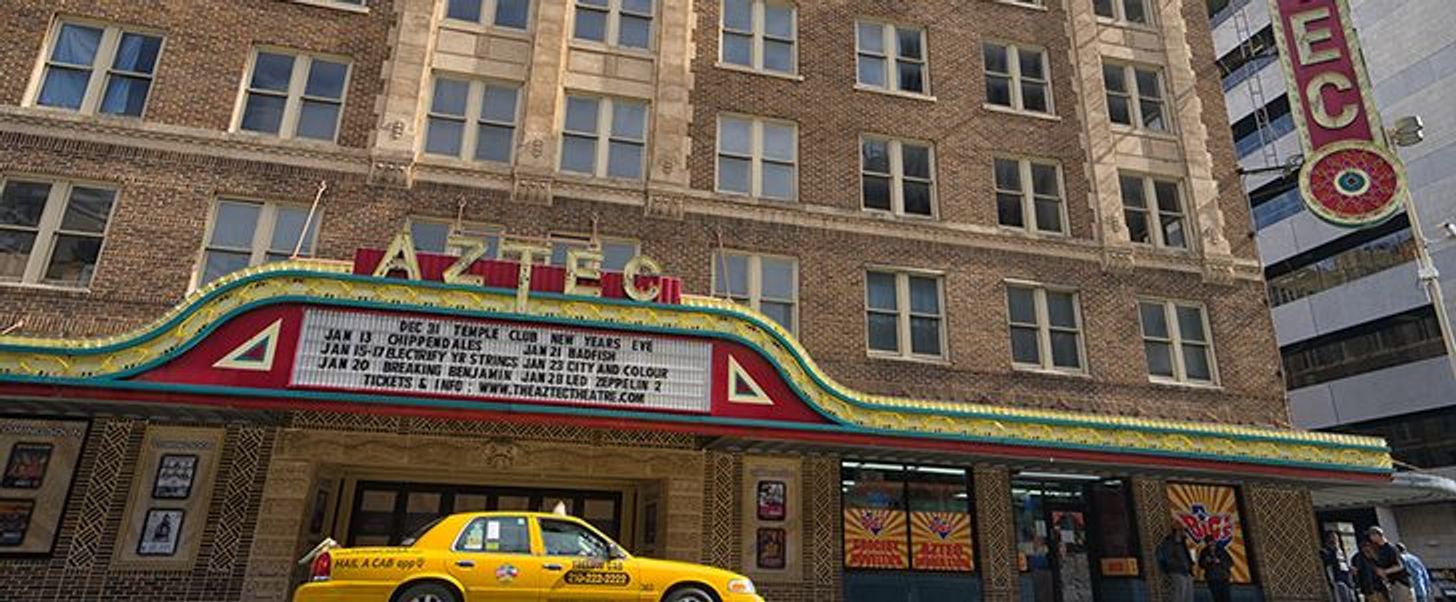 Theaters
The theatrical scene of San Antonio, TX is booming, with several amazing theaters to choose from on the Riverwalk. From the historic Aztec to the Majestic Empire Theater, you can catch some great shows and see the local talent.

Aztec Theater
104 N St Mary's St, San Antonio, TX
Experience everything from musical concerts to local plays, this historic theater is a must-visit attraction. The theater was founded in 1926 and since its founding, it has entertained hundreds of thousands of visitors and hosted artists like the Flaming Lips, Jamey Johnson, Death Cab for Cutie, Daughtry, and Snoop Dogg. Whether you like rock music, hip-hop, or country, there are concerts for every taste!
Majestic Empire Theater
224 E. Houston Street, San Antonio, TX 78205
Whether it's hosting Weird Al Yankovic, Disney the Musical, or bands like Collective Soul, the Majestic Empire Theater brings some amazing entertainment to the San Antonio scene. Whether you want to catch a stand up comedy show, see a musical, or watch a music concert, there's something for everyone to enjoy at this iconic San Antonio performance venue.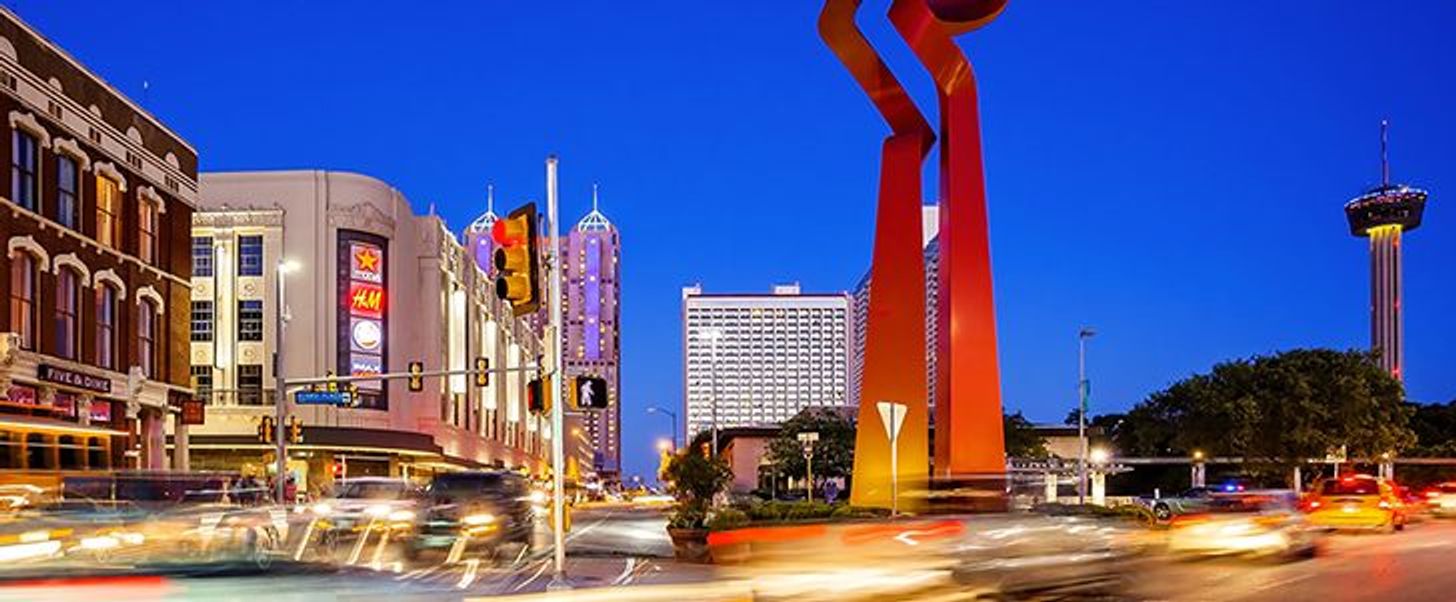 Parking Tips
Parking can be one of the most stressful aspects of a trip. Luckily, there are several parking options near the Riverwalk to ensure that you have a convenient stroll throughout this iconic area.
South Bank Parking
155 W Crockett San Antonio TX 78205
Up to 2 hours: $15.00
Up to 4 hours: $20.00
Daily Max: $25.00
Market Street Garage
246 E Commerce St San Antonio TX 78205

Western Lot
326 Main Plaza San Antonio TX 78205
All Day: $10.00
Daily Max: $12.00
Travis Lot
475 E Travis Street San Antonio TX 78205
Up to 1 Hour: $15.00
Up to 3 Hours: $20.00
Up to 24 Hours: $25.00
3rd Street Lot
226 Ave E San Antonio TX 78205
Main St Lot
240 Soledad St San Antonio TX 78205
Inspire Downtown Garage
138 N Laredo San Antonio TX 78205
Riverbend Garage
400 E Commerce St San Antonio TX 78205