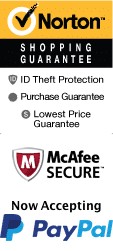 Orlando, Florida Weather Information: Planning for Walt Disney World Vacations
ORDERING INFORMATION
Book by Phone:
1-800-987-9852
Book Online:
Orlando's overall mild climate makes it a great place to visit just about any time of year, and with a little advance preparation, even unforeseen weather can be easily handled during your Orlando stay.
Orlando Summer Weather
Summers in Orlando are quite warm, with highs in the low 90s and lows in the 70s at night. Humidity levels between 60 percent and 75 percent can make things muggy, so take it easy and stay hydrated. Monthly rainfall averages near 7 inches, so be sure to bring along an umbrella or poncho and expect late afternoon showers almost daily. Light, loose fitting clothing is in order this time of year.
Orlando in the Spring
In spring, temperatures peak between the mid 70s and 80s and lows are in the 50s and 60s. The area sees monthly spring rains of about 2 or 3 inches per month. Pack short-sleeved shirts and shorts, and maybe a light jacket for the cooler evenings.
Orlando in the Fall
Autumn in Orlando brings highs in the 80s and 90s and lows in the upper 60s, with monthly precipitation of about 3.7 inches. Pack like you would for summer at home and you'll be fine during the day, but bring along a light jacket or wrap for nighttime activities.
Orlando in the Winter
The winters feature high temperatures in the 70s and lows in the 60s. Winter also brings infrequent rain showers and much lower humidity than the other seasons, with average monthly precipitation of 2.4 inches. Pretty much anything goes for clothing during winter based on personal preference — from shorts and pants to skirts.
A Note About Rain in Orlando: Wondering When is the Rainy Season in Florida? When is rainy season in Florida?
When is rainy season in Florida? The Orlando rainy season is between June and September, so if you're visiting during that time expect afternoon thundershowers and carry an umbrella with you. August through late October is hurricane season, which can bring high winds and heavy rains. Be prepared for Central Florida's year-round rain by bringing along a lightweight poncho so you don't have to purchase one on vacation - they can cost up to $10 at local theme parks and attractions, so planning ahead will keep you dry and will keep more money in your wallet!
Also, plan your days for the rain. If you're heading to Walt Disney World or other theme parks, plan to head to the "weather permitting" activities like rides in the morning and early afternoon, and save indoor shows and theaters for the rainy afternoon. You can also plan to leave the parks and head to Downtown Disney for shopping & dinner, or head back to your hotel room to rest. After the rain has passed, plan on going back to the park to catch nighttime fireworks displays!
You can check current conditions & monthly averages right now at our Orlando Weather Forecast Page to make sure that your Orlando Florida family vacation packages are sunny and fun! Be sure to visit a variety of other fun Orlando attractions like the Titanic Museum Orlando or stay at a great hotel like the Raddison Kissimee.rain orlando why is it raining so much in florida right now does it rain everyday in florida orlando rain is it raining in orlando orlando in the rain does it rain all day in florida disney world orlando weather monsoon season florida