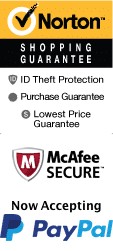 Soar Adventure Nashville Aerial Obstacle Course
3794 Carothers Pkwy Franklin, TN 37067
1-800-987-9852
Chat Now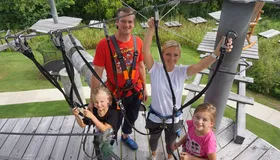 Thrill-seekers will love Soar Adventure Park Franklin TN, an amazing aerial adventure park located in the beautiful city of Nashville, Tennessee. This park features tons of fun for the whole family to enjoy time together and put their skills to the test. Gear up and prepare to put your fear of heights and strength to the test at this spectacular tower. With different course options as well as many other exciting activities, there is something for the whole family at Soar Adventure!
For those who love to get out and experience the great outdoors, this attraction is a fantastic place to visit. Bring the entire family along to conquer the tower and its extensive challenges. With four different levels to test your skills, you can create a day of family wonder and thrilling adventure during your next Music City getaway. From ground level to a daring 45 feet above the ground, many elements will challenge you. Safety is of the utmost importance, and guests are tethered into rope harnesses, so there is no worry of getting hurt.
The Adventure Tower is the main aspect of the park, with an astounding four-level high rise featuring an array of activities to take part in. Everything from ropes course bridges, climbing areas, balance beams, and monkey bars make up the tower, which is themed with treble clefs and other music notes to pay homage to Nashville's extensive contributions to the music industry. The four different levels to the tower include:
The Ground Course
The very first playground-style course at the tower, the Ground Course, is made for kiddos to get in on the fun. This kid-friendly course features pint-sized challenges that the tiniest of visitors will enjoy climbing upon. Some of the features on this level include balance beams, bridges, and climbing areas. There are 19 different elements on the ground level. Of course, parents can assist and walk their children along the course. Since this is specially designed for littles, kiddos cannot be taller than 4'9'.
Level 1
This exciting course is built for younger ones who are looking for a bit more of a challenge. Visitors must be able to reach a height of 5'5' while standing flat on the ground and extending their arms upward. This level is located approximately 15 feet above the ground, allowing those who are wanting to build confidence to have a go at the challenges. From a music note-themed climbing wall to see-saw balance beams and bridges, this course is great for the whole family.
Level 2
The next level on the tower increases the difficulty of the challenges! With a combination of various elements, visitors can push their skills to their limits with a set of monkey bars, balance beams, and more. Guests will feel like they are on an episode of American Ninja Warrior as they swing, climb, and jump through this course. To participate in the Level 2 course, guests must be able to reach a height of 5'5' while standing flat with arms held upward.
Level 3
Looking for the ultimate experience to challenge your skills and push yourself to the limit? Level 3 is sure to bring some thrills! This level rises to an astounding 45 feet off of the ground. It features a closed deck where you can take a moment to get your bearings before embarking upon the challenge. There are some 'easier' elements included on the course such as bridges and balance beams, but there are also 12 thrilling Adventure Fit elements for those who want to swing across monkey bars and climb to adrenaline-pumping heights. This course isn't for the faint of heart and is made for the most daring of your group. Guests must be able to reach a height of 5'5' while standing with their feet flat on the ground and arms extending upward.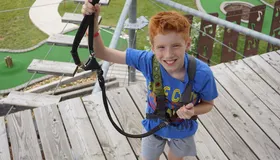 There are also some awesome activities to enjoy after the ropes course for an additional cost. Visitors can compete with friends and family at a fun mini golf course.
If you have a thirst for outdoor adventure, this treetop adventure park is a great addition to your itinerary! This massive jungle gym-style attraction brings plenty of fun to the table with its canopy tour elements and treetop fun. As well as traditional ropes course elements, visitors will delight in a unique tower element with various skills to conquer. Whether you are team building or enjoying a family vacation, this is the ideal destination! Add some thrill to your next Nashville, TN adventure by grabbing tickets today.
When you are finished burning off some energy at this gigantic playground, you can enjoy tons of other great Nashville attractions. Whether you want to enjoy a zipline experience, visit the shops and famous venues in downtown Nashville, learn about country music at a historic museum, or visit the Nashville zoo, there are tons of additions to your itinerary. Pair it all with a resort or hotel stay to complete your Nashville, TN adventure.
Options:
Adventure Pass
Available Now until 11/30/2023 View Detailed Schedule
Conquer four different levels of obstacles and challenges at Soar Nashville! This Adventure Pass gets you an unlimited amount of time to conquer the levels during the day of reservation. Guests of all ages will have a thrilling time with the 90+ elements on the 45-foot-tall tower attraction.
Frequently Asked Questions for Soar Adventure Nashville Aerial Obstacle Course:
What level of physical ability is required?

Intermediate physical ability is required.

What type of clothing is appropriate?

Comfortable outdoor clothing.

What age is Soar Adventure appropriate for?

Adventure Tower has a kids course perfect for ages 4 to 7 and level 1 you must have a arm span reach of 5'5

Is parking available for Soar Adventure?

Free parking is available.

Is photography & video recording allowed?

Of course! Don't forget your cameras.
Book Now!