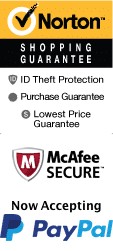 Madame Tussauds Wax Museum
515 Opry Mills Dr Nashville, TN 37214
1-800-987-9852
Chat Now
Madame Tussauds Wax Museum in Nashville is a great place for families; with countless wax figures of your favorite musical icons and celebs, you can get up-close-and-personal with your favorite music stars. The wax museum is easily the best in the nation, offering a variety of hyper-realistic figurines of various stars. The wax museum is comprised of several different sections, each featuring a genre of entertainment as well as the most well-known stars from each industry. Each Madame Tussauds location is part of the legacy of the world renowned wax attraction, and the Nashville location is great for discovering country music history.
Madame Tussauds Wax Museum - Experience the Madame Tussauds Museum Exhibits
Music:
Dedicated to all things music-related, this Music City display is great for those who want to sing along with their idols. Figures include:
Darius Rucker
Johnny Cash
Beyonce
Little Jimmy Dickens
Jimi Hendrix
Patsy Cline
Blake Shelton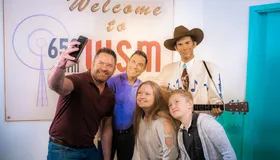 Admissions:
Guests can dance and sing along in this amazing lyrical attraction. The wax performers include:
Taylor Swift
Rihanna
Luke Bryan
Pre-Show
: The Pre-show display features music as well as a 1950s style neighborhood when days spent listening to the Grand Ole Opry on the radio were popular. Figures include:
Billie Holiday
Hank Williams
Bob Dylan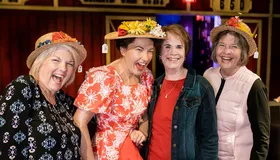 Radio Station:
Step into a 1950s radio station where you can hear the amazing music of Little Jimmy Dickens.
Opry Stage:
Relive the most legendary Opry performances with the wax figures of:
Minnie Pearl
Kenny Rogers
Waylon Jennings
Rock Bar:
Hear the amazing music of Jimi Hendrix where you can rediscover the popular bar scene with fantastic lyrics and good 'ole rock'n roll.
Bluebird Cafe:
The Bluebird Cafe features live music and amazing renditions of Rayna Jaymes and Deacon Claybourne from the CMT show, Nashville.
Soul/Jazz Lounge:
In the Soul/Jazz lounge, guests can enjoy music from Stevie Wonder, Ella Fitzgerald, and Louis Armstrong while dancing and singing along.
Blues Bar:
The Southern blues scene was extremely popular in its prime. Witness amazingly realistic wax replicas of blues stars like:
Ella Fitzgerald
Louis Armstrong
The Recording Studio:
If you love country music, you've heard of the Million Dollar Quartet. Join two of its contributors in this amazing display:
Johnny Cash
Elvis Presley
MMTV:
Celebrating Top 40s artists that revolutionized the pop scene, this display is great for all ages. Check out amazing replicas of stars like:
Bruno Mars
Katy Perry
Miley Cyrus
Justin Timberlake
Backstage:
Experience a behind-the-scenes look into the world of live concerts and performances. You'll get to see an amazing figure of Blake Shelton as he prepares to go live!
Opry Finale:
When you've worked so hard in the music industry, performing at the Grand Ole Opry is one of the most amazing achievements. See your favorite musicians in wax form as they take the stage for an amazing performance:
Reba McEntire
Keith Urban
Carrie Underwood
About Madam Tussaud
Having opened her original museum in 1835, Madame Tussaud revolutionized the wax sculpture world with her world famous wax attraction and created a phenomenon that lives on in various wax museums around the country and the world. The original Madame Tussauds Wax Museum was opened in London and quickly became a hotspot for travelers all over the globe who flocked to see the work of this talented artist. Each wax figure was sculpted with care and the lifelike figurines amaze those who see them in person! There are locations in places such as Beijing, Tokyo, Dubai, Berlin, Prague, and US locations in Hollywood, Las Vegas, New York, DC, and Orlando as well as the Nashville location. With a visit to one of these museums, you get an interesting look at art history while enjoying the wax figures of your favorite star, musician, or actor.
Plenty of great selfie opportunities and fun for all ages await at the stunning Madame Tussauds Nashville. Head there to make memories you'll never forget! After exploring the museum, make sure to attend other awesome Nashville attractions. Explore country music history, take a tour, see musical performances, browse the museums in Downtown Nashville like the Country Music Hall of Fame. Visitors to the city are certain to have a blast!
Reviews

Tamara Jackson
Lebanon, IN
✓
Verified Traveler
Fun place and great for photo ops! Conveniently located in the opry mills mall so allow time for shopping too!

Holly Watkins
Bayou Vista, TX
✓
Verified Traveler
Loved the museum it was fantastic! We had a blast on our girls trip doing this.

Karen Roy
Plymouth, MA
✓
Verified Traveler
"exhibit is extraordinary"
Such a great trip to madame tussauds!! The exhibit is extraordinary. Have been to the museum in new york. I love that nashville has their own. Took pictures with my favorite country artist and boy do they look so real!!

Tracy Kilburg
Hancock, WI
✓
Verified Traveler
It was really neat for a 1st time, alot of detail done on the wax figures... I personally would only go only 1 time.
Frequently Asked Questions for Madame Tussauds Wax Museum:
What is included in the admission price for Madame Tussauds?

Includes all of the exhibits.

Approximately how long could a customer plan to spend at Madame Tussauds?

Guests spend about 2 hours here.

Is Madame Tussauds handicap accessible?

Yes.

Is photography & video recording allowed?

Yes.

For what ages is Madame Tussauds appropriate?

Great for all ages.

Is parking available at Madame Tussauds?

Yes. Parking is free.
Book Now!