John Anderson At Grand Ole Opry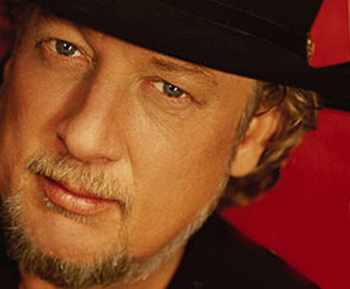 Born and raised in Apopka, Florida in 1954, John Anderson has been entertaining country music fans for years with his backwoods accent and distinguishable vocal timbre. His inspiration did not come from the country artists of his time, but instead from musicians like Jimi Hendrix and The Rolling Stones, and that inspiration shows through his music. Anderson has been known for pulling out the electric guitar during performances, as well as the banjo. John started his music career playing in a rock band, but, when he turned fifteen, he was introduced to the sounds of George Jones and Merle Haggard and was sold on country music. He moved to Nashville in '71, where he played in clubs at night and took whatever jobs he could get during the day – one of which being a roofer at the Grand Ole Opry House. It wasn't until six years later when he was able to sign a recording contract with Warner Bros. Records, but he hit the Billboard Country Hot 100 in that very same year.
His song "I've Got a Feelin' (Somebody's Been Stealin')" was his first Hot 100 hit, but 1978 brought him his first Top 40 with "The Girl At The End Of The Bar." After this, he was placed alongside Ricky Skaggs and George Straight in the "New Traditionalist" movement. He quickly became a favorite in the community; his song "I'm Just An Old Chunk of Coal (But I'm Gonna Be a Diamond Someday)" nominated him for a Grammy Award for Best Male Country Vocal Performance in 1981. His fourth album, Wild & Blue, brought country fans the hit single "Swingin," while "Straight Tequila Night" rose to the Number One spot in the charts.
After being nominated for the Grammys, Anderson was able to snag five more nominations for the Country Music Association in 1982. He came out the victor of the Horizon Award and Single of the Year for "Swingin" and was nominated for Song of the Year, Male Vocalist of the Year, and Album of the Year around the same time. In 1991, "Straight Tequila Night" came to be one of the highlights of Anderson's career. He was nominated for three CMA Awards for it: Male Vocalist, Song of the Year and Album of the Year. In 1993, he was gifted the Academy of Country Music Career Achievement award.
Anderson has released nineteen studio albums, as well as nine compilation albums and one holiday album. He has also released over sixty singles, including six Number One singles. He and John Rich of the band Big & Rich collaborated on the album Easy Money in 2007 and the 2009 single "Shuttin' Detroit Down." He and Rich have both been named honorary members of the MuzikMafia.
Newsletter Signup
Signup to be notified when new dates are added:
John Anderson has
no current dates
scheduled at Grand Ole Opry.
Click here
for complete schedule. Sign up for newsletter to be notified when dates are added.