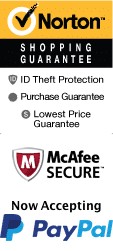 Myrtle Beach Fun Getaway
Experience the beautiful coastal city of Myrtle Beach with a variety of fun attractions included with the Myrtle Beach Fun Getaway.
With the Myrtle Beach Fun Getaway, visitors will have 2 nights of lodging, along with a great activity. This is the ultimate fun getaway package, so check it out today! When you aren't enjoying the fantastic adventures included in the package, you can also head to some of the other popular adventures in the city. Some of the most popular adventures include Pirates Voyage Dinner & Show, Ripley's Aquarium, and the Carolina Opry.
>>MORE: Popular Things to Do in Myrtle Beach
Adventures in Myrtle Beach
If you are still craving some thrills, do not worry! Myrtle Beach is full of other adventures that you can choose to attend during your getaway. A few of these adrenaline-pumping adventures include Guided Murrells Inlet Backwater Myrtle Beach Kayak Tours, Myrtle Beach Deep Sea Fishing trips, and even Myrtle Beach Surfing Lessons! Guests of all ages will also enjoy the Aerial Adventure Park which takes them to new heights.
>>MORE: Adventure Activities in Myrtle Beach
About the Myrtle Beach Fun Getaway
Explore amazing fun in Myrtle Beach with this getaway package! There are many wonderful things to experience in Myrtle Beach, and the Myrtle Beach Fun Getaway will get you started. It includes tickets to see Legends in Concert as well as two nights of lodging at your choice of area hotels.
About the Included Legends in Concert Tickets
Legends in Concert is one of the most iconic tribute shows in the world. During your trip to Myrtle Beach, you can watch all of the awesome music unfold on stage with these included tickets. Whether you are a fan of the Blues Brothers or have been a longtime Elvis listener, these tribute artists bring some of the best music and impressions to the stage. Don't miss out!
About the Included Lodging
More than 60 hotels are available to choose from for your two-night stay in Myrtle Beach, allowing you the freedom of finding a hotel that best suits the needs of you and your family. Find a hotel with an indoor pool, or one with laundry facilities. Whatever your needs, you are sure to find something that fits them.
>>MORE: Lodging in Myrtle Beach
So, if you are looking for thrills and adventure wrapped into one spectacular vacation, then look no further. Be dazzled by these performances, and settle into a comfortable hotel of your choice. Make sure you book the best vacation package soon for the lovely Myrtle Beach area to get the best deals on hotels and things to do.
Frequently Asked Questions:
---
---
---
Customize a package with this form: