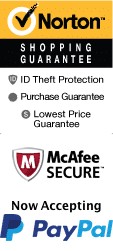 Wild Water Waterpark & Wheels Family Fun Park
910 Highway 17 South Surfside Beach, SC 29575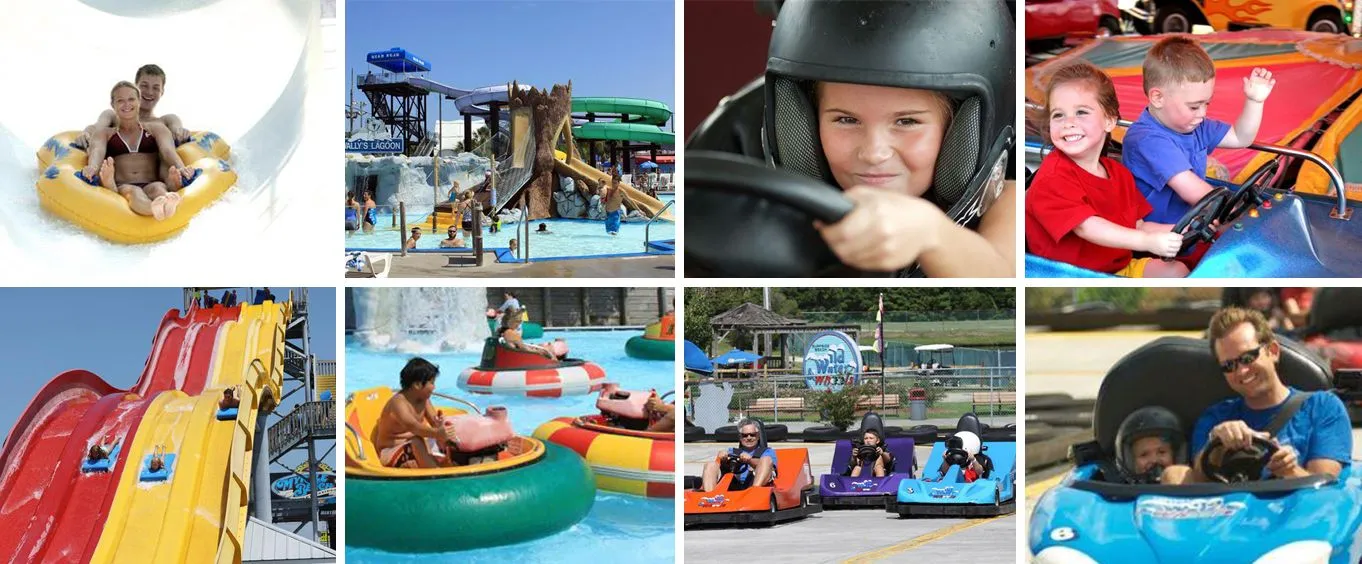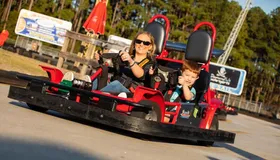 If you're looking for a nice variety of vacation fun during your vacation, take a trip to Wild Water Water park & Wheels Family Fun Park; you'll be able to make the most of your family's time without needing to travel to different venues.
Wild Water Waterpark has an exciting water park filled with kiddie attractions, speed slides, pools, and tube slides, but it's so much more than your typical water park. Wheels Family Fun Park also features go-karts, 18 holes of mini golf, and plenty of fun rides for the kids.
Water Ride Options & Other Water Attractions at Wild Water & Wheels Water Park
Be prepared to get wet with these awesome attractions! From a splash pool to playgrounds chock-full of every water feature you can think of, you are bound to have a blast!
Wipe Out Wave Pool

: With eight different wave types, some reaching heights up to 4 feet, and music powering through the surrounding speakers, you and your family are sure to have a good time as you ride the waves in your inner tube.
Lounge Pool

: For adults only, those in need of a quiet and relaxing change of pace can visit the whirlpool like lounge pool. Guests can either relax in a lounge chair in the water or sunbathe on the wooden deck.
Lazy River

: This 950-foot river takes you through Frog Island, a rainforest, two raindrop fountains, and a cascading waterfall, making it a great choice for all ages.
Water Slides
Head Rush

: Journey down this mat body slide head first for a thrilling twist on an already exciting experience.
Twin Twister

: Race your friends and family down the twists and turns of these twin mat slides to see who can make it out first.
Triple Dip

: A slide designed for speed, the triple dip is a body-only side that is sure to give anyone a nice adrenaline rush.
Side Winder

: A body only slide with lots of turns, this is sure to give you a few surprises on your way down.
The Dark Hole

: Dubbed the 'best scary ride' in Myrtle Beach, this enclosed inner tube slide is full of thrills- plus, you can double up and slide with a friend.
Serpentine

: Named for its snake-like twists and turns, this body-only slide will swing you from side to side for an exciting journey.
White Water Express

: Available with single or double tubes, enjoy a speedy trip down this slide until you hit the white, rushing waters at the end.
Wild H2O Racer

: Designed for fun for the whole family, this four-lane mat slide is an exciting ride turned to an even more exciting competition to see who can make it down the fastest.
Free Fall Cliff Dive

: For those in need of a serious thrill, look no further. This speed slide sends you down a nearly vertical drop at 45 miles per hour, which is sure to put your heart in your stomach.
Other Attractions at Wild Water & Wheels Family Fun Park
The Race Zone

: The Race Zone features a variety of go-kart tracks for the whole family. There are speed racers, for guests over the age of 12 and at least 58 inches tall, regular go-karts designed for guests at least 10 years old and 52 inches tall, and two seater options that can accommodate guests of at least 42 inches who are accompanied by an adult.
Mini Golf

: If you need a break from all the thrills, there are 18 holes of mini golf on site to help you and your family enjoy a relaxing afternoon round of golf.
Kid Rides at Wild Water and Wheels Family Fun Park
Made for kids ages 3 - 9 and between 32 and 42 inches, your youngins will enjoy experiencing these carnival rides as much as you'll enjoy watching it unfold.
Wally's Lagoon

: For kiddos under 48 inches tall, Wally's Lagoon features two small slides, a waterfall entrance, and a large but shallow pool to make for plenty of fun in the sun!
Wee Kids Water World

: Located just behind Wally's Lagoon, the kid friendly fun can continue here as they enjoy a raindrop fountain, a couple simple slides, and fun floatable characters to climb on.
Bumper Boats

: A nice summer twist on bumper cars, the bumper boats create a friendly competition with a splash.
Kiddie Pool

: Located where parents can observe from the lounge pool, guests under 48 inches tall can splash around in this open pool at their leisure.
Junior Racers

: Designed for racers between the ages of 6 and 9, this track is designed for kiddos between 46 and 52 inches tall.
If you're looking for some fun in the sun that will please the whole family, Wild Waters and Wheels Family Fun Park is the perfect escape. Whether you are an adventurous person looking for some fun on thrill rides or want to conquer the best water slide in the city, this is the place to be! Add this to a custom vacation package today to make the most out of your summer vacation to Myrtle Beach. Be sure to book other attraction options in the area and make a reservation to your favorite hotel or resort in the area. wild water wheels wild water and wheels hours wild wheels and water
Reviews

Gia Grasso
Coral Springs,
✓
Verified Traveler
Was super fun and had a lot of rides



Frequently Asked Questions for Wild Water Waterpark & Wheels Family Fun Park:
What is included in the admission price for Wild Water Waterpark & Wheels Family Fun Park?

All Day Full Park Admission; Waterpark admission + Unlimited Go-Carts, Bumper Boats and Mini Golf

Approximately how long could a customer plan to spend at Wild Water Waterpark & Wheels Family Fun Park?

Guests tend to spend 4 - 5 hours here.

What amenities (such as ATM, gift shop, etc) are available?

Lockers are available for rental. Changing and showering facilities onsite.

Is photography & video recording allowed?

Yes.

For what ages is Wild Water Waterpark & Wheels Family Fun Park appropriate?

Great for all ages.

Is parking available at Wild Water Waterpark & Wheels Family Fun Park? Is it free?

Yes. Parking is free.