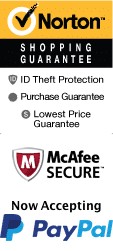 North Myrtle Beach Jet Ski Rentals & Jet Ski Dolphin Watch
1525 13th Ave N North Myrtle Beach, SC 29582

North Myrtle Beach Jet Ski Rentals & Jet Ski Dolphin Watch is no longer available.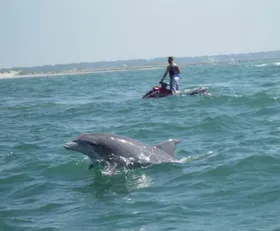 Myrtle Beach is one of the most celebrated ocean-side destinations in the United States, and you can experience the coastal fun with jet skiing and other awesome adventures in the North Myrtle Beach area. If you are wanting to get out and experience sandy shores and sparkling waters, the Action Water Sportz Ski Rentals in North Myrtle Beach are sure to be a wondrous opportunity for adventure! Create lasting memories with your loved ones on the back of a speedy jet ski for an exhilarating ride.
Adventure-seekers and watersports adventurers alike will have a blast with North Myrtle Beach Jet Ski Rentals and Dolphin Watch experiences. Select from a variety of rental times and lengths to customize your experience. Whether you want a short ride along the coast on a 1-hour venture or would rather enjoy a two-hour guided dolphin watch, you and your loved ones will be able to experience the beauty of Myrtle Beach like it should be - from out on its stunning waters! Speed around, complete awesome twists and turns, splash around, and gain some thrills! It is sure to be a fun time.
About the Jet Ski Dolphin Tour Myrtle Beach Rentals North Myrtle Beach Reservations
Jet Ski Rental North Myrtle Beach options are available for several different lengths of time as well as with a specific number of passengers. Visitors will have the opportunity to explore the Intracoastal Waterway and the bordering area. With several options available, you can find everything that you need to complete the perfect itinerary. Visitors will be given safe instructions as well as life jackets and any other needed and valuable information to ensure that their time on the jet ski is safe and fun. There are also jet ski tour options, including a dolphin watch trip that allows you to enjoy dolphin sighting!
About the Dolphin Cruise / Watch Trips
If you want to have additional fun, decide to get tickets aboard one of the Dolphin Watching Trips! A dolphin tour will exemplify the wilder side of MB, affording riders the gift of not only being dazzled by an adrenaline rush onboard the jet ski adventure but also allows them to be educated about dolphins and other creatures that inhabit the oceans below. Keep your eyes peeled for Atlantic bottlenose dolphin sightings, sea turtles, and more as you are taken to a barrier island complete with time to get out and experience the fun yourself. Dip your feet in the sandy shores and enjoy the sunshine on your skin. These jet ski dolphin-watching adventures are the epitome of Myrtle Beach cruising!
The coolest thing about this rental option is the fact that the vehicles are brand new every year, giving you new, fresh gear and the latest thrill. The jewel-like waves of Myrtle Beach are the perfect setting for a new adventure, so be sure to book one of these rental options during your next getaway. Whether you book a dolphin watch cruise, a jet ski dolphin tour, or a jet ski adventure, there are tons of amazing things to see during your time at the Atlantic Ocean coast.
When you aren't enjoying a jet ski North Myrtle Beach experience, be sure to check out the other awesome adventures in the North Myrtle Beach area. Whether you want to try your hand at fishing on a fishing charter, book a kayak rental, enjoy a sunset beach stroll, take a pontoon boat tour, or bob along on a hilariously fun banana boat ride, there's something for every adventurer.
Of course, visitors will also be able to book their activities alongside wonderful hotel options and even add them to pre-bundled vacation packages. There are oceanfront condo options, luxury resorts, and more to select from. No matter if you fully customize your experience or allow VME curate it for you, you can have the best getaway experience yet!
Frequently Asked Questions for North Myrtle Beach Jet Ski Rentals & Jet Ski Dolphin Watch:
Is photography & video recording allowed?

Yes.

Is North Myrtle Beach Jet Ski Rentals & Jet Ski Dolphin Watch guided or a non-guided timed equipment rental?

There are timed rentals and a guided 2-hour dolphin jet ski ride to choose from.

What type of clothing is appropriate?

Wear clothes you do not mind getting wet.

What age is North Myrtle Beach Jet Ski Rentals & Jet Ski Dolphin Watch appropriate for?

Guests must be 16 with a valid drivers' license to drive the jet ski. However, any age can ride with an adult. Parental consent is required for anyone under 18.