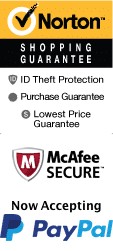 Myrtle Beach Jet Ski Rentals & Jet Ski Dolphin Watch
1525 13th Ave N North Myrtle Beach, SC 29582

Myrtle Beach Jet Ski Rentals & Jet Ski Dolphin Watch is no longer available.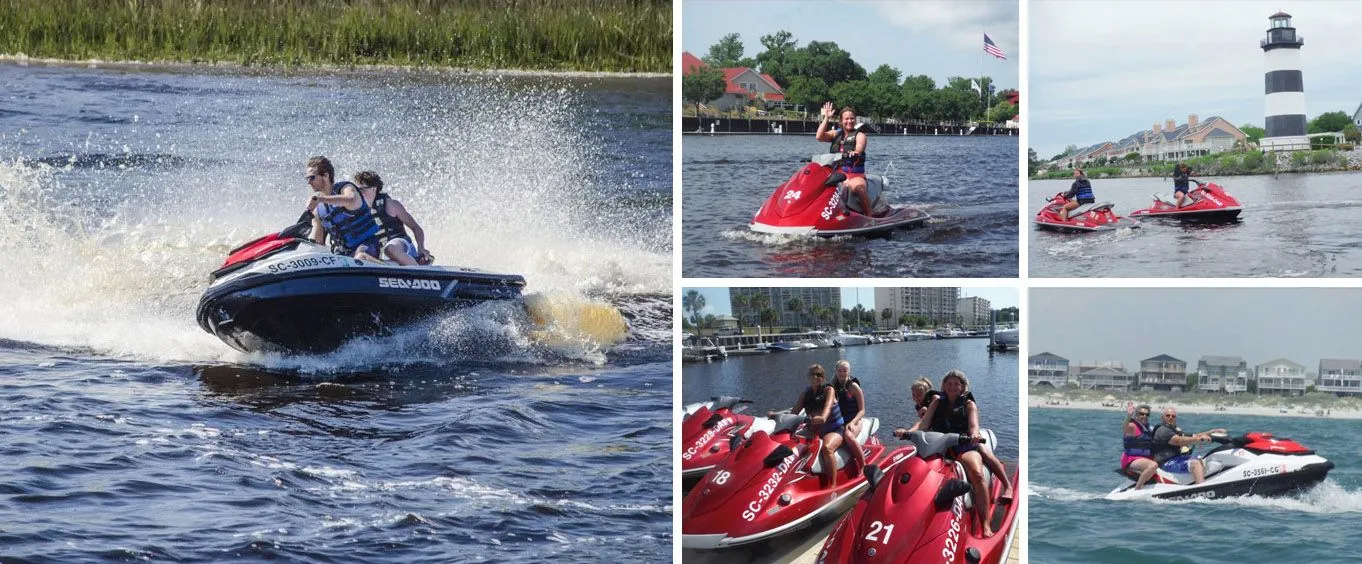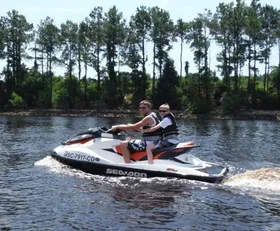 The coastal city of Myrtle Beach, SC is brimming with beautiful landmarks and things to see and do, including thrilling adventures like jet skiing. Those who wish to create new memories on the coast can choose to embark upon the Myrtle Beach Jet Ski Rentals and Jet Ski Dolphin Watch activities. These ventures offer unparalleled views of the surrounding area and take visitors on an astounding adventure that they won't soon forget!
Climb aboard a jet ski and zoom along the glittering emerald waves of the Intracoastal Waterway! This beautiful area is swarming with activities and watersports like jet skiing for the perfect beach adventure during your stay. If you are a thrill-seeker, this activity is a must! There is a variety of rental times available, allowing for longer adventures or a quick addition to any itinerary. These custom experiences put you in charge, so you can have a blast no matter what you choose!
About the Jet Ski Rental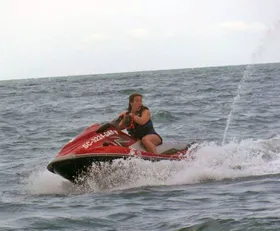 Jet skiing is easily one of the coolest water sport adventures on the Emerald Isle! Different rental times are readily available for different time slots as well as a different number of passengers. Guests will have the chance to investigate the Intracoastal Waterway and the encompassing area's sights. With a few choices to pick from, you can discover everything that makes Myrtle Beach so special. Guests will be given an appropriate safety briefing as well life jackets and some other necessary info to guarantee that their time on the jet ski adventure is both safe and fun. There are also North Myrtle Beach area rentals available for those who want to explore another Myrtle Beach location.
About the Dolphin Watch Trips
Riders can also decide to book a Jet Ski Dolphin experience. A Jet Ski dolphin tour outing is amazing, giving a progressively close look at the nearby wildlife of Myrtle Beach. Dolphins are the most beloved ocean creatures on the planet, and you can get very close with them directly on the coast! These encounters happen on the sparkling waters of the Intracoastal Waterways. After brief instruction, you'll set out to see dolphins, ocean sea turtles, and other natural life. You will also view historically significant wonders like the Little River Swing Bridge, Harborgate Marina, and the angling pontoons. You'll investigate a cool barrier island and get out and stick your toes in the sand. This water adventure lasts roughly 2 hours and is an interesting way to experience Atlantic bottlenose dolphin watching in a different way besides a normal dolphin cruise.
Enjoy a fantastic time out on the Atlantic ocean with this astounding venture! Whether you enjoy a jet ski dolphin tour Myrtle Beach arrangement by itself or embark upon a dolphin watch trip, you and your loved ones are certain to have a blast on the annually updated equipment. Of course, you can also add hotels and other activities to a vacation bundle for the ultimate experience in the Myrtle Beach area.
There are plenty of other amazing attractions and activities to enjoy in the Myrtle Beach area. When you're not heading out on an amazing jetski Myrtle Beach tour on the search for a dolphin sighting, be sure to enjoy beautiful views of the Atlantic Ocean on the coast or enjoy a variety of great attractions. From boat tours to the watersport action and fishing of Murrells Inlet, your time in Myrtle Beach is sure to be a blast.
Frequently Asked Questions for Myrtle Beach Jet Ski Rentals & Jet Ski Dolphin Watch:
Is Myrtle Beach Jet Ski Rentals & Jet Ski Dolphin Watch guided or a non-guided timed equipment rental?

There are timed rentals and a guided 2-hour dolphin jet ski ride to choose from.

What type of clothing is appropriate?

Wear clothes you do not mind getting wet.

What age is Myrtle Beach Jet Ski Rentals & Jet Ski Dolphin Watch appropriate for?

Guests must be 16 with a valid drivers' license to drive the jet ski. However, any age can ride with an adult. Parental consent is required for anyone under 18.

Is photography & video recording allowed?

Yes.