Little River Jet Ski Rentals & Jet Ski Dolphin Watch in Myrtle Beach, SC
4430 Kingsport Rd Little River, SC 29566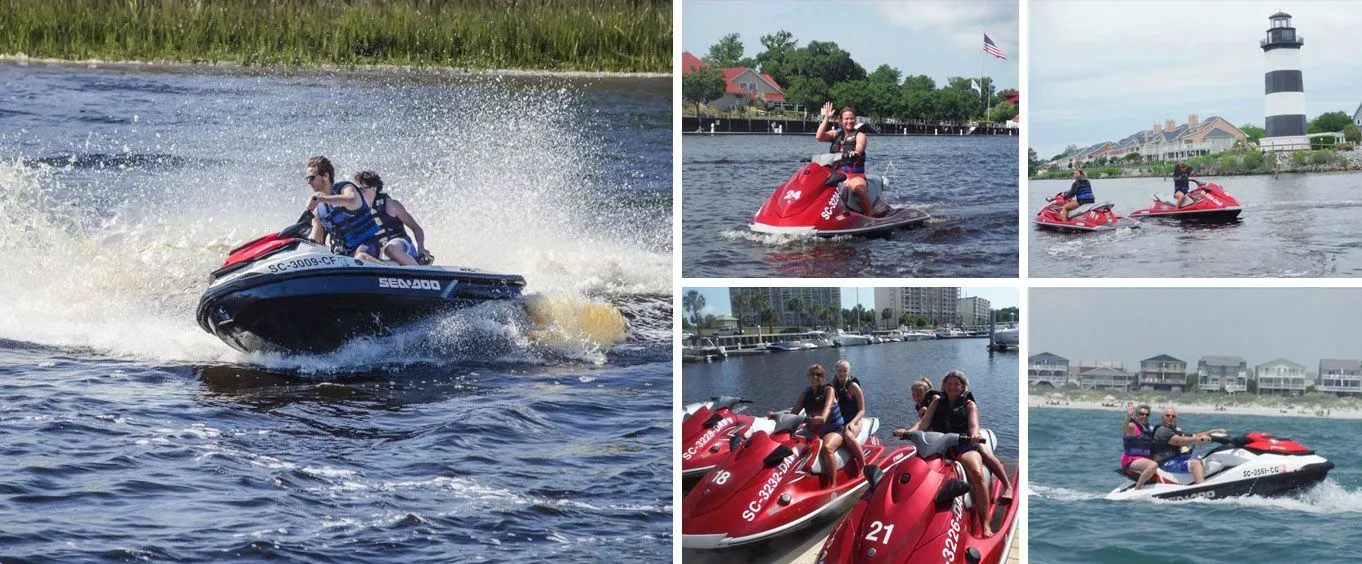 Description
Looking for a fun activity while in Myrtle Beach then look no further than a jet skiing adventure rental which gives travelers the opportunity to go embarking on fun adventures in the Atlantic Ocean area. These heart-pounding Little River Jet Ski Rentals in Myrtle Beach give guests the opportunity go zooming through the currents while seeing the sparkling waters of the Little River. Just a few of the landmarks and sights include beaches, backcountry views, and beautiful secluded islands.
About the Jet Ski Rentals
Jet skiing is just one of the heart- pumping watersport options offered in the city. There is an abundance of options offered, so no matter if you're looking for a simplified and fast jet ski rental activity to fit in before lunch or are wanting to make a day of it, these options allow accommodation for an array of vacation types. As well as offering tons of fun, these jet skis are new every year. They provide immaculate and quality adventures to people of all ages, and the jet skis can fit up to three people. Whether you want to drive by yourself or bring your kiddo along for the ride, there is no better way to see the sparkling waters.
For those who are wishing to drive alone, a photo ID is required. Drivers must be 16 years old, and anyone under 18 who are riding must also have a parent present. However, any age can ride as long as they are accompanied by an adult.
About the Dolphin Watch
Take a fun dolphin tour where you will be able to appreciate dolphin sightings and plenty of adventure will on your jet ski. Visitors will have a rousing time exploring the Intracoastal Waterway and seeing gorgeous Atlantic bottlenose dolphins. Differing from your average dolphin cruise, this two-hour experience puts guests on the water on a fun jet ski. With locations in Myrtle Beach, Little River, and North Myrtle Beach, visitors will be able to head to the marina for a day of adventure.
Add some fun and excitement onto your Myrtle Beach area vacation with a jet ski adventure. Whether you embark upon an ocean watersports rental at your own leisure or decide to head out on a guided dolphin tour, your time on the water will help you create memories you'll always cherish. Be sure to check out the pontoon boat rentals offered as well to create an awesome watercraft adventure.
There are plenty of awesome things to discover and do in Myrtle Beach. After you rent jet skis and have a true adventure on a speedy watercraft, be sure to check out the other great activities in the area. Whether you take a kayak tour, conquer some Myrtle Beach parasailing, or go fishing with a fishing charter, there are tons of awesome things to discover.

Frequently Asked Questions for Little River Jet Ski Rentals & Jet Ski Dolphin Watch in Myrtle Beach, SC:
What is included in the admission price for Action Water Sportz Jet Ski Rentals?

Includes jet ski rental for one hour. Life jackets are provided.

Is Action Water Sportz Jet Ski Rentals guided or a non-guided timed equipment rental?

Non-guided timed equipment rental.

What type of clothing is appropriate?

Swimsuits/casual clothing you do not mind getting wet.

What age is Action Water Sportz Jet Ski Rentals appropriate for?

Drivers must be 16 years old with a photo ID. Any age can ride as long as they are with a parent.

Is photography & video recording allowed?

Yes.