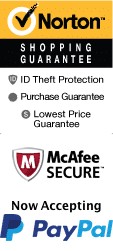 Airport & Transportation Info for Gatlinburg - Pigeon Forge
ORDERING INFORMATION
Book by Phone:
1-800-987-9852
Book Online:
ROADS AND HIGHWAYS INTO & AROUND GATLINBURG - PIGEON FORGE
Gatlinburg and Pigeon Forge are nestled just a bit off the beaten path when it comes to the main U.S. interstate highway system. However, there are numerous highways and secondary roads into Gatlinburg, Pigeon Forge, and the Greater Smoky Mountain area, and these routes will lead you through and to some of the most beautiful country vistas and amazing views of the mountains that you'll find anywhere!
The major east-west interstate highway route through eastern Tennessee is I-40. This connects with another eastern artery, I-81, which is just northeast of the Gatlinburg area (between White Pine and Dandridge). Interstate-40 also connects with the north-south artery of I-75 just west of the Gatlinburg area in Knoxville.
Here are some specific directions into the area from whatever direction you may be coming from:
From Nashville, Tennessee going East: Consider taking I-40 to Exit 364 at State Route 95 South to Lenoir City, then take U.S. 321 East, continuing through Maryville and Townsend, then make a right onto Scenic Highway 73 to Gatlinburg.
From Lexington, Kentucky going South: On I-75, consider taking I-40 West from Knoxville to Exit 364 at State Route 95 South to Lenoir City and U.S. 321 East and follow the same directions as those above into Gatlinburg.
From Roanoke, Virginia going Southwest: On I-81 South, consider taking I-40 East to Exit 435 or 443 (Foothills Parkway), turn onto U.S. 321 and continue until you reach Gatlinburg.
From Asheville, North Carolina going Northwest: On I-40 West, take Exit 443 (Foothills Parkway) or Exit 435, then turn left onto U.S. 321 and continue until you reach Gatlinburg.
From Chattanooga, Tennessee going Northeast: Take I-75 North to Exit 81 at State Route 95, then follow Highway U.S. 321 East continuing through Maryville to Townsend, then make a right onto Scenic Highway 73 East to Gatlinburg.
McGHEE TYSON AIRPORT IN KNOXVILLE, TN (TYS)
McGhee Tyson Airport (airport code TYS) in Knoxville, Tennessee is located within 50 miles of most resort accommodations in the Gatlinburg/Pigeon Forge area. Car rentals are readily available at the airport. The drive east from the Knoxville airport down U.S. 321 through Maryville and Townsend is a pleasurable scenic drive.
SHUTTLE/BUS SERVICE IN GATLINBURG - PIGEON FORGE
City of Gatlinburg Bus Service. Offering local transportation throughout the city as well as to Dollywood and the Arts and Crafts community. Wheelchair and handicapped accessible with prior notice.
Pigeon Forge Trolley Service. Trolley travels throughout the city and between Patriot Park, Dollywood, and the local hotels. Six buses with lifts and one van for handicapped available with advanced arrangements.
CABS AND LIMOS IN GATLINBURG - PIGEON FORGE
AAA Dalton's Cab Company. Serves Pigeon Forge, Gatlinburg, Sevierville, and Kodak.
Cupid's Limo Service. Personalized Service, Tuxedo Stretch, Weddings, Corporate, Scenic Tours, Airport-Gatlinburg area.
No matter which things to do in Gatlinburg that you decide to enjoy, you're sure to have a blast! There are some amazing attractions like the Goat Coaster, Comedy Barn, Country Tonite Theatre Shows, Helicopter Rides in Gatlinburg TN, Murder Mystery Dinner Pigeon Forge options, Outdoor Gravity Park, Wonderworks Gatlinburg, and more. Of course, there are also plenty of great lodging options as well like the Clarion Inn Pigeon Forge and the Econo Lodge Riverside Pigeon Forge!