Brett Family Christmas
Click for More Information

Exclusive Online Offer: Family Pass Available
(Must purchase in advance online or toll-free at 1-800-987-9852)
Location: Dick Clark's American Bandstand Theater, 1600 W. HWY 76 Branson, MO 65616
1-800-987-9852
Description
Brett Family Christmas Photos (8)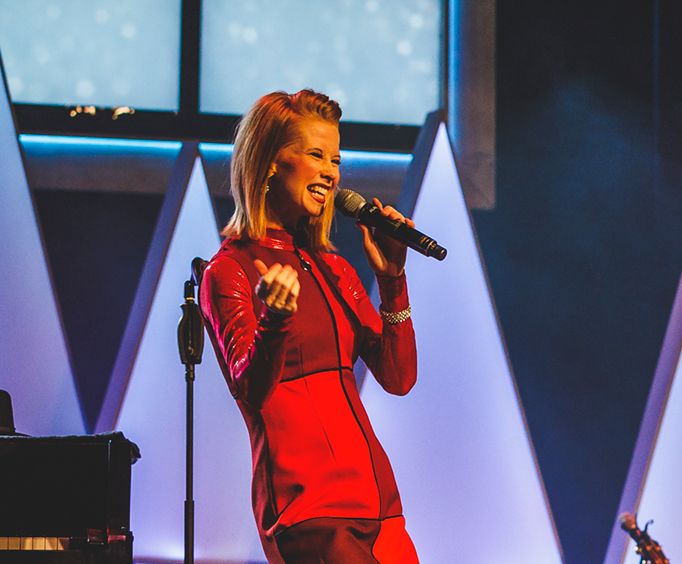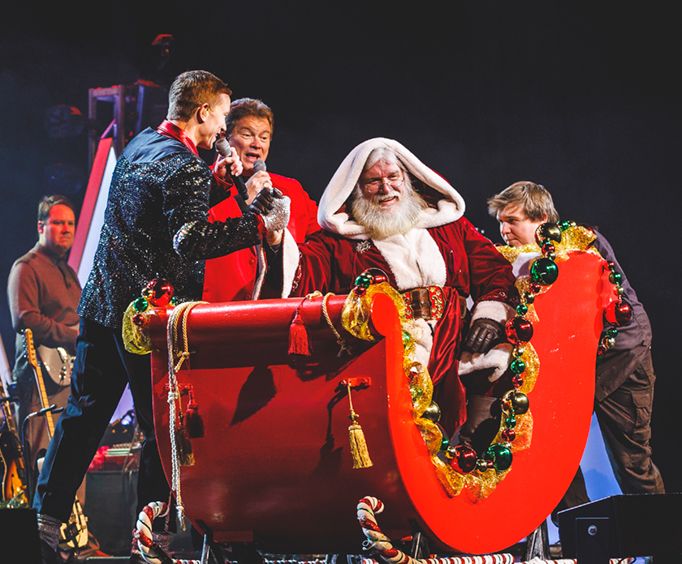 The talented Brett Family consistently delivers a lively, heartwarming performance every time they take the stage. Do not miss out on the fantastic Brett Family Christmas show!
Tom and Andrea Brett are joined by their children Brydon, Briahna, and Garon on stage in a dynamic musical experience that will bring you together with your own family. In a performance that lasts approximately two hours, audience members receive an unbelievably spectacular family act that keeps them captivated from beginning to end. The Brett family mixes song and dance to celebrate the holiday spirit during this unforgettable Christmas show.
The Brett family has followed their dream from Washington to Texas and finally to Branson, creating a fan base all over the country. They have performed at over 50 shows at locations all across the world, including at Dick Clark's American Bandstand Theater, acquired several awards, delivered more than 4,000 live performances, and have made worldwide television appearances, creating a lasting presence for themselves in the music industry.
The Brett Family's enchanting Christmas performance is filled with surprises. All of the Bretts could entertain audiences with a solo act, but when the family comes together, they have a combined star power so captivating you won't want the show to end!
Frequently Asked Questions for Brett Family Christmas:
Is Brett Family Christmas handicap accessible?

Yes.

For what ages is Brett Family Christmas appropriate?

Great for all ages.

Is parking available at Brett Family Christmas? Is it free?

Yes. Parking is free.

What is included in the admission price for Brett Family Christmas?

It includes the show.

Approximately how long is the Brett Family Christmas?

The show lasts approximately 2 hours.

In what theater is the show held?

Dick Clark's American Bandstand Theater
Reviews
4.7 | 31 reviews
Sandy D
MA
✓
Verified Traveler
This was my 4th time in branson and the 1st time seeing the brett family but you can be assured it will not be the last. We always pick a favorite and this time it was this show. I enjoyed every minute of it. What a wonderful family and they are all so talented.
Char
IL
✓
Verified Traveler
This is the best show in branson. My sisters and i go to branson especially because of the brett family. They are awesome. We have seen them 4 times now and would like to go to the christmas show. We will always go to see them as long as we are all able.
Don Farquhar
KS
✓
Verified Traveler
We have been to branson many times and see several different shows however one stood out. It was true family entertainment, wonderful show, great dancing, comedy, fantastic singing, a true family experience which we have found lacking lately in branson. The show was the brett family. From the moment you enter the theater till the time you leave you are made to feel like you are family. The warmth is something i have never seen of felt in any other branson show. Brydon brett, one of the sons also mc, is great, he keeps you entertained with his many talents, you just don't know what he is going to do next. Tom brett, the father, has a tenor voice that can vibrate the walls. He is a multi talented, not only his singing but is piano playing and instrument playing. Andrea brett, the mother, is another standout. She is a wonderful singer and plays instruments too. She is a fantastic song writer and has the ability to bring one to tears with her veteran poem. Now we come to briahna, the daughter, one word can describe her, wow, her voice is unbelievable, you name it she can sing it. Her dancing is the best i have seen in branson, you name the type of dancing and she can do it. Her piano playing is top of the line and can't be beat. Sorry to have missed the family's youngest son, garon, he is doing a mission for their church in columbia. I understand he will be back with the family in august and can't wait to see the complete family again. To me the brett family is what branson is about, good, wholesome family entertainment. To say would i ever go back is an understatement. Without a doubt i will, it is my favorite show ever in branson.
Lynn Robinson
Nampa, ID
✓
Verified Traveler
In our opinion, the brett family chirstmas was our best show.
Book Now!
Exclusive Online Offer: Family Pass Available