Williamsburg Historical Attractions
Williamsburg Historical Attractions
Editor's Pick
Year after year our customers say this is an outstanding activity, we are sure you will agree.
Want to experience something unique and historic? This is it! Bring the whole family along. In 1607, explorers from the Virginia Company landed at Jamestown and built America's first settlement, and now the site is home to one of Virginia's most prominent historical attractions, which features reenactments of life in the early 1600s. You can explore a military fort, a Powhatan Village, replicas of ships, and relive the days of the early 17th century. People of all ages will love this historical attraction and learn something new. This is one historical adventure you will not want to miss on your Williamsburg vacation.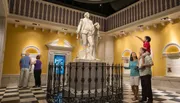 Those that love United States History are sure to love the American Revolution Museum at Yorktown, this amazing historical attraction center will help you learn about the history of the battle of Yorktown and the American Revolution you are sure to love your trip to Yorktown. This is one of the most immersive museums that you'll ever visit. You'll feel as though you have truly stepped back in time. This adventure is perfect for the entire family; everyone will learn something new! Bring the family along with you for this exciting experience that you will be talking about for years to come.
Best Seller
This is one of our most popular activities. Be sure to book soon before it sells out!
Enjoy learning about the birth of America at Colonial Williamsburg historical attraction, where you will enjoy costumed interpretations of the way life was lived in early America over 300 acres of historical sites, including a 30 minute film, "Williamsburg: The Story of a Patriot". This experience truly gives new insight into the city, making it a great option for those who want to get to know Williamsburg's past and its heavy influence on the United States. Families will enjoy the costumed interpreters as they demonstrate what life was like during the early years of America and kids will especially enjoy the opportunity to dress up in Colonial costumes and "walk in the shoes" of their forefathers.