Santa Fe, NM Walking Tours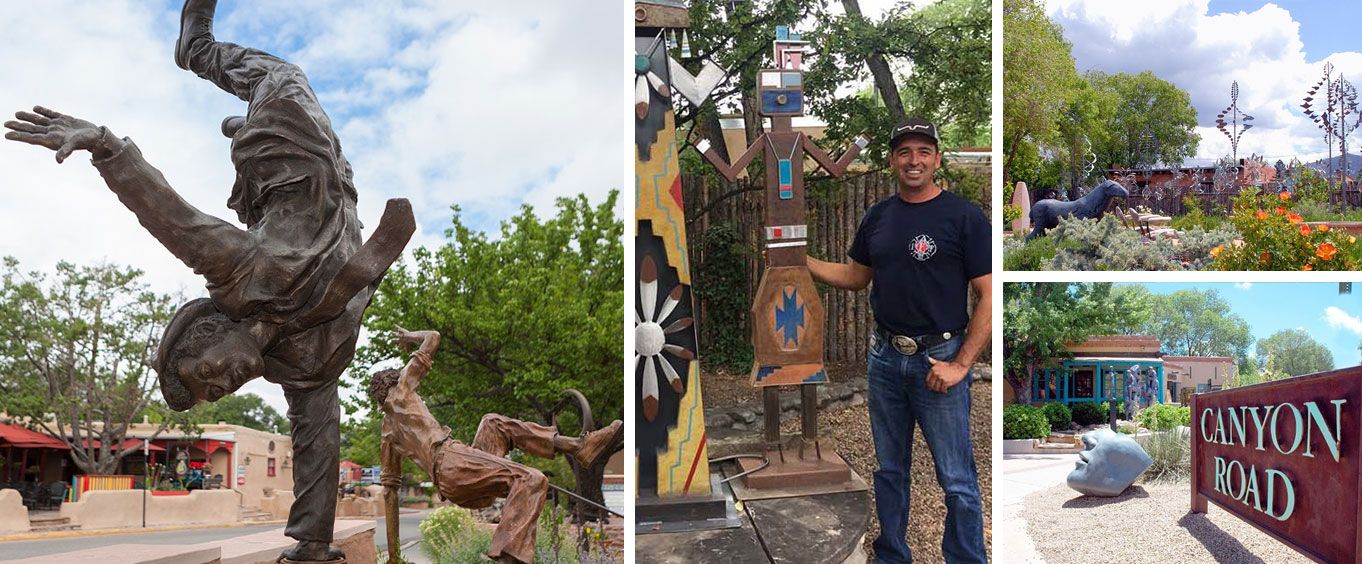 Stretch your legs and experience something new in Santa Fe, NM with one of the walking tours in the area. You are sure to have an amazing time getting in some fresh air while experiencing landmarks, local history, and more along the way.
You can enjoy some interesting artsy fun to your Santa Fe family vacation at the renowned Canyon Road Quickie Walking Art Tour. This spectacular 2-hour walking tour will show you and your whole family the best places to go in a historic art district with over 80 galleries, shops, boutiques, and restaurants that will be sure to impress. Your experienced tour guide will be a local art historian and museum educator that will give you and your family interesting facts and stories about the art history of Santa Fe's wonderful Canyon Road. You will find yourself in an amazing atmosphere to see multiple galleries where you can speak to the owners and interesting local artists, gorgeous courtyards, museums, and shops.
Available 85 days between Nov 20 & Oct 30
Nov 21
N/A
Sold Out
Nov 23
N/A
Sold Out
Nov 24
N/A
Sold Out
Nov 25
N/A
Sold Out
Nov 26
N/A
Sold Out
Nov 27
N/A
Sold Out
Nov 28
N/A
Sold Out
Nov 29
N/A
Sold Out
Nov 30
N/A
Sold Out
Dec 01
N/A
Sold Out
Dec 02
N/A
Sold Out
Dec 03
N/A
Sold Out
Dec 05
N/A
Sold Out
Dec 07
N/A
Sold Out
Dec 08
N/A
Sold Out
Dec 09
N/A
Sold Out
>
On your next family visit to the area of Santa Fe, New Mexico be sure to book a spot on the Santa Fe Architectural and Interior Walking Tour. On this three hour tour, visitors will walk along the streets of the city led by a professional and knowledgeable tour guide who will provide facts about history, events and stories that have occurred at each of the sites visited. Guests will be led through the many different districts that make Santa Fe unique looking at the equally unique architecture of homes and buildings including adobe structures that are mixed between the traditional New Mexican Pueblo Style and the Spanish Territorial Style. The day will end with a drink of Cota Indian Tea and a sampling of the areas finest champagne.
Available 96 days between Nov 21 & Oct 30
Nov 23
N/A
Sold Out
Nov 24
N/A
Sold Out
Nov 25
N/A
Sold Out
Nov 26
N/A
Sold Out
Nov 27
N/A
Sold Out
Nov 28
N/A
Sold Out
Nov 30
N/A
Sold Out
Dec 01
N/A
Sold Out
Dec 02
N/A
Sold Out
Dec 03
N/A
Sold Out
Dec 04
N/A
Sold Out
Dec 07
N/A
Sold Out
Dec 08
N/A
Sold Out
Dec 09
N/A
Sold Out
Dec 10
N/A
Sold Out
>