Santa Fe, NM Acivities: Shows, Attractions, and More
Prepare for your next vacation in Santa Fe with any of our ideal activities for the area. Find anything here to suit your tastes! Explore the great outdoors of New Mexico or stay in for a show! The choice is up to you during your next New Mexico getaway! We hope to see you soon! Book for your attractions with our easy online booking. Let's make your trip a success!
Santa Fe Most Popular Activities
Anyone who is going on the sip and savor food tour keep the following things in mind. In order to have a good time make sure to enjoy the food but don't eat too much, be polite and have fun.
Available 89 days between Feb 23, 2019 & Dec 28, 2019
View Schedule
The Santa Fe railyard arts district tour is one of the best ways for my family to see the beautiful city of Santa Fe I'll have the chance to take in as much of the city's beauty as I possibly can.
Available 44 days between Mar 1, 2019 & Dec 27, 2019
View Schedule
When visiting New Mexico there is plenty of things to do, but this tour will take you out on a 4x4 out on Canyon Road and they have a tour guide that will show them the best scenery and allow people to take photos and have the time of their lives.
Available 32 days between Feb 22, 2019 & Dec 25, 2019
View Schedule
Meet your guide in the lobby of the Hotel St. Francis at 9:20am.
Available 74 days between Feb 28, 2019 & Nov 8, 2019
View Schedule
Grab your friends and your family too as you head out to follow the clues, solve the riddles and decipher the puzzles to carry you on from one location to the next when you participate in this fun scavenger hunt through Santa Fe!
Available 313 days between Feb 22, 2019 & Dec 31, 2019
View Schedule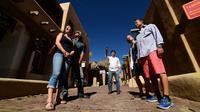 Spend an afternoon full of fun and adventure as you embark on this unique walking tour through historic downtown Taos with an informative guide giving you a lesson on the history of the area and stories of the people who helped build it on this fun tour!
Available 299 days between Feb 22, 2019 & Dec 31, 2019
View Schedule
Many of us love visiting art museums and galleries, but how often do we get the opportunity to slow down, take a closer look, and really engage with what we're seeing?
Available 5 days between Feb 28, 2019 & Mar 28, 2019
View Schedule