New Orleans, LA Attractions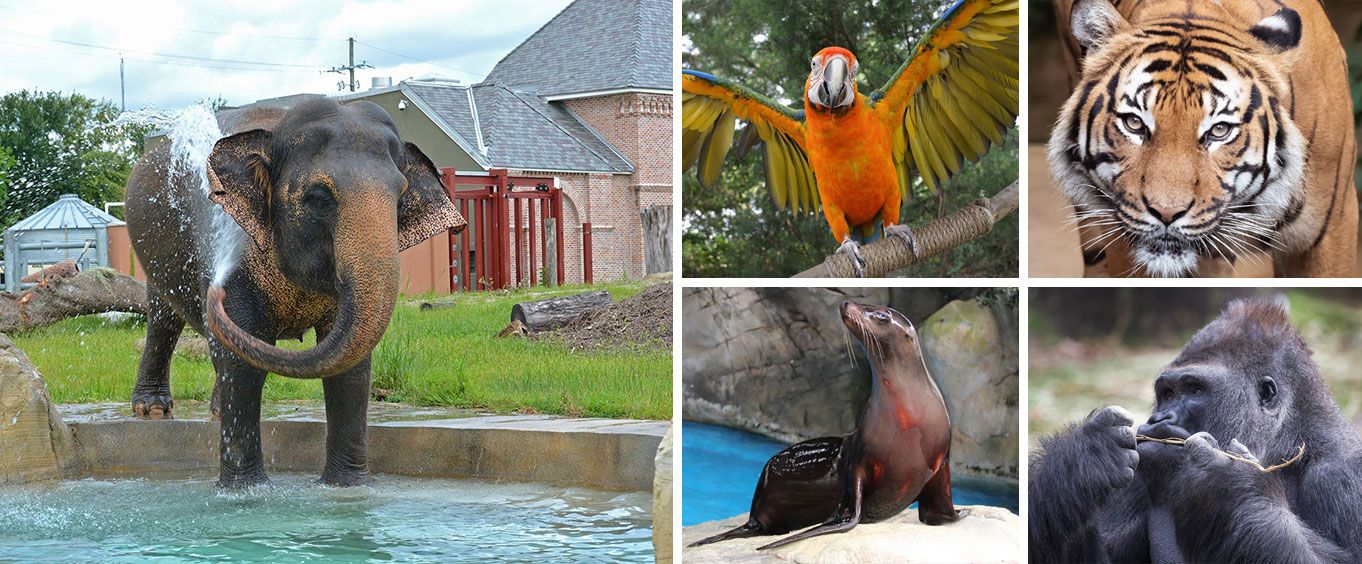 By Date:
New Orleans in Louisiana is known for its history and party atmosphere. Although they do have one of the top zoos in the country here. It is called the Audubon Zoo attraction and has a large variety of different animals and interactive, hands-on experiences. They have a friendly and extremely knowledgeable staff, eager to answer any questions. Some of the most popular exhibits include the Watoto Farm, Gorilla Troop, Lion Exhibit, Audubon Aviary, Louisianna Swamp, Asia, African Savanna, Bambu Village, Flamingo Exhibit, Whooping Cranes, Sea Lions, and so much more. Whether you go by yourself, with your partner, or with your whole family, you will all have an amazing time!
Available 300 days between Now & Dec 31
Jan 20
N/A
Sold Out
Jan 27
N/A
Sold Out
Feb 03
N/A
Sold Out
>
Learn about the sea creatures of North and South American at the Audubon Aquarium of America attraction. There you will see sharks, jellyfish, sea horses, penguins, and more in the 30 foot aquatic tunnel. Visit the many special exhibits in the museum like the Amazon Rain Forest with birds, stingrays, and piranhas and the Great Maya Reef. You will view eight type of jelly fish, creatures that live along the Mississippi River, a penguin exhibit, sea otters, and a touch pool built for stingrays. Stop at the Aquarium food court for pizza, ice cream, soft drinks, sandwiches, wings hotdogs, and more.
Available 300 days between Now & Dec 31
Jan 20
N/A
Sold Out
Jan 27
N/A
Sold Out
Feb 03
N/A
Sold Out
>
Located in the heart of New Orleans, Oak Alley Plantation Tour offers guests a superb look into the history and culture of New Orleans. The Oak Alley Plantation Tour is roughly a five-hour excursion, where guests go on a guided tour of the Oak Alley Plantation, learning more about the history of the plantation while hearing the stories of what happened at the plantation on a day-to-day basis. The Oak Alley Plantation Tour is especially great for families, as parents and children alike can learn what it was like to live on a plantation hundreds of years ago. Finally, guests to this wonderful attraction can partake in both the on-site gift shop and restaurant.
Available 306 days between Mar 1 & Dec 31
Something was bugging me, so I went to the Audubon Butterfly Garden and Insectarium attraction and checked things out. I was pleasantly surprised to find all kinds of insects happily making this place their home. The largest insect museum in the United States. There is 23,000 square feet of exhibit and activity space. There is so much to do and experience inside this space it took hours to explore. I was captivated as this secret world of insects and butterflies was revealed. This Museum helped me to understand how insects live and struggle for survival. The world of Butterflies and Insects is very complicated. Spending time here will help us understand this perplexing world. Take a day and discover this fascinating small world for yourself.
Available 300 days between Now & Dec 31
Jan 20
N/A
Sold Out
Jan 27
N/A
Sold Out
Feb 03
N/A
Sold Out
>
The Steamboat Natchez is an attraction that can be found in New Orleans. While this cruise is best for couples with its romantic atmosphere, it can be enjoyed by people of all ages, even the handicapped. The tour lasts about two hours and takes place on an authentic New Orleans Stern Wheeler. You can use your cameras while on the cruise, and the cruise has a restaurant and gift shop to help you enjoy your time. The Natchez is the only steam powered boat that is still in operation on the Mississippi river to this date and was built in 1975.
Available 350 days between Now & Dec 31
Jan 17
11:30 AM
2:30 PM
7:00 PM
Jan 18
11:30 AM
2:30 PM
7:00 PM
Jan 19
11:30 AM
2:30 PM
7:00 PM
Jan 20
11:30 AM
2:30 PM
7:00 PM
Jan 21
11:30 AM
2:30 PM
7:00 PM
Jan 22
11:30 AM
2:30 PM
7:00 PM
Jan 23
11:30 AM
2:30 PM
7:00 PM
Jan 24
11:30 AM
2:30 PM
7:00 PM
Jan 25
11:30 AM
2:30 PM
7:00 PM
Jan 26
11:30 AM
2:30 PM
7:00 PM
Jan 27
11:30 AM
2:30 PM
7:00 PM
Jan 28
11:30 AM
2:30 PM
7:00 PM
Jan 29
11:30 AM
2:30 PM
7:00 PM
Jan 30
11:30 AM
2:30 PM
7:00 PM
Jan 31
11:30 AM
2:30 PM
7:00 PM
Feb 01
11:30 AM
2:30 PM
7:00 PM
Feb 02
11:30 AM
2:30 PM
7:00 PM
Feb 03
11:30 AM
2:30 PM
7:00 PM
Feb 04
11:30 AM
2:30 PM
7:00 PM
Feb 05
11:30 AM
2:30 PM
7:00 PM
>

By Date: