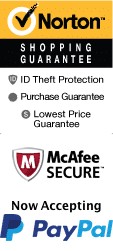 Hatch Show Print Tour
222 Fifth Avenue South Nashville, TN 37203
1-800-987-9852
Chat Now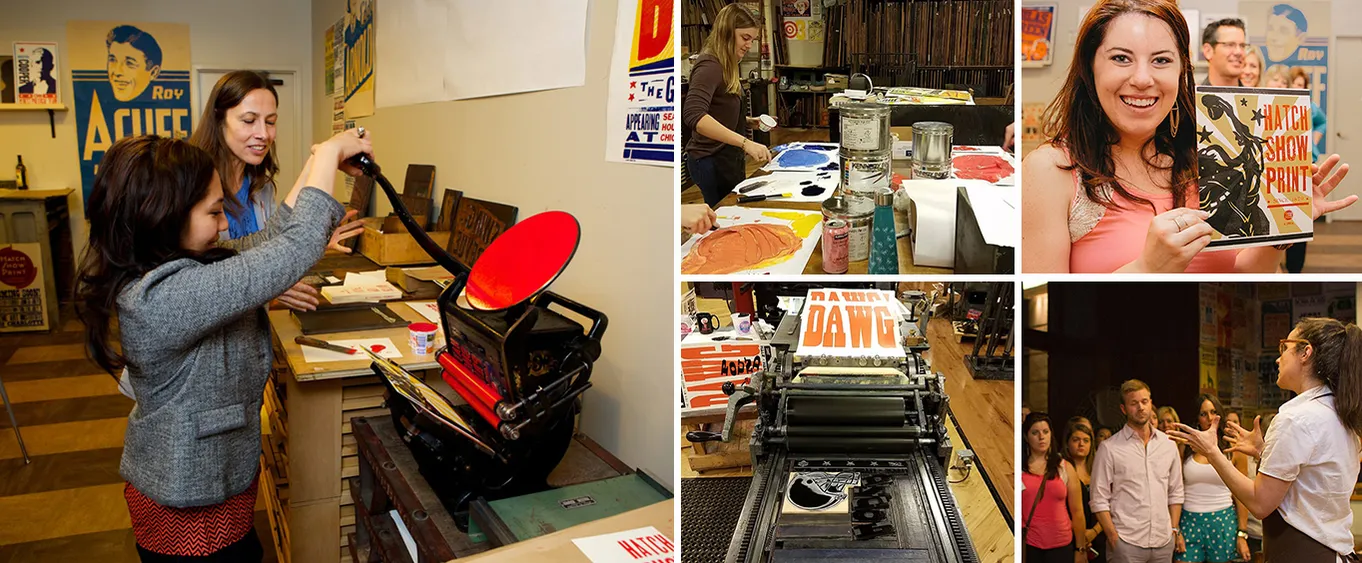 On this historical tour, visit the home of legendary Hatch Show Prints, a distinctive part of Americana for more than 135 years! The Hatch family business, an art craft of letterpress printmaking has been a piece of Nashville since 1879. One of the very first print jobs they produced was a handbill for Reverend Beecher (brother of Harriet Beecher Stowe) and from that first print struck they had achieved a look that would become American history.
About Hatch Show Print Nashville
This family-created and owned print shop started in 1875 when William Hatch moved his family to Music City. Letterpress printing was in their blood, with the two sons grew up honing the craft and learning the trade. The Hatch brothers, Herbert and Charles, created their first print shop where they went on to create everything from announcements for Reverend Henry Ward Beecher to vaudeville acts to local shoeshine shops. This print shop revolutionized techniques and is a landmark for artists, journalists, and historians alike. Of course, printmaking also influenced the rise of country music in Nashville having created posters for artists such as Duke Ellington, Louis Armstrong, and Bessie Smith.
Hatch created poster prints for circuses, vaudeville acts, minstrel shows, you name it. Hatch posters were found plastered across buildings in the city and barns in the country. From 1925 to 1992 the distinctive artwork posters were created at their location just behind the Ryman Auditorium. Today they still produce about 600 posters yearly, and visitors can visit the production shop to see them rolling off the press.
About the Hatch Show Print Tour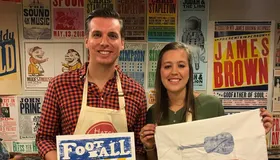 On this awesome guided tour, you'll learn about the history of Hatch. This iconic letterpress poster shop paved the way for printmaking and the entertainment scene in the city. Enjoy a guided tour and see some of the old, original brilliantly colored posters in the Gallery. The tour concludes in the Hatch Show Print Space for Design, where guests watch demonstrations and create a keepsake print! It is a truly immersive experience that combines hands-on fun with the interesting and colorful history of the Hatch Show Print legacy.
Whether you are an artist interested in the craft or the history of Hatch Print, this Hatch Show Print Tour is a unique way to explore printmaking. See the original colorful posters and get a hands-on printing experience during this fun and informative endeavor. that takes you through the iconic print shop's history.
When you are finished with your interesting tour, head to downtown Nashville to experience the rest of music history. Catch live entertainment from your favorite entertainers at the Grand Ole Opry House, peruse the fascinating Country Music Hall of Fame and Museum, or enjoy Southern entertainment as you take a cruise on the General Jackson. No matter which activities you enjoy, every visitor to Music City is certain to have a blast.
Frequently Asked Questions for Hatch Show Print Tour:
Approximately how long could a customer plan to spend at Hatch Show Print Tour ?

Tour lasts approximately 45 minutes.

What amenities are available?

There is a gift shop.

Is Hatch Show Print Tour handicap accessible?

Yes.

Is photography & video recording allowed?

Yes.

For what ages is Hatch Show Print Tour appropriate?

Great for all ages.
Book Now!