Myrtle Beach Sunset Cruise
4079 Us 17 Business Murrells Inlet, SC 29576
1-800-987-9852
Chat Now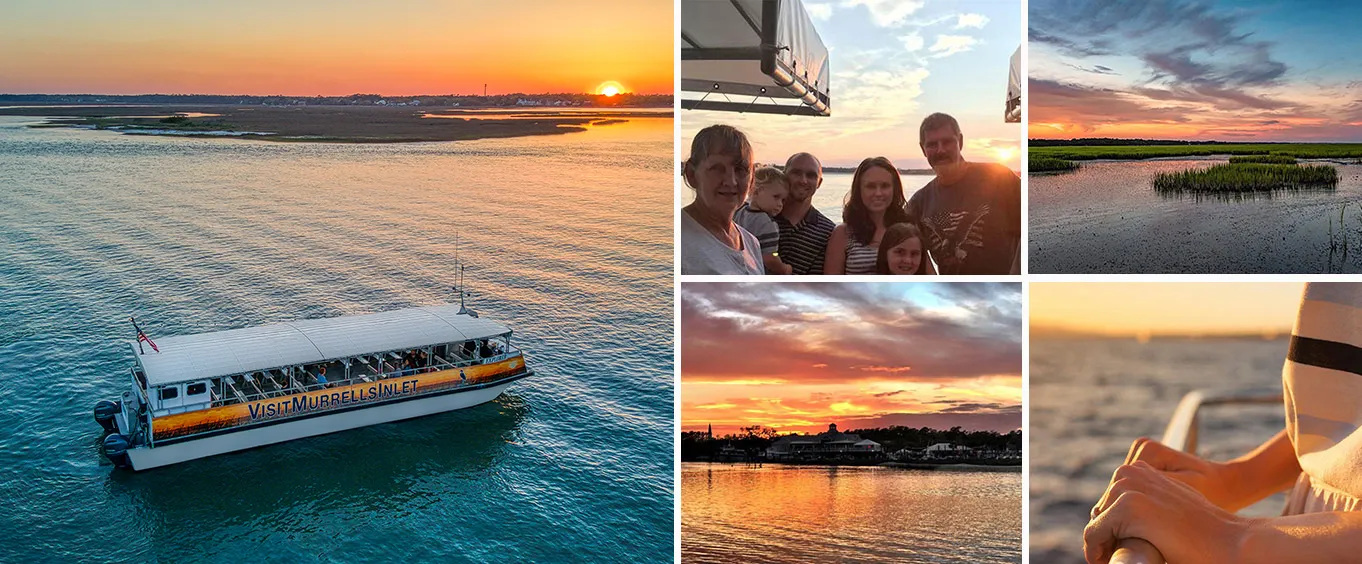 Myrtle Beach, SC is known for its splendid wide and clean sandy beaches and its enchanting shorelines. Head out onboard the Explorer for an adventure and a memorable getaway where you'll be swept away by the beauty of the waters as you navigate through Murrells Inlet and glance upon the surrounding homes sites and saltwater estuary. Take this fantastic sunset cruise Murrells Inlet SC to experience this wonderful and picturesque scenery while also enjoying fun out on the water in Murrells Inlet.
About Murrells Inlet Sunset Cruise Myrtle Beach
Perhaps one of the most recognized and celebrated bodies of water in the area, Murrells Inlet is home to an astonishing collection of wonderful of both local and migratory birds and a tremendous salt water estuary to see and experience. Murrells Inlet is known as a fishing village and the Seafood Capital of South Carolina, thus it is one of the most favored places to go for a seafood dinner. Additionally, it is surrounded by historic docks, marshy lands, and the ever-popular MarshWalk, the boardwalk which is home to live music, waterfront dining, and more! You can also visit the nearby Brookgreen Gardens, a national historic landmark showcasing opulent sculptures and giving breath to the artistic side of Murrells Inlet. Other notable places include Huntington Beach State Park and local dining favs such as the Dead Dog Saloon, The Claw House, and Drunken Jack's.
You and your loved ones are sure to have a fantastic time discovering the illuminated salt water Inlet which is connected to the Atlantic Ocean and delightful scenery of the South Carolina coast while the Explorer peaks around the corner of Garden City Beach to have views to the North of the Myrtle Beach skyline and also South looking at Litchfield Beach and Pawleys Island towards Charleston! Set sail on this cruise to see a colorful sunset and observe the local wildlife. You will be able to create new memories and make the most out of your trip! Of course, you can also add this cruise to any vacation package complete with lodging and other Myrtle Beach ventures to experience the best vacationing time possible. Guests can also learn about Myrtle Beach Bike Week and other events onsite.
Reviews

Dave Ost
Chambersburg, PA
✓
Verified Traveler
Had a good time. Sunset was great. Would have liked more interaction from the crew.

Chrissie Henley
Farmington, KY
✓
Verified Traveler
The sunset cruise was beautiful! It was about an hour ride. They have drinks for sale and a restroom. The crew was amazing and also let you ask questions about scenery or anything you see. They were great with kids too!


Loren Wilson-Swider
Chester, PA
✓
Verified Traveler
"Location was easy to find."
Location was easy to find. The boat was very spacious. Snacks & beverages were available for purchase. The cruise was lengthy. Great views of beach front mansions, and boaters, alike. Watching the dazzling sunset over the water was the best part of the cruise. The port offered all types of entertainment & eateries. We'd definitely go again!

Lori Dietsch
Marietta, OH
✓
Verified Traveler
We absolutely loved the cruise. It was my birthday and a great way to end the day celebrating. I'd definitely recommend. It was relaxing, fun and informative. Thanks for making it a great day.

Frequently Asked Questions for Myrtle Beach Sunset Cruise:
What type of seating does Myrtle Beach Sunset Cruise have?

There is bench seating available.

What type of parking do you have?

Free parking is available on site.

Approximately how long is Myrtle Beach Sunset Cruise ?

The cruise lasts approximately 60 minutes.

How many decks or levels are there aboard the Myrtle Beach Sunset Cruise ?

1 level.

What lake or river does the Myrtle Beach Sunset Cruise cruise on?

The Explorer navigates through the tranquil saltwater marsh of Murrells Inlet.

What is the dress code?

Dress code is casual.

Does the cruise serve alcohol?

Yes. Wine and beer is available for purchase.