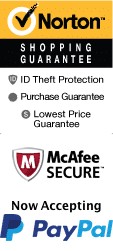 Michael Bairefoot Magic & Comedy Show
Location: GTS Theatre, 1220 Port Drive Myrtle Beach, SC 29577
1-800-987-9852
Chat Now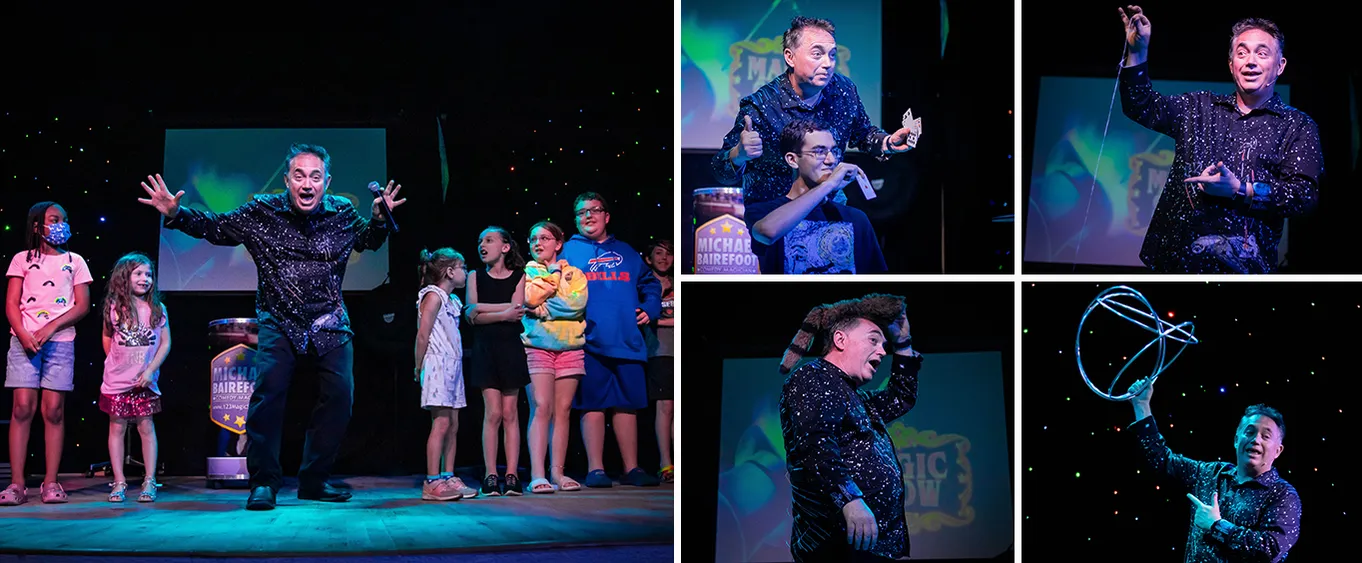 Do not miss out on a unique opportunity when visiting Myrtle Beach to see magic and fun with Michael Bairefoot Magic Show when he graces the GTS Theatre stage for an unforgettable evening of awe-inspiring illusions. This seasoned performer is one of the best magicians in the industry, and his talent and charisma are sure to delight all ages! Get your tickets today to experience magic in Myrtle Beach.
This event is great for every kid and adult alike, offering some of the most astonishing feats to viewers. Not only does he show off his magic skills during this performance that will humor families, but he also blends together comedy, personal past experiences, energy, and charisma for a thrilling show. Through each illusion and magic trick, audience members will be captivated by this Las Vegas-style magic show. Witness in amazement the finest Myrtle Beach magic show!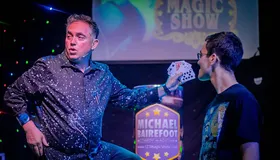 Not only does Michael provide an astounding magic show experience, but he also brings humor and audience participation into his shows. You'll enjoy sleight of hand tricks and marvelous interaction. The colorful lighting, beautiful costumes, and good clean child- and family-friendly fun combine to provide a magical experience unlike any other in the Myrtle Beach area. You'll see the magic classics and more during this journey!
About Michael Bairefoot Magic Show Myrtle Beach
This award winning magician and comedian has performed all over the country, honing his craft through hundreds of performances. His career speaks for itself with his multitude of awards that he has won. Just a few of these include the Stage Illusionist Champion at the International Battle of Magicians as well as the Hal Martin Excellence Award from South Eastern Association of Magicians. He has attended many national magic conventions, earning a name for himself in the industry with his 30+ 1st Place Awards and adding a new twist to fantastic illusions. Michael's blend of magic combines wonder and magical experience that you will not forget. He has impressed countless audiences around the world with his disappearing acts and card trick illusions. His world class magic shows are sure to delight. He truly is dedicated to providing the best illusions and magic that he can, to entertain each audience that attends his shows and his passion is evident in his performances, giving guests a new respect and appreciation for the art of magic.
About the GTS Theater
The GTS theater is one of the best live entertainment theaters in the Myrtle Beach area. Its incredible shows provide an amazing time for kids and adults alike! At the GTS Theater, you'll be treated to live entertainment as you sit in comfortable seating and enjoy the state-of-the-art lighting and sound elements that bring each production to life! These Hollywood-worthy productions encompass everything from magic shows to comedy productions and soulful entertainment. As well as offering audience members the opportunity to see the magic of Michael Bairefoot, the GTS Theater is also home to Myrtle Beach favorites like Motor City Musical, Carolina Improv, and Elvis Live. Regardless of which show you choose to see, your time spent at the GTS Theater will be memorable.
This unique show is sure to put a smile on every travelers face! Don't miss out on the Grand Strand magic shows that everyone in Myrtle Beach is raving about! Book tickets to tons of other Myrtle Beach shows like the Carolina Opry music show and attraction options as well when you book your vacation to Myrtle Beach, South Carolina.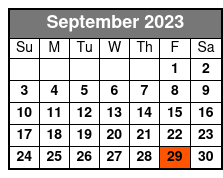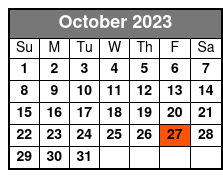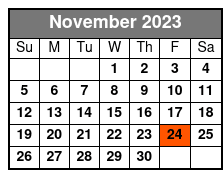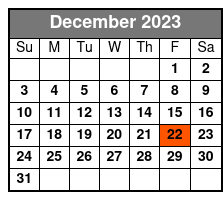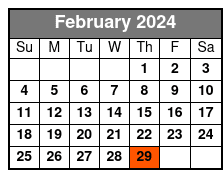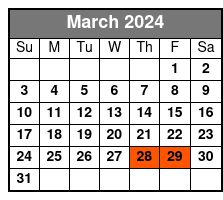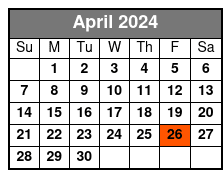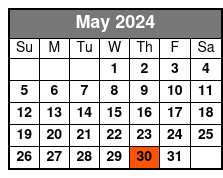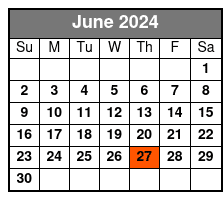 Reviews

James Kemble
Drexel Hill, PA
✓
Verified Traveler
"Was a really awesome show "
Was a really awesome show

Tomika Saunders
Green Pond, SC
✓
Verified Traveler
Amazing show. Very funny and exciting magician. Definitely recommend.

Sheila Lewis
Garfield Heights, OH
✓
Verified Traveler
Michael was sooo, funny with the jokes. His facial expression while preforming made the comedy that much more funnier. It was a great end to our vacation. The ticket price was reasonable.

Peter Kandinov
Rego Park, NY
✓
Verified Traveler
Frequently Asked Questions for Michael Bairefoot Magic & Comedy Show:
Approximately how long is the Michael Bairefoot Magic & Comedy Show?

The show lasts approximately 2 hours.

In what theater is the show held?

It is held at the GTS Theatre.

What type of parking do you have?

Parking is free.

What is the dress code?

Dress code is casual.

Can I choose my seat?

Seating is based on a first come first served basis.
Book Now!