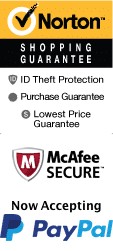 Dino Park Myrtle Beach
Click for More Information

Exclusive Online Offer: Buy 1 Get 1 Free
(Must purchase in advance online or toll-free at 1-800-987-9852)
Location: Broadway at the Beach, 1112 Celebrity Cir Myrtle Beach, SC 29577
1-800-987-9852
Chat Now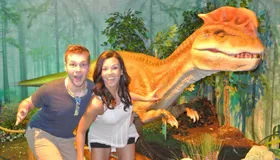 Take a step back to prehistoric times the next time you visit the beautiful coastal city of Myrtle Beach, SC. This fun interactive attraction puts visitors up-close to awesome animatronic dinosaurs. Whether you are a longtime dinosaur lover or want to bring the kiddos to see some moving dinopark exhibits in action, you are sure to have a great time!
During your self-guided adventure through Dino Park, you will be treated to up-close views at dazzling animatronics of your favorite scaly dinosaurs. From the tri-horned Triceratops to the fiercest velociraptors and the docile Brachiosaurus, there are more than 20 life-sized dinosaurs to discover. Along the way, you will be able to learn about some awesome dino facts and get your fill of prehistoric fun! The exhibition showcases beasts from the Jurassic and Cretaceous periods, which took place 65-million years ago. Each of these creatures comes to life with sound, animatronics, and are full-scale models of the creatures.
Additionally, visitors will be able to enjoy CGI film footage that gives a glimpse into the lives of the dinos. It is the perfect way to learn all about the dinosaurs through interesting facts and hands-on activities. Throughout the museum are various facts about the dinosaurs displayed on informative and colorful posters. See dinos Myrtle Beach style!
Dino Park activities
Dino Explore Pit:

The kiddos will have a blast diving into the Dino Explore Pit! This ball pit features 100,000 balls offering tons of room to bounce around. It is a fun attraction for all ages to enjoy.
Dig a Dino Fossil:

Become a real-life archaeologist as you put your digging skills to the test! Look out for some awesome fossils as you search for the next greatest dinosaur discovery.
Ride a Tyrannosaurus:

This fun animatronic ride is perfect for kiddos who want to experience some thrilling fun! Climb aboard for an action-packed ride that you won't soon forget.
Play Area

: Kiddos will enjoy burning off some extra energy at the playground area. The playground features dino-themed puzzle floors, bright pictures on the walls, and play equipment featuring a slide and dinosaurs they can climb on.
About the Dinopark Gift Shop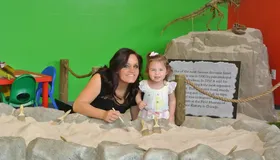 Be sure to bring home some of the fun! At the gift shop, you will find an array of toys and gifts to delight the kiddos and help you remember your time at the museum. From stuffed dinosaurs to figurines and pens, there is a gift for everyone!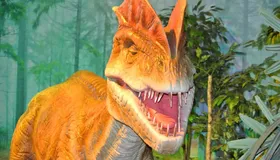 The dinosaur museum is the perfect place to go to combine tons of educational facts and information with fun. Appreciate the detail and the magic that these life-size animatronic figures bring, and explore the prehistoric times in a brand new way. The attraction is found at Broadway at the Beach, giving you the ability to explore tons of other great activities, restaurants, and shopping venues after your time at the museum.
About Broadway at the Beach
After your time at Dino Park, head to the most popular shopping and entertainment center in Myrtle Beach, SC with a visit to Broadway at the Beach. Here, visitors will find three theaters offering amazing shows, more than 20 restaurants, and hundreds of places to shop! There are also attractions on-site, including the brand new Dino Park as well as classic favorites like Ripley's Aquarium and Hollywood Wax Museum. It is the perfect way to spend a day on your vacation.
Create lasting memories and enjoy tons of educational fun on your next trip to Myrtle Beach, SC. Visitors of all ages will have a blast exploring the dinosaurs at Dino Park! Be sure to attend some other awesome attractions like a dinosaur restaurant Myrtle Beach during your getaway and book your favorite hotel option for the perfect vacation. Other great activities include Medieval Times Myrtle Beach or find helpful articles to find out When is Myrtle Beach Bike Week and other answers to your questions.
Options:
Dino Park Myrtle Beach
Available Now until 12/31/2023 View Detailed Schedule
Enjoy the family-friendly adventure at Dino Park in Myrtle Beach! This exciting museum gives guests the chance to come face-to-face with life-size dinos! Whether you are a fan of the towering tyrannosaurus or prefer the more docile herbivores, these beasts have a vast history that will spark imagination and allow visitors of all ages to enjoy educational fun. The animatronics are absolutely life-like and are sure to transport you back to the Jurassic period!
Reviews

Sharlotte Daniels
Harrogate, TN
✓
Verified Traveler
My grandsons loved it. It is most definitely for younger children. Although my daughter 28 wanted to take her shoes off and get in the ball pit. We had a great time there!!

Vivian Lingo
Agusta, GA
✓
Verified Traveler
Daughter loved it


Nikki Moss
Kennesaw, GA
✓
Verified Traveler
"Keep up the good work! Made my vacay!"
Had a blast! I've always loved dinosaurs and even though this was mainly kids friendly i still enjoyed myself with all the fun facts and life like animals! Keep up the good work! Made my vacay!



Haley Calliham
Saluda, SC
✓
Verified Traveler
We had a great time and 5 year old loved it!
Frequently Asked Questions for Dino Park Myrtle Beach:
Approximately how long could a customer plan to spend at Dino Park Myrtle Beach?

Guests spend a couple hours at the museum.

Is Dino Park Myrtle Beach handicap accessible?

Yes.

Is photography & video recording allowed?

Yes.

For what ages is Dino Park Myrtle Beach appropriate?

Great for all ages!

Is parking available at Dino Park Myrtle Beach? Is it free?

There are plenty of paid parking opportunities at Broadway at the Beach.
Book Now!

Exclusive Online Offer: Buy 1 Get 1 Free