Alpine Coaster Adventures in Greater Mt Rushmore Area, SD
Experience an amazing time in the Greater Mt Rushmore area with tickets on a fun alpine coaster. Alpine coasters offer some fun adventures and sightseeing experiences.
Greater Mount Rushmore Area Alpine Coasters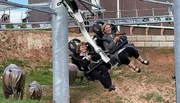 Experience some of the best fun in the Greater Mount Rushmore and Rapid City area with tickets aboard the Buffalo Hunt Coaster in South Dakota. Along the way, guests will be able to shoot plexiglass targets of buffalo while enjoying some awesome sightseeing and a thrilling coaster ride. Similar to a traditional alpine coaster but still different enough to bring some new elements of fun, this brilliant coaster has guests sit tandem. They'll be given a faux Six Shooter gun and as they enjoy the thrilling loops, turns, and adrenaline-pumping action, they will be able to shoot at fake plexiglass targets and rack up their points. This fun and friendly competition adds an awesome new element to the journey, allowing for an exciting endeavor that guests won't soon forget. Do not miss out on all of the fun by booking your tickets today.
Rapid City, SD is an amazing place, and it is close to Mt Rushmore making it a great choice for those who are visiting the area. If you want to have some extra fun while visiting Rapid City, be sure to book the Roller Coaster Tickets with Dinner and Show in Rapid City. This remarkable attraction comes with admission on the Buffalo Hunt alpine coaster, an exciting event that allows guests to zoom along a looping and winding track to shoot targets with a fake Six Shooter. The combo ticket also comes with a fun dinner show staring the extremely talented Fort Hays Wranglers. Hear some great Branson-style music while you dine on a mouthwatering Chuckwagon dinner.