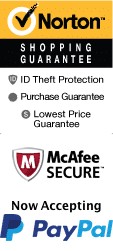 Car & Truck Shows Highlight Fall Events in Gatlinburg - Pigeon Forge
ORDERING INFORMATION
Book by Phone:
1-800-987-9852
Book Online:
Pigeon Forge is an exciting place to visit any time of the year, but especially so during October, when the city hosts several car shows. These events showcase the best and most beautiful cars of all types from around the country. With plenty of comfortable lodging nearby, you can't go wrong with a fall trip to Pigeon Forge!
Great Smoky Valley Mountain Regional Mustang & All Ford Show
One popular Pigeon Forge mustang show is the Great Smoky Valley Mountain Regional Mustang & All Ford Show at the Country Inn and Suites. Sponsored by the Tennessee Valley Mustang Club, this event in early October features car judging and awards presentations as well as a Dolly Parton's Stampede Dinner and Show. With award-winning cars, a spectacular dinner show and event proceeds going to the Children's Hospital of East Tennessee, The Mustang Show is a can't-miss happening.
The Forge Factory MuscleCar Day II Super Car Show
Also in October, Pigeon Forge welcomes stock cars to town at The Forge Factory MuscleCar Day II Super Car Show. According to Tim Lopata, President of The Forge, this "superstock heaven" is "quickly becoming the show for pure collectors and true hobbyists" and will attract five major magazines, two muscle car dealers and two high-profile restoration shops. For a small admission fee, visitors can see all kinds of cars, from factory stock to Dealer Prepped to Super Stock, as well as hear a guest performance by country and contemporary recording artist Tiffani E
Lodging During Car & Truck Shows in Pigeon Forge
For those want to be near Dollywood, stay at the Country Inn and Suites or Holiday Inn Resort. For a quiet retreat just off the parkway, stay at Creekstone Inn on the Little Pigeon River; with its own restaurant, pool and hot tub, guests have everything they need right at the hotel, and it's just a short trolley ride to all the best attractions. Rodeway Inn and Ramada Inn are two hotels that are great for traveling families; Rodeway features a pancake and coffee breakfast as well as a children's pool, and Ramada has a pool and hot tub.
Pigeon Forge is the perfect place for a fall getaway; with several fun car shows during October, as well as year-round attractions like Dollywood, the Dolly Parton's Stampede, Ripley's Aquarium of the Smokies, and Great Smoky Mountains National Park, visitors of all ages get to experience the fun things to do in Gatlinburg.