Attractions, Activities, and Tickets for Things to Do in Fort Lauderdale, Florida

Purchase tickets for Fort Lauderdale, Florida to enjoy great attractions, activities, shows, dining, restaurants, and fun things to do online!
Fort Lauderdale Jet Skiing
If you really enjoy jet skiing and water activities, then the Biscayne Bay Jet Ski Tour would be an amazing experience for you, you will get to travel along the Biscayne Bay and possible see dolphins, manatees and wonderful birds.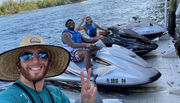 introduction If you're looking to escape the stress of the everyday and enjoy a relaxing weekend in the sun, then a jet ski rental is your idea of good times.
Jan 28
N/A
Jan 29
N/A
Jan 30
N/A
Feb 04
N/A
Feb 05
N/A
Feb 06
N/A
Feb 11
N/A
Feb 12
N/A
Feb 13
N/A
>