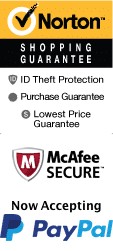 WonderWorks Branson
2835 W 76 Country Blvd Branson, MO 65616
1-800-987-9852
Chat Now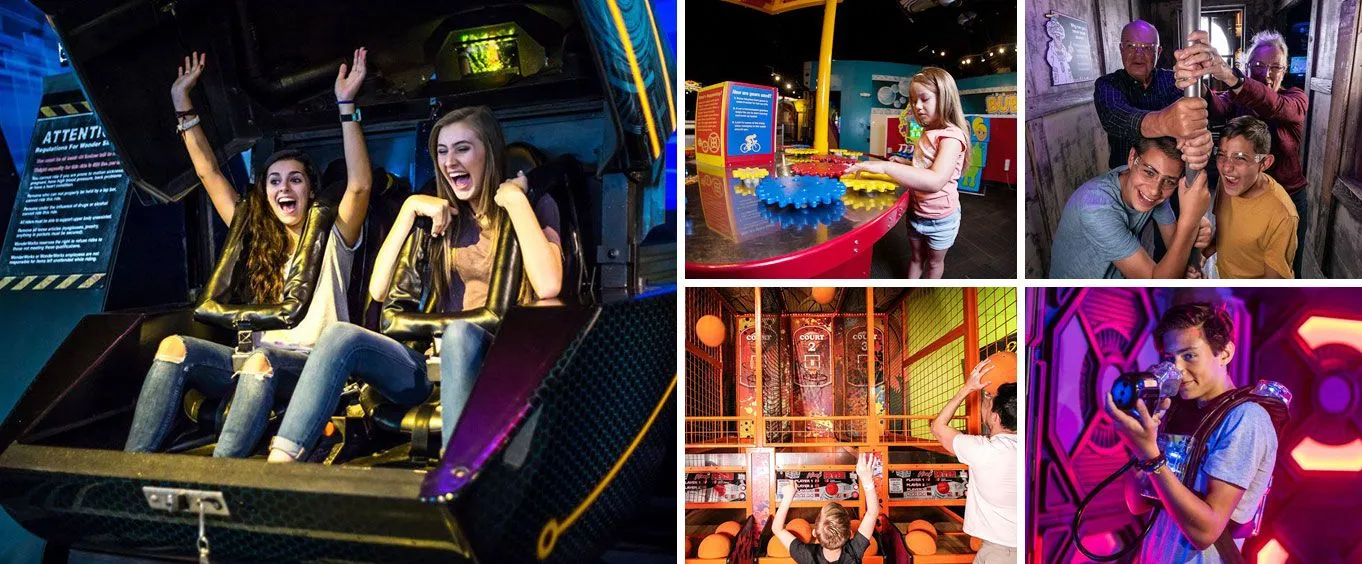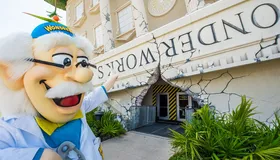 As of spring 2020, WonderWorks Branson is an interactive attraction set to captivate visitors of all ages with educational displays that give unique insights into the world around them. Experience a variety of awesome exhibitions from a bed of nails to a hurricane simulator. It is a wonderful way to educate yourselves about the phenomenon that make Earth special.
The newly-built center is comprised of an astonishing 45,000 square feet. Settled throughout the building you will find more than one hundred different displays, each demonstrating different aspects of science, industry, space travel, and more! Imaginations will run wild with creative endeavors and tons of educational fun that encourages learning. The exhibitions featured here include:
Meteorology & More

: Weather affects us every single day, and natural disasters create some of the worst damage in the world. By exploring this exhibition, visitors will be able to step inside a hurricane simulator to experience winds of more than 70 miles per hour. They can also experience how cold it was in the Atlantic Ocean the night that the Titanic sank. How long can you endure the 28 degree water?
Physical Physics

: Two different exhibits call this section of the center home. Learn about the phenomenon of pressure on the Bed of Nails, which features nearly 6000 nails. The exhibit also is home to a real Tesla Coil, allowing guests to experience up to 100,000 volts of electricity.
Light, Sounds & Senses

: Delight your senses and learn about lights and sounds at this intriguing section, which is home to the XD Theater, Bubble Lab, and Strike a Pose exhibits. Kick back and immerse yourself in a thrilling 3D experience at the XD Theater which comes to life with motion effects and vibration. Then, trek to the Bubble Lab to create bubbles larger than a toddler and see the beautiful refractions of lights! Guests will also be able to learn about shadows and light at the Strike a Pose demonstration.
Space Discovery

: Blast off to the depths of space at the Space Discovery exhibit, which features The Astronaut Training Gyro, a replication of a real Astronaut Space Suit, and a replica of the Mercury Capsule. Through these interesting experiences, you will be able to feel what it is like to complete space travel, wear a space suit, and even explore the Mercury Project and its historical significance to space travel efforts.
Elements, Earth & Light

: Here, guests will get hands-on fun at an interactive augmented reality sandbox where they can create hills, valleys, mountains, and trenches on a unique heat mapped box. It is also home to the Google Earth global interactive map which allows visitors to explore the world through a computer database of maps and images.
Wonder Art Gallery

: This section of the center showcases masterful illusions that will bend your mind. Explore the Illusion Art Gallery to twist your view on the earth and even see some of Dr Suess's Unorthodox Taxidermy, which features imaginary creatures brought to life through fantastic sculptures. You can also explore Ozart, an exhibit dedicated to the artistic efforts of Ozarks children from K-12.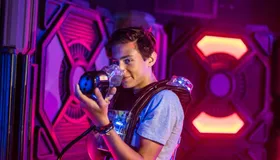 Exclusive Branson exhibits include the aforementioned Ozart display as well as the following:
The Branson Experience: The Ozarks is a unique region, home to the Springfield Plateau, Shepherd of the Hills, Lake Taneycomo, and other amazing points of interest. You will also see the history of the famed Route 66.
American Pride God & Country

: Do you have what it takes to be in the US Army? Test your skills with fun displays that challenge your ability to pass a PT test and even sharpshooting talents. It also brings American achievement and innovation to the forefront.
Laser Tag is also included in your All Access Pass, so you can compete with friends and family in the backlit maze. Rack up points and be the laser tag champ! It's a fun way to compete and make memories together.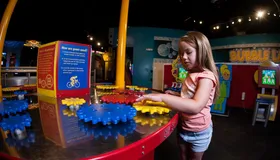 With so many awesome exhibitions to explore, WonderWorks Branson is a must-visit place! Add an adventure here onto your Branson itinerary to learn about the world and create fun new memories with your friends and family.
Reviews

Ryan Reid
Mckinney, TX
✓
Verified Traveler
Very good experience. The moving- seats theater was a hit

Tyler Linduff
Royse, TX
✓
Verified Traveler
"This place was AWESOME!"
This place was awesome!!! Only thing i wish we had with this was more time because you could truly spend the better part of your day just at this museum!! We are all for all things educational in our home, and the have taken learning and made it so fun! The kids truly learned a lot here and had a blast doing it. Would give the museum 10 stars if i could. The only complaint i can even think of would be i wish they could master a better way of shaping the lines for the attractions, specifically the 4d in the front when you first walk in. On a busy day like we went the line gets backed up to the entrance and causes congestion making it hard for people entering to enter the exhibit. Honestly that still doesn't take away from how great the museum was! We thoroughly enjoyed!
Frequently Asked Questions for WonderWorks Branson:
What is included in the admission price for WonderWorks Branson?

The All Access Pass includes access to all exhibits as well as laser tag.

What amenities are available?

There is an onsite cafe as well as a gift shop.

Is WonderWorks Branson handicap accessible?

Yes. This attraction has exhibits with flashing lights and motion which might not be suitable for those with diabetes, heart problems, seizures, or vertigo.

Is photography & video recording allowed?

Yes.

For what ages is WonderWorks Branson appropriate?

It is great for all ages!

Is parking available at WonderWorks Branson? Is it free?

Parking is free.

What is included in the admission price for WonderWorks Branson?

Includes laser tag and all exhibits for a full day.

What level of physical ability is required?

Wonder Coasters, 360 Bikes, Clip 'n Climb, XD Theater, and Astronaut Gyro Training rides all have height and weight limits.

What type of clothing is appropriate?

Close-toed shoes are required. Please dress family-friendly.

Is food available or provided?

Yes. There is an onsite Route 66 Cafe.
Book Now!