Vigilante Extreme Ziprider

Location: The Shepherd of The Hills Historic Homestead & Old Mill Theatre, 5586 W Hwy 76 Country Blvd Branson, MO 65616
1-800-987-9852
Description
Vigilante Extreme Ziprider Photos (8)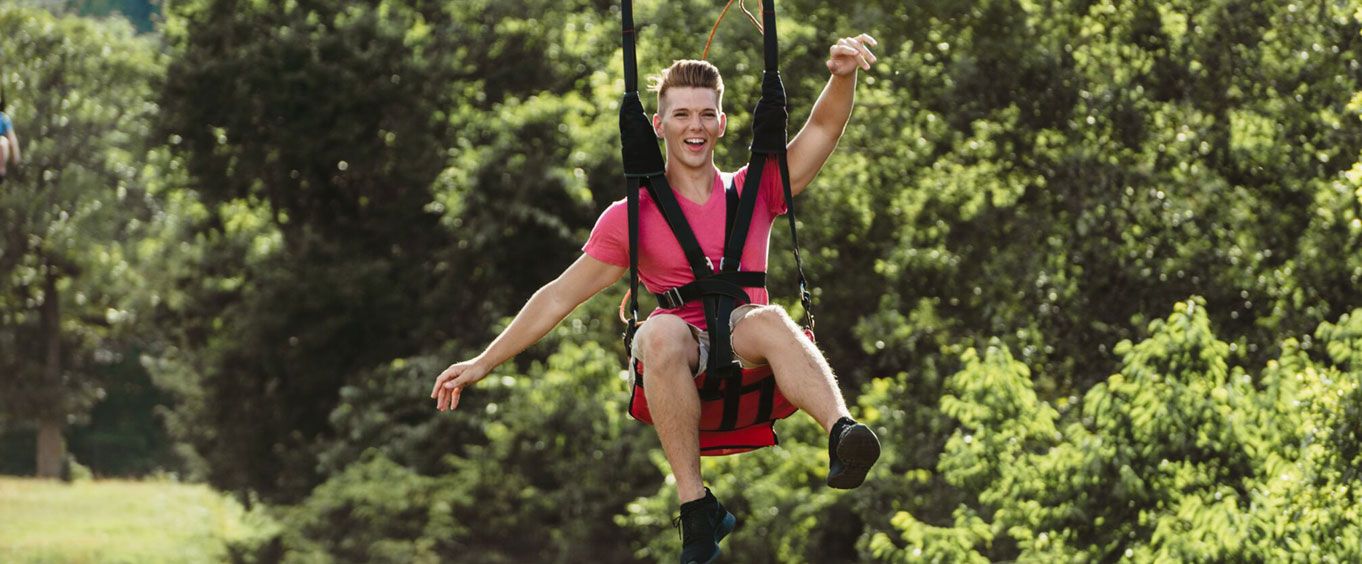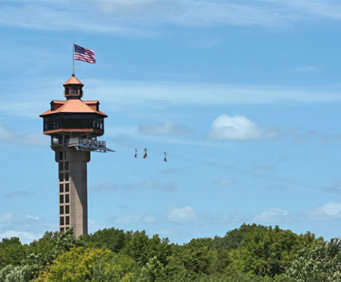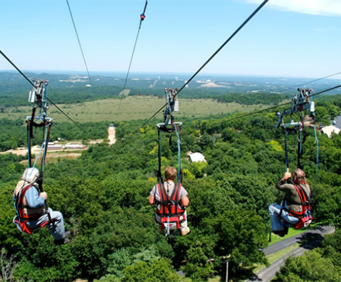 Take an exhilarating ride over The Shepherd of the Hills on the new thrill ride the Vigilante Zip Rider in Branson as you launch off the open air deck of the Inspiration Tower and experience the thrill of the downhill zip ride over the 160 acre homestead of The Shepherd of the Hills.
Riders will blast along at over 50 miles per hour as you travel a half mile course. The patented Zip Rider controls your speed with a special braking system, so just hang on and enjoy the thrill and excitement. Riders are seated over the exhilarating journey leaving them free to enjoy the ride.
Travel up the glass elevators to the enclosed area of the tower observation deck. From there it is just a few steps to the launching point. Start off at the top of Inspiration Tower at an elevation of 230 feet and descend rapidly as you enjoy the spectacular view and the sensation of speed. The Vigilante Zip Rider's name goes back to the 1800s, when the famous Baldknobbers, a group of Ozark vigilantes, made their way into history in the Shepherd of the Hills area.
Frequently Asked Questions for Vigilante Extreme Ziprider:
What level of physical ability is required?

The weight limit is 275 lbs per person.

What is included in the admission price for Vigilante Extreme Ziprider?

Includes Vigilante Xtreme Zip Rider.

Approximately how long could a customer plan to spend at Vigilante Extreme Ziprider?

Ride takes approximately 5 minutes.

Is photography & video recording allowed?

Yes.

Is parking available at Vigilante Extreme Ziprider? Is it free?

Yes. Parking is free.
Reviews
4.5 | 14 reviews
Customer

✓
Verified Traveler
What a cool way to get some great views of the area!
Jessie
Wichita
✓
Verified Traveler
"Worth the money."
Worth the money. Lots of people go so make sure to call and make reservations. The ride is about a minute and you fly above trees. So much fun! The staff was extremely nice to. You will not regret this ride.
Jessie
KS
✓
Verified Traveler
"Absolutely great!"
Absolutely great! The best experience i had in branson! A beautiful ride with some excitement. The staff was great. A lot of people go here, so reserve a spot!
Franklin Furlough
Little Rock, AR
✓
Verified Traveler
We had a great time everything was fine not a complaint in it where
Book Now!