Dolly Parton's Stampede Branson

Location: Dolly Parton's Stampede Theater, 1525 W 76 Country Blvd Branson, MO 65616
1-800-987-9852
Description
Dolly Parton's Stampede Branson Photos (13)
Customer Photos (10)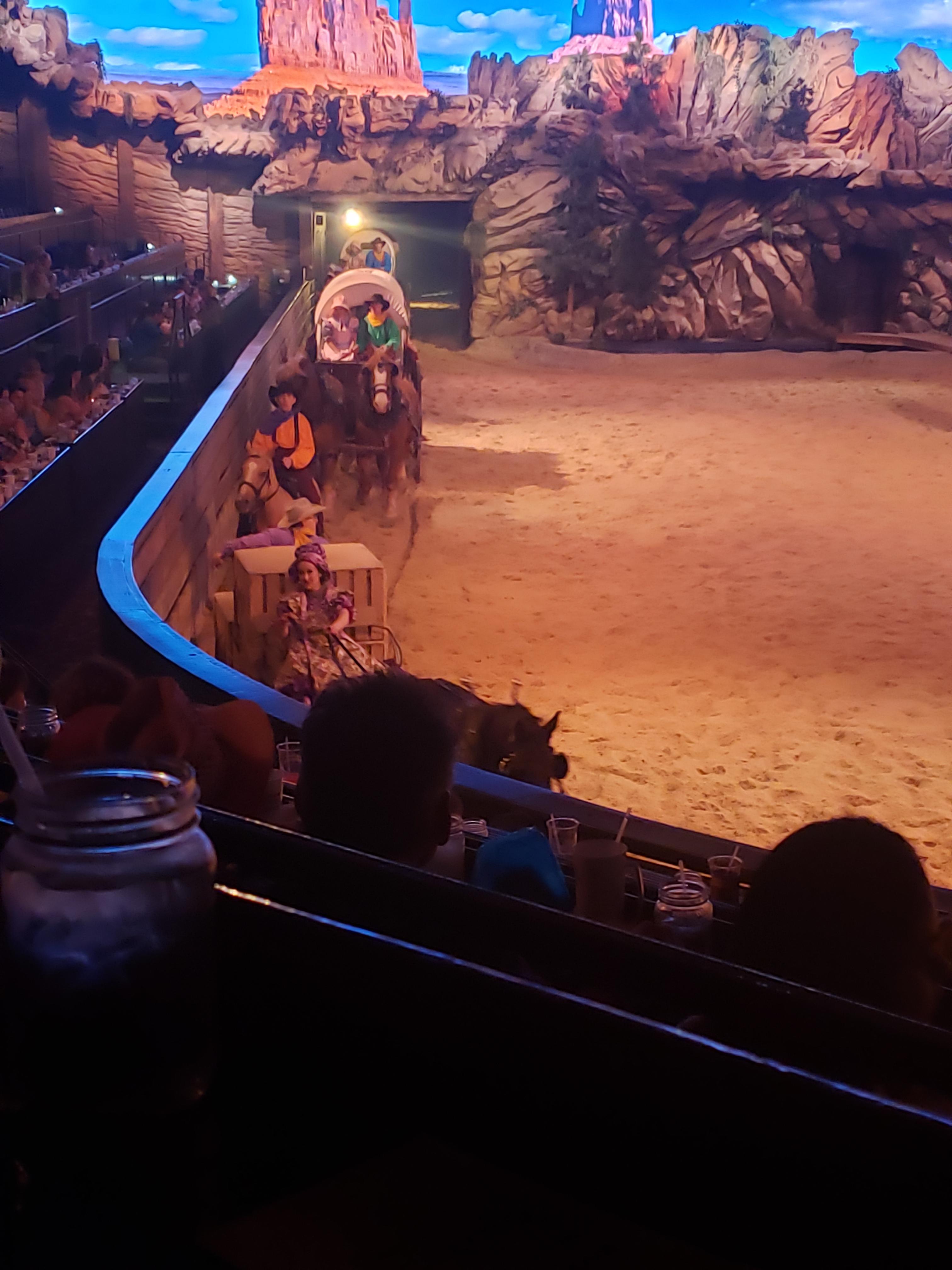 Experience country entertainment at its finest in the mountain region of the Ozarks with magnificent riders and a hearty meal when you visit the legendary Dolly Parton's Stampede Dinner & Show. This family-friendly dinner show is sure to be a blast, allowing guests to take in an unforgettable show as well as quality entertainment to create an evening they won't soon forget.
The talented cast of The Stampede doesn't consist exclusively of the human acts you're used to at other shows but also includes the extraordinary talents of 32 beautiful horses and their highly-skilled riders. The show takes place in a massive 35,000 square foot arena and seating to accommodate 1,100 astonished fans. Just a few of the amazing and entertaining activities you will witness and cheer for include racing pigs, trick riders, Return of the Buffalo, thrilling stunts, and so much more while you enjoy a four-course feast.
This is one of the greatest years to visit the Stampede, with plenty of technological and theatrical advancements to delight all visitors whether they have been to the Stampede before, or if it is their first time. With a brand new panoramic video wall and new additions to the performance, the Stampede has never been as captivating as it is in the new year! Guests will witness thrilling pyrotechnics and stunts that will leave them in awe. Do not miss out on this amazing mountain ruckus!
It's easy to emotionally invest in "your team," as the horses and their riders are introduced. They partake in friendly competition in more modern challenges like the barrel race, or even events like the carriage race that is reminiscent of the thrilling chariot races of ancient Rome. Watch the elegant "Belles of the Ball" waltz across the arena in an enchanting array and laugh at the hilarious antics of cowboys Skeeter and Nugget. A collective intake of breath often precedes the amazing Grand Patriotic Finale where you will be able to celebrate the grand red white and blue.
Pre-Show Entertainment
Stampede presents an exciting pre-show before each of their dinner shows. The entertainment choices vary, so you can experience a number of acts, depending on when you visit. Some of the coolest entertainment can be found in the Stampede's two-level Carriage Room. Sing and dance along with everything from Southern Gospel to folk and early country music for an amazing bluegrass performance you and the family will not soon forget!
Plus, guests will be able to see the beautiful horses that perform at the Stampede show. There are a variety of breeds including Appaloosa and paint horses. Your Southern Belle guide can give you all of the information you desire about these magnificent creatures while you visit. Of course, do not forget to stop by the gift shop to pick up an awesome Dolly Parton's Stampede souvenir to help you remember your visit. There are concessions available as well such as popped buttery corn (popcorn) and non-alcoholic fruity drinks served up in a Souvenir Boot Mug. This is a unique opportunity for fun and thrilling audience participation with the entertainment!
Dolly Parton's Stampede Christmas Dinner Show
The holiday season truly comes alive in Branson, MO with the Christmas show at Dolly Parton's Stampede. Starting at the end of October each year, the Christmas show allows guests to experience the true meaning of Christmas at Dolly's famous arena. During the show, guests will see the three kings ride upon camels, see stunning angels, witness a live nativity scene, see the beautiful sugar plum fairy, and listen to great classic Christmas music from Silent Night to the Nutcracker Suite. There are so many things to enjoy as this dinner theater comes to life with amazing costumes, sparkling lights, and a holiday spirit to rival any other Christmas show in the United States! Make your holiday memorable by adding Dolly Parton's Stampede to your wish list.
About the Meal
One of the things that sets Dolly Parton's Stampede apart from other dinner theaters is the delicious home-style meal that is included in your ticket price. The four-course spread features a choice of amazing options. The menu consists of a mouth-watering tender and whole rotisserie chicken, delicious hickory smoked barbecued pork loin, the Stampede's original creamy vegetable soup, a scrumptious homemade biscuit, tasty herb-basted potato, and a Stampede classic dessert! Of course, there are options for both gluten-free and vegetarian guests. Each meal is served by friendly staff whose hospitable attitudes truly make the experience one to remember!
Main Arena Stampede
The world's most visited dinner attraction, the Stampede in Branson, presents its most high-spirited adventure ever! Stampede's 32 magnificent horses and a cast of top-notch riders will thrill you with daring feats of trick riding and competition. Experience the Stampede of the Buffalo, hilarious racing pigs, fan favorite competitions, and a Grand Patriotic Finale of red, white, and blue. Come see why the Dolly Parton's Stampede is one of the most loved dinner theaters from the Ozark mountain region of Branson MO to the Smoky Mountain region of Pigeon Forge, TN.
All this pageantry is proudly served with a fabulous four-course feast. The Stampede is Branson's most fun place to eat, so get your tickets today!
Frequently Asked Questions for Dolly Parton's Stampede Branson:
What is included in the admission price for Dolly Parton's Stampede Dinner & Show Branson?

Admission includes pre-show entertainment at the Carriage House and a four-course dinner.

Approximately how long is the Dolly Parton's Stampede Dinner & Show Branson?

The dinner and show last approximately 2 hours.

In what theater is the show held?

The show is held at the Dolly Parton's Stampede theater.

Is there a pre-show before the main show? If so, what are some details?

Yes, there is a pre-show. Guests can visit with the horses in the Carriage House and enjoy concessions and a short show.

What is the length of intermission at Dolly Parton's Stampede Dinner & Show Branson?

There is no intermission, but there is a 15-minute break between the pre-show and the main show.

What type of parking do you have?

Parking is free.
Reviews
4.6 |
2014 reviews
The White Family
Dixon Il
✓
Verified Traveler
Went to see the christmas show. It was truly amazing. If you weren't in the christmas spirit before you went, you will be after ward. The nativity was beautiful. The north and south feud was so fun, the food was great and so much of it. Don't eat lunch that day. My four year old son, barely ate anything and honestly said about two words, he was so mezmerized by the horses, the ostrich and pig races. Definitely expensive, but if you have to choose, pick this one.
Cormans
Oklahoma
✓
Verified Traveler
We have been to the one in branson 4 times and went to the one in tennessee once. The first time we went..... Shock!!! We laughed so hard, and clapped and stomped our feet. We had a blast!! The second time we took our daughter and her husband. They had just as much fun as we did the first time, and believe me we still loved it. The 3 time we came alone again... Just cant stay away. The 4 time we brought our other daughter, her husband and 2 children. They couldn't believe they could have so much fun and still get the kids to eat. The show in tennessee is the same as the one in branson. And the food is just as good. We are coming back this year!! Our son is going back to iraq and we feel this is the best show to bring him to before he goes!!! We have 3 military guys in our group this year, and i cant think of a better way to honor all 3!!!
Jaime Davis
KS
✓
Verified Traveler
This was by far the best activity we did as a family on our vacation to branson. Our boys, 3yrs and 6yrs, loved every minute of it. I was very surprised that it held our 3yr old's attention as well as it did, he was mesmerized. We almost skipped the pre-show but were so glad that we didn't because it was great! The food was good and the animals beautiful. The riders were skilled and great at what they do. I would highly recommend it to anyone!
Jennifer Lovely
Troy, MO
✓
Verified Traveler
"Always a great time!"
Always a great time!
Book Now!