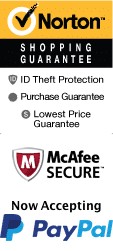 Williamsburg, VA Outlet Mall Info
ORDERING INFORMATION
Book by Phone:
1-800-987-9852
Book Online:
Explore Williamsburg Outlet Mall Info, Mall-Info and more.
Shopping is by far one of the most popular, but often times expensive, activities to partake in while on vacation. However, for those willing to do the research, it can be quite simple to get the most bang for your buck while on your Williamsburg Va vacation by scoping out the area shopping scene and malls near Willamsburg VA before arriving. And with this convenient guide to Williamsburg outlet malls you'll have the inside scoop on some of the best deals in the area. Whether you're picking up a few simple souvenirs or something more along the lines of a new set of furniture, you can find it all at unbelievable prices if you know where to look. Tons of deals are in store for you at any one of these outlet mall options, so search for the perfect gift for that special someone or simply work on your own style!
Williamsburg VA Outlets Mall - Lightfoot, VA
Check out some great malls near Williamsburg VA. The Williamsburg Outlet Mall features 250,000 square feet of 20% - 70% premium outlet savings every day! The area houses over 40 stores and two food courts, and offers products ranging from children's toys to men's and woman-friendly fashion. Big Dog, Avon, Black & Decker and Kiddie Koncepts are just a few of the many different brand name stores you'll find offering great merchandise at rock bottom prices every day. And for those that don't plan on making their visit a full-day experience, Colonial Williamsburg is conveniently located 5 - 10 minutes from the Williamsburg Outlet Mall!
Prime Outlets - Williamsburg, VA
Prime Outlets has been placed amongst the top ten outlet store centers in the nation and provides a dizzying array of over 90 different shopping options. From trendy designers such as Calvin Klein, Banana Republic, Dooney & Burke and Movado to KB Toys and Ultra Diamonds, a variety of sought after items at extraordinary prices. Savings at the Prime Outlets tend to range between 25% - 65% off typical every day prices. Those looking to turn shopping into an entire Williamsburg vacation can't afford to miss this mammoth outlet and shopping mall option. From jeans and dress shoes, these retailers provide impressive savings, becoming quite the draw for travelers looking for a new outfit or wishing to do some shopping in the nearby areas.
Williamsburg Pottery - Williamsburg, VA
Williamsburg Pottery may focus on a specific niche of commerce, but if your interests don't happen to lie in pottery don't think for a second that there won't be anything of interest to you at this truly one of a kind place. 200 acres, 32 buildings and every day low prices all ensure that your visit to Williamsburg Pottery will turn up something of interest at a reasonable price. Ceramics, lamps, prints, flowers and garden-ware are the main goods offered at the Williamsburg Pottery, but reasons for visiting don't stop there. There are also a handful of stores offering everything from cigarettes to ornamental knives and swords to oriental rugs. And if that weren't enough they even offer camping! Yes, camping!
The Shops at Carolina Furniture - Williasmburg, VA
Although you almost certainly won't be visiting Williamsburg specifically for furniture shopping, with a visit to The Shop at Carolina Furniture you may very well find an astonishing piece at a price so low you simply won't be able to afford leaving without it. Located on thirteen acres, The Shops at Carolina Furniture offer nearly 200 different brands of home furnishing, ranging from actual furniture to home accessories, all at 30% - 60% off retail! You may not have planned to be bringing a sofa back home from vacation, but it's a very real scenario when visiting this unique outlet store.
Enjoy all these wonderful things to do in the area for a great time. Find the perfect hotel option near one of these great outlet malls that interests you when you book your weekend getaway to Williamsburg.