YOUR PEACE OF MIND IS OUR TOP PRIORITY
Should you need to cancel at any time, you have up to 48 hours from your vacation start date to do so for a 100% future travel credit.
Colonial Ghost Tour

424 W Duke of Glouchester Street Williamsburg, VA 23185
1-800-987-9852
Description
Colonial Williamsburg offers up some of the most unique history in the United States, making it the perfect place for a haunted ghost tour. For both history buffs and paranormal-lovers alike, this city is known as a hot spot for hauntings and tons of interesting stories. With this Colonial Ghost Tour, visitors of all ages will enjoy exploring the streets of Williamsburg to see some of the most haunted locations in the country.
You will join your knowledgeable and fun local guide at the infamous Kimball Theater, which is a well-known haunted hot spot in the area. As well as offering time spent at this lovely theater, guests will go on to explore more than eight other haunted locations. Learn the local legends and myths that surround these haunted homes, theaters, and sites, and learn about Williamsburg's sordid past in a brand new way. These tours are considered to be one of the Top 10 Ghost Tours in the United States, and they offer up information that you just will not get anywhere else. Bring along a camera or rent an EMF detector to have your very own paranormal experience along the way. Some of the locations that you will visit on this adventure include:
Kimball Theater

: From the outside, the Kimball Theater on Duke of Gloucester street might seem like a normal performance venue offering up shows and plays to local theater-goers. However, its history has a much darker side, which you will be able to explore during your walking tour. Here, visitors will learn the story about the Merchants Square as well as the Battle of Williamsburg that is said to be the origin of many of Williamsburg's hauntings. The Kimball Theater was once the Ware house and later a Civil War hospital, so there is a vast and bloody history tied to its walls.
The Thomas Moore Hous

e: As one of the most haunted houses in Williamsburg, the Thomas Moore house doesn't seem so foreboding on the outside. It has seen many bloody events during its history, though, giving it a reputation for being haunted to this day. You will learn about the owner of the home, Thomas Moore, and how he wooed the ladies. However, this soon got him into trouble with a married woman and ended in tragic murder. Supposedly, Thomas Moore's body was hidden in the basement of the house. To this day, it is said that the owner of the home never left the area and is said to have been seen wandering Merchants Square as he did the day he died.
Bruton Parish

: The Bruton Parish Church haunting is another popular tale of Williamsburg's past. Many of the parish workers have experienced odd happenings throughout their time working here. Some of the odd things that have been seen here include a full body apparition featuring a long neck and red eyes. This kind of apparition has a significance in Williamsburg, and guests will be intrigued to learn about it during their walking adventure.
Peyton Randolph House

: This historic Williamsburg home was built in 1715 and is now a National Historic Landmark. This colonial home was the living quarters of Peyton Randolph who was the first president of the Continental Congress of the United States. However, the home doesn't just have a bland historic signifigance. It is also thought that the home is haunted, and famously so. There are so many different tragedies that have consumed those living at the Peyton-Randolph house, with its death count rising to more than 30 different deaths within its walls. The house is said to be haunted by disembodied voices, spectres of are seen of the former inhabitants. Guests have also reported being touched throughout the house and the tree in the yard is also said to be haunted by one of the boys who died while climbing it.
Wythe House

: The Whythe House is another popular home of Williamsburg that was also built in the early 1700s. It belonged to George Wythe, who advised Thomas Jefferson and also served as a headquarters during the Battle of Yorktown. The house is said to be haunted by a friend of the Wythes who died in the home by suicide after finding out that her husband was having an affair. Guests have reported doors being swung open, an eerie lavender scent that lingers in the home, and various chilling encounters with the undead.
Whether you are a skeptic or a longtime believer in the paranormal, this haunted history adventure is sure to be an amazing time. Embark upon the Colonial Ghost Tour to explore the most haunted homes and locations throughout Colonial Williamsburg, one of the most historically significant cities in US history. Keep your eyes peeled for the paranormal and hear the ghastly tales of the past for one unforgettable evening in Merchants Square!
Reviews
Jennifer Martchek
Irwin, Pennsylvania
✓
Verified Traveler
"The ghost tour was fun."
The ghost tour was fun. Our tour guide was a great storyteller!
Frequently Asked Questions for Colonial Ghost Tour :
Is there any walking involved?

Yes. There is approximately 1 mile of walking included.

Approximately how long does the Colonial Ghost Tour last?

The tour lasts approximately 1 hour.

For what ages is the tour appropriate?

Great for all ages!

What type of dress & footwear are recommended?

Wear comfortable clothes and walking shoes.

Where does the tour meet?

At the statue of Thomas Jefferson, between the Precious Gem and the Kimball Theater in Colonial Williamsburg's Merchant's Square.
Colonial Ghost Tour Schedule
| | |
| --- | --- |
| Date / Day | Available Times |
| | |
| | |
| | |
| | |
| | |
| | |
| | |
| | |
| | |
| | |
| | |
| | |
| | |
| | |
| | |
| | |
| | |
| | |
| | |
| | |
| | |
| | |
| | |
| | |
Full Calendar
Colonial Ghost Tour: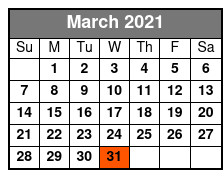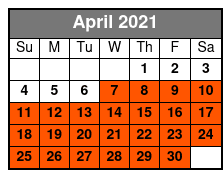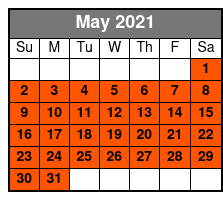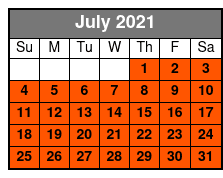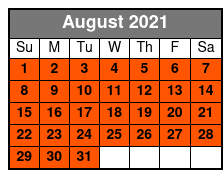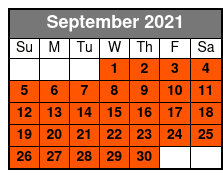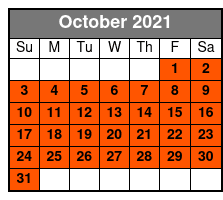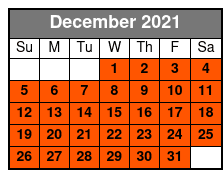 Book Now!