San Antonio, TX Historical Attractions
San Antonio is one of the most historic cities in the entire country. Explore the ins-and-outs of Alamo City's extensive history with one of these historical attractions. You will get an interesting insight you will not collect anywhere else on your next vacation!
San Antonio Historical Attractions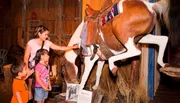 Enjoy some of the great history that has taken place in the city of San Antonio by embarking upon an awesome adventure at the Buckhorn Saloon and Museum historical attraction. While at this saloon and museum that was established over 130 years ago, you can enjoy drinks, food, and amazing displays from different exhibits including a collection of over 520 different animal species that have been collected for over 100 years at this saloon. You can even spot record breakers at the museum like the 78-point buck, 10,000-year-old Irish Elk, and the 1,056-pound black marlin. With so much history and lots to see, this will be the perfect attraction during your Texas getaway!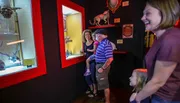 Historical Attractions don't come more intriguing than The Buckhorn Saloon Museum and Texas Ranger Museum in San Antonio, Texas. The collection of horns and antlers from across America and the world is the centerpiece of the Buckhorn Saloon, while the Texas Ranger Museum features everything from saddles to badges to the firearms of these legendary lawmen. Both museums are packed with historic artifacts and memorabilia, making it an essential visit for anyone interested in Texas history. Whether you are a hardcore history buff or simply want to casually get to know and learn about the rich history of the San Antonio area, this museum provides an incredible adventure to all who attend. Do not miss out on an incredible adventure!