San Antonio, TX Carriage Tours
San Antonio Carriage Tours
The City of San Antonio is an important part of our history and when you visit there you will be able to see the place where we gained our independence as a State many years ago. There are many different cultures of people who live here and the city is bursting with diversity. The King William district of San Antonio features many 19th century homes, or mansions, that overlook the San Antonio River. When you visit here you can take the King William Carriage Tour and you will be driven around in a horse drawn carriage and a knowledgeable guide through this wonderful area. The tour will last about an hour and November weather is moderate in San Antonio so you may only need a light jacket but only if you take the tour in the evening or at night. Cameras are allowed on this tour and it's also handicap accessible to accommodate any of your special needs guest.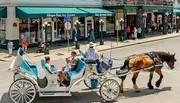 Enjoy everything that Travis Park has to offer from the seat of a carriage as the guide provides an interesting narration about all the sights that there are to see within the park. This carriage tour provides a unique adventure when you visit the area. Sit back, relax, and enjoy your very own personal fairy tale sightseeing adventure. Carriage tours offer an extravagant itinerary, allowing for unparalleled views of the city and also an intriguing insight into the historical wonders, significance, and local culture of the buildings and other notable features. Savor your time in Alamo City and have a blast!
Editor's Pick
Year after year our customers say this is an outstanding activity, we are sure you will agree.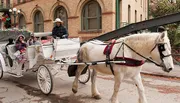 The carriage tour of exciting San Antonio starts either at the historic Alamo or at beautiful San Fernando Cathedral; a carriage trip offers a unique perspective of San Antonio; and the many sights and places to see illustrate a welcoming, friendly city with rich history. You and your favorite people can take to the paved streets of San Antonio as you view stunning landmarks and educate yourself on local life, history, and culture. Sit back and relax as you are taken along in a fairy tale like experience that you will not soon forget! Regardless of the other attractions, activities, and ventures you have on your agenda, you definitely do not want to miss out on the opportunity to embark upon the San Fernando Carriage Tour.