Sheraton Vistana Resort
8800 Vistana Centre Drive Orlando, FL 32821
1-866-267-5732
Chat Now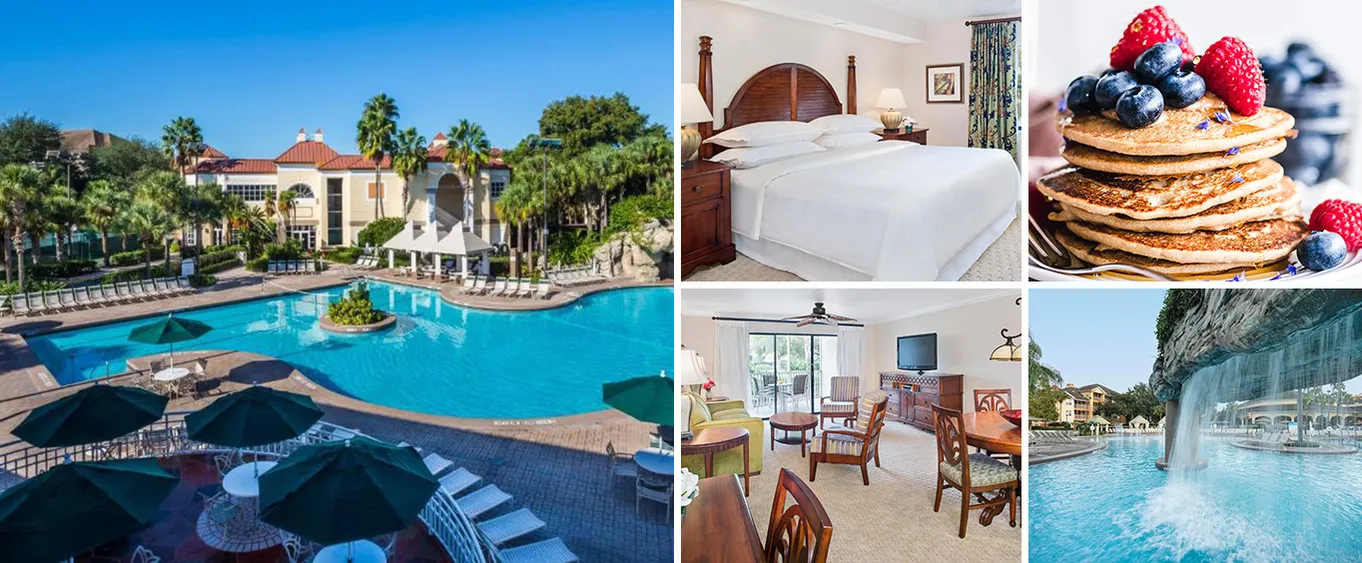 Related Lodging by Category:
If you're traveling with family or friends and need a place to stay while visiting the area's theme parks, look no further than the Sheraton Vistana Resort in Orlando, Florida. This luxurious, family-friendly resort offers spacious villas with washers and dryers and premium entertainment systems. There are also on-site animal shows and magic shows, and guests can enjoy onsite dining at Zimmie's Bar and Grill. Located just three miles from Walt Disney World, the Sheraton Vistana Resort Villas is within easy reach of the theme park. The property features 7 outdoor heated pools and 6 restaurants. In addition to spacious villas with kitchen and dining areas, the Sheraton offers 3 game rooms, nine lit tennis courts, shuffleboard courts, and an 18-hole miniature golf course. For those who are looking for a little more activity, there's a fitness center and an arcade with billiards and other games. Guests staying at Sheraton Vistana Resort Villas will enjoy easy access to the Disney theme parks. It's a 25-minute drive to the Orlando International Airport, and visitors can enjoy activities at SeaWorld Orlando, Universal's Islands of Adventure, and Universal Studios Florida. This property is a great choice for families traveling to the area. If you're looking for a luxurious vacation, you'll love Sheraton Vistana Resort in Orlando. You'll love the convenience and security of online booking. You can book all of the accommodations you want online with just a few clicks of the mouse. There's also a 24-hour fitness center, tennis courts, and a miniature golf course. And for those looking for some fun, there's even a spa. This is the perfect place to relax with your family and friends. And if you're traveling with kids, the villas have kitchenware and a microwave oven, making it an ideal option for the whole family. Aside from its location on the Disney World property, Sheraton Vistana is also near the airport, making it easy to reach the theme parks. The hotel offers 7 outdoor heated pools and six restaurants. Its spacious villas are equipped with kitchens and dining areas. Each villa comes with a washer and dryer and is equipped with a living room, a dining area, and a washer and dryer. In addition to its location in Orlando, it is also close to several major attractions such as SeaWorld and the airport. The location of Sheraton Vistana Resort Villas is just 3 miles from the entrance to Walt Disney World. The property has a ticket desk for guests to purchase tickets to the parks and seven outdoor heated pools. The resort also has 6 restaurants and a washer/dryer. Guests can enjoy a relaxing massage in one of three massage rooms. Other amenities include a 24-hour fitness center, 9 lit tennis courts, shuffleboard courts, and an 18-hole miniature golf course. sheraton vistana resort disney tickets
Reviews

Simoneau
Greenwich Ny
✓
Verified Traveler
This place certainly deserves a five-star rating. Grounds immaculate, villas just right as in convenient to activities, yet private, well appointed and equipped...All support personel most personal and helpful...Entertainment folks enthusiastic and supportive, a nice mix of guests in ages and nationalities ...A low key but interesting mix. We didn't even need to visit the kingdoms and worlds outside to enjoy this excellent facility. Thanks!
Book Now!