Rosen Inn Lake Buena Vista
8442 Palm Pkwy Golden Oak, FL 32836
1-866-267-5732
Chat Now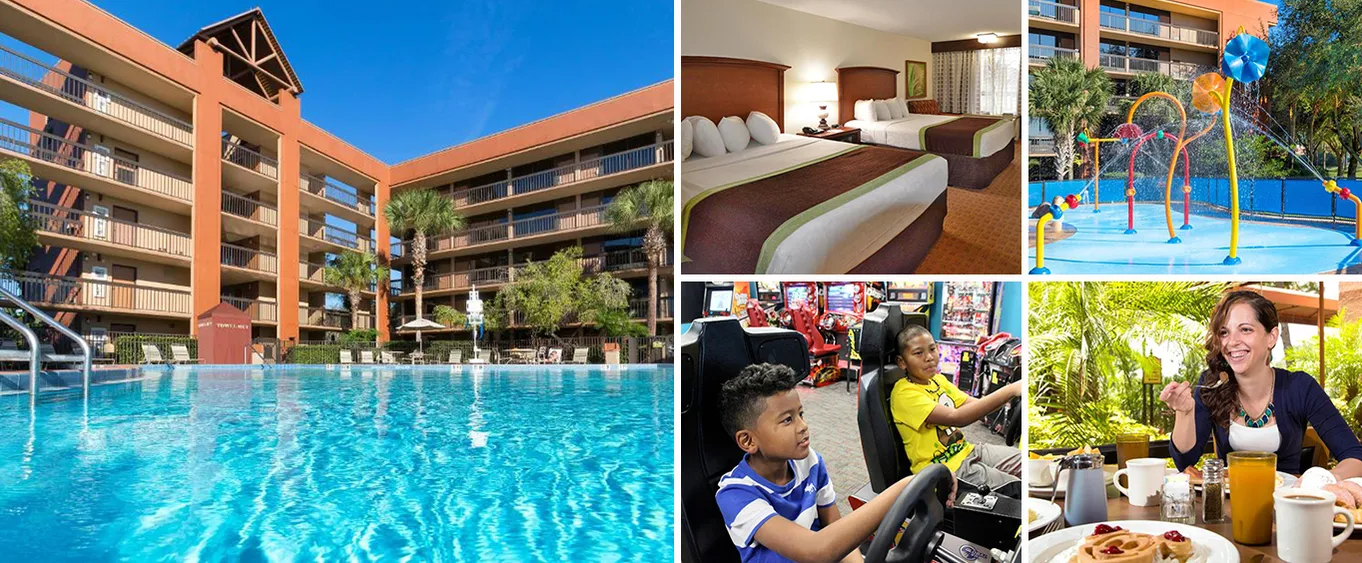 The Clarion Inn Lake Buena Vista is located just a short drive away from West Osceola Parkway, which is a major highway connection to this hotel to all of the major tourist attractions. Walt Disneyworld, Universal Studios Orlando, Volcano Bay, and SeaWorld are just a few of the family-friendly places that guests will get to indulge while enjoying their lavish stay at the hotel. Some of the best amenities include are free hot and complimentary breakfast, outdoor whirlpool hot tubs, heated outdoor pools, fitness center, high-speed internet, free shuttle service to the parks, and a tour desk. Guests are going to enjoy starting their day eating a choice of either a hot breakfast or continental breakfast. Then they go about their time doing company work for their event in the business or meeting rooms at the hotel. Once finished, there's fun to be had at any of the theme parks or go on a shopping excursion. After the day is done come back and relax or take a swim in one of the outdoor heated pools. The whirlpool hot tub is also available for just some stationary quiet time to reflect on the fun. There are desks and coffeemakers in each room to get some work done. Guests can also have access to a computer with the internet if they need it. Vending machines, a lounge bar, and a copy machine are also on hand. The hotel is within a mile from Taco Bell, Smokey Bones, and TGIFriday restaurants. It's also a short drive from the ESPN Wide World of Sports Stadium.
Reviews

Eric Lai
Brooklyn, New York
✓
Verified Traveler
"This hotel was a good one."
This hotel was a good one. The price and location was great, many food places were around including cici's pizza where you could purchase all-u-can-eat pizza for a price of 3.99!! And other food locations as well as crab house, domino's, 7 eleven, angus steakhouse, and hooters. My room was perfectly fine. The location of the hotel was only 30 min walk away from downtown disney, a great shopping site, and it was 8 dollars for taxi to travel from the hotel to downtown disney. There were also free shuttles to all the parks in disney including universal orlando parks. There was a mini market which closes around 12 o clock, which you can buy microwavable food and drinks to your room, since there was a fridge and microwave in your room. This hotel was a great hotel to stay in comparing to its price, and i would definitely recommend this hotel and most certainly go back and visit the next time i vacation at walt disney world resorts.
Book Now!