Trampoline and Jump Parks in Orlando, FL
Have a blast and burn off some energy at one of the trampoline or jump parks located in Orlando, FL.
Orlando Trampoline & Jump Parks
Located in Kissimmee, Florida, Trampoline & Jump Parks offers a thrilling and adrenaline-pumping experience with their 60-minute Open Jump session. With over 30,000 square feet of interconnected trampolines, visitors can jump, bounce, and flip to their heart's content. Whether you're a seasoned jumper or a beginner, this trampoline park offers a safe and enjoyable environment for all ages. Soar through the air, practice your flips, and have a blast at Trampoline & Jump Parks in Kissimmee. For those who are looking for a remarkable addition to their traveling itinerary in Kissimmee, this is a splendid selection. Do not miss out on all of the high-flying fun during your next vacation!
Sep 29
N/A
Sep 30
N/A
Oct 01
N/A
Oct 06
N/A
Oct 07
N/A
Oct 08
N/A
Oct 13
N/A
Oct 14
N/A
Oct 15
N/A
>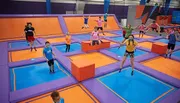 Trampoline & Jump Parks invite thrill-seekers to bounce their way to excitement at this 90-minute open jump session in Kissimmee. Located in Orlando, Florida, this trampoline park offers a thrilling and exhilarating experience for visitors of all ages. With a variety of trampolines, foam pits, and interactive obstacles, this activity guarantees endless fun and laughter. Whether you're looking to burn off some energy or simply enjoy a unique and entertaining outing with friends or family, this trampoline park will not disappoint.
Sep 29
N/A
Sep 30
N/A
Oct 01
N/A
Oct 06
N/A
Oct 07
N/A
Oct 08
N/A
Oct 13
N/A
Oct 14
N/A
Oct 15
N/A
>