Boat Rental Options in Orlando, FL
Orlando, FL is home to so many amazing attractions and sightseeing options. Experience all of its beauty as it should be - out on the water! With one of these boat rental options, you can get the true Orlando experience while enjoying fishing, sightseeing, and plenty of on-the-water adventures.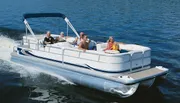 Boat Rentals is a popular activity when visiting Orlando, Florida. With a wide variety of boats to choose from, including pontoon boats, speed boats, and jet skis, there is something for everyone to enjoy. Spend the day on the water, exploring the beautiful lakes and waterways, and taking in the scenic views. Boat Rentals is a fantastic way to make memories with friends and family while experiencing the natural beauty of Florida.
Boat Rentals are available for adventurous travelers looking to explore the crystal clear waters of Orlando, Florida. Jet Skis are the perfect way to experience the beautiful scenery of Florida's coast with a little more speed and excitement. With the rentals available, you can take to the water with ease and experience the thrill of navigating the waves. Enjoy a unique perspective of the city's skyline as you ride the waves and feel the gentle sea breeze on your face.
Sep 25
10:00 AM
11:30 AM
12:00 PM
1:00 PM
2:00 PM
2:30 PM
4:00 PM
5:30 PM
6:00 PM
Sep 26
10:00 AM
12:00 PM
2:00 PM
4:00 PM
6:00 PM
Sep 27
10:00 AM
12:00 PM
2:00 PM
4:00 PM
6:00 PM
Sep 28
10:00 AM
11:30 AM
12:00 PM
1:00 PM
2:00 PM
2:30 PM
4:00 PM
5:30 PM
6:00 PM
Sep 29
10:00 AM
11:30 AM
12:00 PM
1:00 PM
2:00 PM
2:30 PM
4:00 PM
5:30 PM
6:00 PM
Sep 30
10:00 AM
11:30 AM
12:00 PM
1:00 PM
2:00 PM
2:30 PM
4:00 PM
5:30 PM
6:00 PM
Oct 01
10:00 AM
11:30 AM
12:00 PM
1:00 PM
2:00 PM
2:30 PM
4:00 PM
5:30 PM
6:00 PM
Oct 02
10:00 AM
11:30 AM
12:00 PM
1:00 PM
2:00 PM
2:30 PM
4:00 PM
5:30 PM
6:00 PM
Oct 03
10:00 AM
12:00 PM
2:00 PM
4:00 PM
6:00 PM
Oct 04
10:00 AM
12:00 PM
2:00 PM
4:00 PM
6:00 PM
Oct 05
10:00 AM
11:30 AM
12:00 PM
1:00 PM
2:00 PM
2:30 PM
4:00 PM
5:30 PM
6:00 PM
Oct 06
10:00 AM
11:30 AM
12:00 PM
1:00 PM
2:00 PM
2:30 PM
4:00 PM
5:30 PM
6:00 PM
Oct 07
10:00 AM
11:30 AM
12:00 PM
1:00 PM
2:00 PM
2:30 PM
4:00 PM
5:30 PM
6:00 PM
Oct 08
10:00 AM
11:30 AM
12:00 PM
1:00 PM
2:00 PM
2:30 PM
4:00 PM
5:30 PM
6:00 PM
Oct 09
10:00 AM
11:30 AM
12:00 PM
1:00 PM
2:00 PM
2:30 PM
4:00 PM
5:30 PM
6:00 PM
Oct 10
10:00 AM
12:00 PM
2:00 PM
4:00 PM
6:00 PM
Oct 11
10:00 AM
12:00 PM
2:00 PM
4:00 PM
6:00 PM
Oct 12
10:00 AM
11:30 AM
12:00 PM
1:00 PM
2:00 PM
2:30 PM
4:00 PM
5:30 PM
6:00 PM
Oct 13
10:00 AM
11:30 AM
12:00 PM
1:00 PM
2:00 PM
2:30 PM
4:00 PM
5:30 PM
6:00 PM
Oct 14
10:00 AM
11:30 AM
12:00 PM
1:00 PM
2:00 PM
2:30 PM
4:00 PM
5:30 PM
6:00 PM
>