Nashville TN Zipline Tours
Zipline Nashville
Experience Nashville Zipline Adventures by the thrill of soaring through the sky with a unique zipline tour attraction during your next vacation to Nashville. There are plenty of zip lines in Nashville to choose from. Ziplining Nashville style is sure to make your vacation memorable.
Take a journey over Nashville like never before on the zipline tour where you will get to have a thrilling adventure from 85 feet in the air and 200 to 700 feet in length; this is the perfect family activity! This adventure includes a ton of unique adventures that are sure to give you and your loved ones a thrill during your Music City getaway. With an expert guide, you can ensure that you are safe and can relax and enjoy all of the adrenaline pumping fun. There is no experience quite like this one, so be sure to attend! For those who are seeking a thrilling time during their iconic Smoky Mountains area vacation, this zipline tour is certain to be a great option to add to your itinerary! Zoom through trees and make some exciting new memories.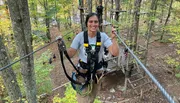 When it comes to an amazing zipline tour, Nashville is really an awesome choice, so prepare for this excellent "Zip Line & Aerial Adventure Park at Nashville West" vacation deal because the exemplary excursion needs it. During this aerial adventure tour, visitors will be able to get a bird's eye view of the canopies during a one and a half hour thrill tour. The Aerial Challenge Tour is comprised of an astonishing array of twenty five different elements. Challenge yourself with swinging bridges, vines, nets, and a ropes course that is sure to help visitors of all ages have a blast!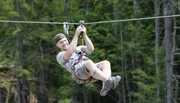 There are over 100 obstacles for the entire family to enjoy at the Treetop Adventure Park Zipline Tour at Nashville Shores including numerous ziplines, bridges suspended above the ground and various kinds of swings. The park is comprised of three different courses: the adult course, junior course, and the children's course. These three courses give a catered adventure for all ages, so you can rest assured that the course is age appropriate and tailored to your family's unique needs. Children need to be at least seven years of age to use the zip lines. If you are craving some time outdoors, this attraction is perfect for you.