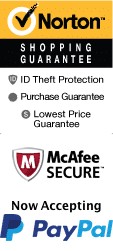 Broadway Grand Prix Family Race Park in Myrtle Beach, SC
1820 21st Avenue North Myrtle Beach, SC 29577
1-800-987-9852
Chat Now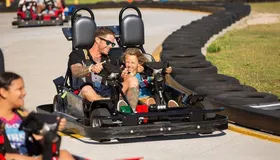 For a fun time in Myrtle Beach, head to the Broadway Grand Prix Myrtle Beach for an unforgettable amusement park-style experience and some classic go kart racing Myrtle Beach style. If you love competition, Go-Kart racing is for you. Race along seven different tracks, competing against family and friends for the title of racing champion. Not only will you have a great time at this attraction, but feeling the wind rush in your hair as you race is sure to induce an adrenaline rush.
Enjoy tons of fun with Go Karts North Myrtle Beach at Myrtle Beach Grand Prix Go Karts / The Track Myrtle Beach
Not only does the park feature unlimited Go-Kart racing, but it also offers plenty of other free, great activities that all ages can enjoy. Mini golf, a sky coaster, an arcade, a rock wall, and a snack bar are just a few of the amenities that await you at the Broadway Grand Prix. Guests will also be granted a wristband, so they can come and go as they please to make the most out of their day.
Seven Myrtle Beach Go Karts Myrtle Beach Broadway Grand Prix Tracks
Grand Prix Pro Track

: The fastest and most jolting Go Kart Myrtle Beach track, the Grand Prix Pro Track puts you at the helm of a speed kart that speeds up to 20 mph. The track is comprised of a quarter-mile of sharp turns. These are some of the fastest go karts in Myrtle Beach, so don't miss out on a visit to this race track Myrtle Beach.
High Bank Oval

: With high banking surrounding the track, this interesting race is fun for everyone. It features passenger cars as well as single-riding models so the entire family can enjoy the experience together.
Slick Track

: This track is comprised of tight and tough turns and is held on a slick track, making it a challenging course.
Speed Racer

: Speedsters are sure to enjoy this track, as the mph's are off-the-charts, adding an adrenaline-pumping twist on the classic Go Kart race.
Family Track

: Modeled for drivers of all ages, this Family Track brings everyone together for simple fun. It also features single and double karts.
Junior Racer

: Putting the kiddos behind the wheel, this 200-foot track is great for beginning drivers. This simple course gives kids independence while teaching them the basics of Go Kart racing.
Kids' Track

: Perfect for those minis in your life, the Kids' Track allows the young ones to have fun racing on their own.
Broadway Grand Prix Myrtle Beach Bumper Cars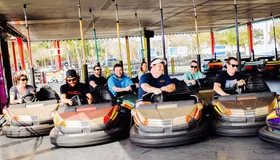 Great for the entire family, this classic activity pits riders against each other. Slam your bumper car one another for a fun and energetic time.
Myrtle Beach Grand Prix Challenge Mini Golf
Who is the best golfer in your group? Find out at the Challenge Miniature Golf course. Featuring 18 holes, you'll be able to test your skill in an ultimate game of putt-putt.
Broadway Grand Prix Myrtle Beach, SC Kids Zone
For the little ones in your group, there is plenty to do at these kiddie rides! Head to the carousel, check out the Slick Spin, take a ride on the Tooter Train, go 'round and 'round in the Tot Rods, and brave the Sky Wheels, the Pro Tow, or the Kiddie Speedway kids track for mini-sized adventures.
Other Grand Prix Myrtle Beach SC Attractions You Can Enjoy for Additional Cost
Rock Climbing Wall

(additional cost): Burn off some energy and channel your inner Spiderman at the Rock Climbing Wall. See who can scale the wall the fastest or simply challenge yourself to a climb.
Sky Coaster

(additional cost): For those adrenaline junkies, the Sky Coaster provides the rush that you're looking for. This ride propels guests up in the air for great views and even better fun.
Grand Prix Arcade

(additional cost): Cool off from all of the outside activities with a trip to the Grand Prix indoor Arcade. Everything from claw machines, skee ball, and classic arcade games await.
Snack Shack
Once you've worked up an appetite, head to the snack bar to refuel. It features everything from drinks to nachos, burgers, fries, and even pizza.
Young or old, you are sure to find something fun to entertain at the Broadway Grand Prix. With Go Karts galore, mini golf, an arcade, and everything in between, you're sure to make some fun memories on your vacation. Book tickets today to this fun park and other fun Myrtle Beach attraction options in the area, from Ripley's Aquarium to Myrtle Waves Water Park, to North Myrtle Beach cruises. Your Myrtle Beach vacation is certain to be memorable.
Reviews

Adriana Braz
Revere, Massachusetts
✓
Verified Traveler
We loved this adventure, it was a lot of fun and i definitely recommend it.
Frequently Asked Questions for Broadway Grand Prix Family Race Park in Myrtle Beach, SC:
What is included in the admission price for Broadway Grand Prix Family Race Park in Myrtle Beach, SC?

Guests get an All You Can Ride Wristband and Unlimited Mini Golf on the 2 courses.

Approximately how long could a customer plan to spend at Broadway Grand Prix Family Race Park in Myrtle Beach, SC?

Guests tend to spend 4 - 5 hours here.

What amenities (such as ATM, gift shop, etc) are available?

There is a snack bar onsite.

Is photography & video recording allowed?

Yes.

For what ages is Broadway Grand Prix Family Race Park in Myrtle Beach, SC appropriate?

Great for all ages.

Is parking available at Broadway Grand Prix Family Race Park in Myrtle Beach, SC? Is it free?

Yes. Parking is free.
Book Now!