"amazing show"
259 related reviews
"great seats"
212 related reviews
697 Guests Had Great Experiences
"Kept the grandkids engaged!"
From the brilliant mind of legendary country musician Dolly Parton comes one of the hottest dinner shows in Pigeon Forge, TN. Pirates Voyage Pigeon Forge Dinner & Show is sure to be a memorable undertaking, offering a fantastic combination of flavorful food and of course, quality production value that the Queen of Country's endeavors are known for.
Details
Be ready to enjoy the adventures of Captain Blackbeard, sword fighting pirate crews, beautiful mermaids, and plenty of action!
Have an Amazing Time at Pirates Voyage Gatlinburg / Pigeon Forge: See Pirates Pigeon Forge Style at this Pigeon Forge Pirate Show!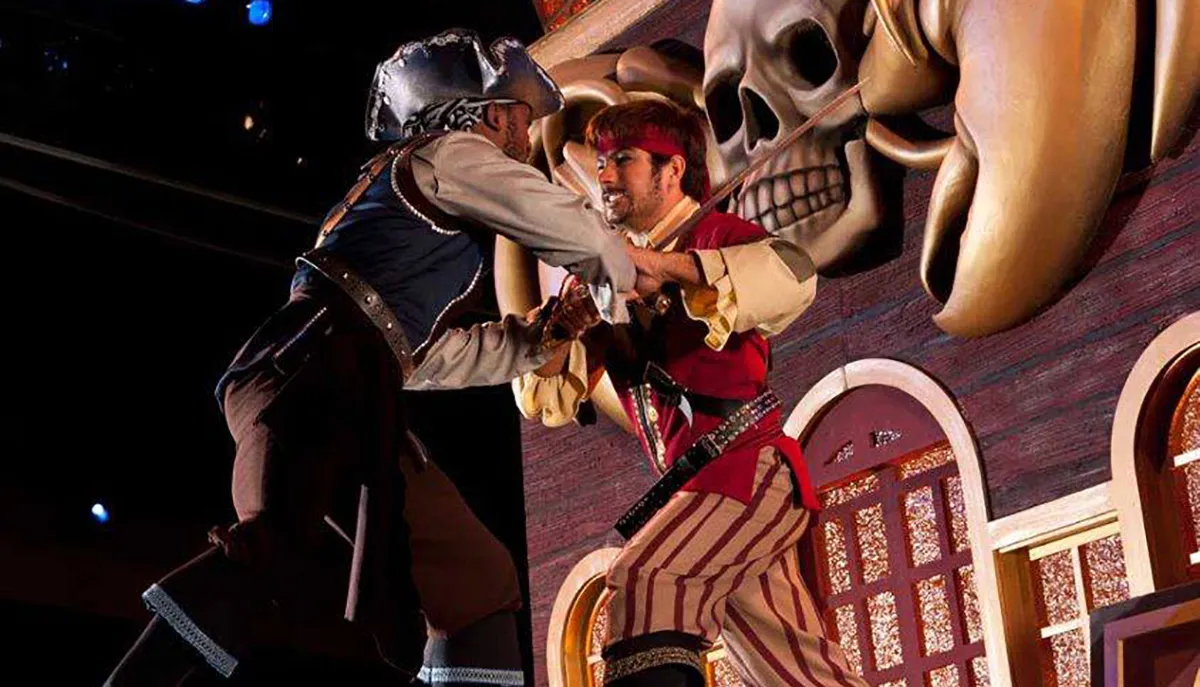 This swashbuckling and adventurous pirate dinner show in Pigeon Forge is great for all ages, as it provides guests with the opportunity to sink their teeth into a mouthwatering meal and set off to the high seas for a journey they won't soon forget! All of the action takes place in a brand new 21,000 square foot arena in an immaculately-kept theatre with comfy seats and an astounding, state-of-the-art sound and lighting system. The most unique feature, though, is the 15-foot indoor lagoon with full sized Dolly Parton Pirates Voyage pirate ships. The audience will witness tons of action, stunts, and more as two Pigeon Forge pirate show crews duke it for the treasure. You definitely do not want to miss out seeing this exciting Pirates dinner show Gatlinburg / Pigeon Forge location.
Everything from insane acrobatic feats to live animals and original music come together to truly make an undeniably amazing pirate show Pigeon Forge production that will be enjoyed by all who attend! Witness everything from sea lion herds, mermaid showcases, and sword fighting, all taking place on the indoor hideaway lagoon as the action-packed pirate crews fight for the lost treasure. This pirate dinner show Pigeon Forge is sure to impress.
Explore the Gift Shop at Pirates Voyage Pigeon Forge Pirate Dinner Theater
Landlubbers, be sure to stop by the gift shop after your Pirates Voyage Tennessee show. With a variety of unique souvenirs, this shop allows visitors to peruse tons of fun gifts and commemorative items. From ceramic mermaids to pirate-themed toys and kid-sized toy swords, there is something to delight every little pirate! Grab the perfect gift at Pirates Voyage Pigeon Forge TN!
About the Four Course Meal at the Pirate Show Pigeon Forge - Sink your teeth into the delicious food at Pirate Voyage Pigeon Forge! Pirates Dinner Show Pigeon Forge Meal Options
This pirate dinner Pigeon Forge won't leave you hungry, as the Pirate Voyage Pigeon Forge menu is bursting with flavor! It wouldn't be a pirate dinner show Gatlinburg / Pigeon Forge area without an amazing homestyle meal! While the classic Pirate Voyage Pigeon Forge Show Pigeon Forge action unfolds around them, guests will be treated to a delicious plated four-course meal complete with silverware. With crispy fried chicken, herb basted potato, and plenty of sides, you will leave completely satisfied, so be sure to come hungry to your Pirates show in Pigeon Forge. Top it all off with Walk the Plank Peach Turnover and unlimited Coca Cola products. There are also vegetarian options available upon request. This meal is truly a feast fit for a pirate and is certain to be a highlight of your Pirate Voyage Pigeon Forge TN showing.
About Dolly Parton Dinner Shows & Pirate Dinner Show Pigeon Forge Creation: Visit the Pirate Dinner Theater Pigeon Forge Location for an Amazing Pirates Adventure Pigeon Forge!
Dolly Parton is the brilliant mind behind Pirates Voyage Dinner Show Pigeon Forge. The country music legend is known for bringing high-quality dinner attraction events to the Smokies and other locations like Branson and Myrtle Beach, SC! For a Great Smoky Mountain adventure, be sure to attend one of the most popular productions with Dolly Parton's Stampede Dinner, Hatfield and McCoy Dinner Feud, or Pirates Voyage Dinner Show Pigeon Forge. Each of these lovely pirate Pigeon Forge shows combines great showmanship with stunts.
Along with an awesome awe-inspiring Pigeon Forge / Gatlinburg pirate show show and a food spread that will absolutely delight your tastebuds, Pirates Voyage in Pigeon Forge, TN is sure to be a fondly remembered time in the Great Smoky Mountains. Do not miss out on the fun the next time you visit and experience one of the great shows in Gatlinburg and Pigeon Forge, TN. After you uncover pirates treasure and witness plenty of sword fight action, be sure to make reservations at your favorite Pigeon Forge cabin rental, Gatlinburg cabin, or other area hotel to complete your vacation and pirate show in Pigeon Forge TN adventure. pirate show gatlinburg pirate adventure pigeon forge pirates show pigeon forge tn pirate dinner show pigeon forge tn pirates gatlinburg pirates pigeon forge tn pirate show in pigeon forge tn
Get your Vacations Made Easy show tickets today!
Reviews
Tammy Haley
Franklin, KY
✓
Verified Traveler
Good show and dinner

Charles Tripple
Danville, IN
✓
Verified Traveler
"Kept the grandkids engaged!"
Very entertaining! Kept the grandkids engaged!
Tip: All the seats are good.

Jackie Moore
Blytheville, AR
✓
Verified Traveler
"Will definitely be returning!"
The show and staff was amazing. Will definitely be returning! My kids got called on stage to participate in the show. They had a blast. Ages range from 12-6
Tip: Make sure to preorder your tickets through vacationsmadeeasy.Com to skip through the long lines.

Ona Bowman
Chesapeake, OH
✓
Verified Traveler
"We absolutely loved this show"
We absolutely loved this show
Tip: Order early
Frequently Asked Questions for Pirates Voyage Dinner & Show in Pigeon Forge, TN:
What is the dress code?

The dress code is casual. Please, no bare feet, nudity, or swimwear.

What is the seating like?

The Pirates Voyage show features bench seating without a single bad seat in the theater!

What is included in the admission price?

Includes dinner and a show.

Approximately how long is it?

The experience lasts approximately 1.5 hours.

In what theater is it held?

It is held at the Pirates Voyage Theater.

Is there a pre-show before the main show?

There is not currently a pre-show.

Do the performers sign autographs and meet the audience after the show?

Yes, after the show.

What type of parking do you have?

Parking is free.

Are alcoholic beverages served at Pirates Voyage Dinner & Show in Pigeon Forge, TN?

Yes, alcohol is available for purchase.
Options:
Pirates Voyage Dinner & Show
Available Now until 12/4/2024 View Detailed Schedule
Get out and enjoy the show and meal with Pirates Voyage Dinner & Show tickets!
Customers Who Bought This Also Bought


CALL

SCHEDULE