"amazing show"
287 related reviews
"great seats"
261 related reviews
813 Guests Had Great Experiences
"The food was amazing and the service was great!"
Hatfield & McCoy Dinner Show has no shows available on this date.
Become part of one of the longest-running feuds in history at The Hatfield McCoy Dinner Show in Pigeon Forge TN. This laugh-filled production is the perfect addition to your next Smoky Mountain vacation because it combines delicious food with unforgettable entertainment that has been a box office hit for years!
Details
Enjoy a delicious, all-you-can-eat feast while trying to help the two families settle their differences mountain-style during the hilarious Hatfield and McCoys show. Offering up more than just great food, you'll be amazed at the dancing, singing, and stunts performed in front of you during the Hatfield and McCoys show. Gatlinburg dinner shows offer tons of fun and entertainment, so don't miss out!
The Hatfield and McCoys Dinner Show: The Hatfield and McCoy Show has been a Smoky Mountain favorite for years and years! Also known as the Hatfield and McCoy Dinner Feud, the show brings fantastic entertainment to the Hatfield McCoy Dinner Theater. Don't miss out on some amazing action and watching the Hatfields and McCoys Pigeon Forge TN show!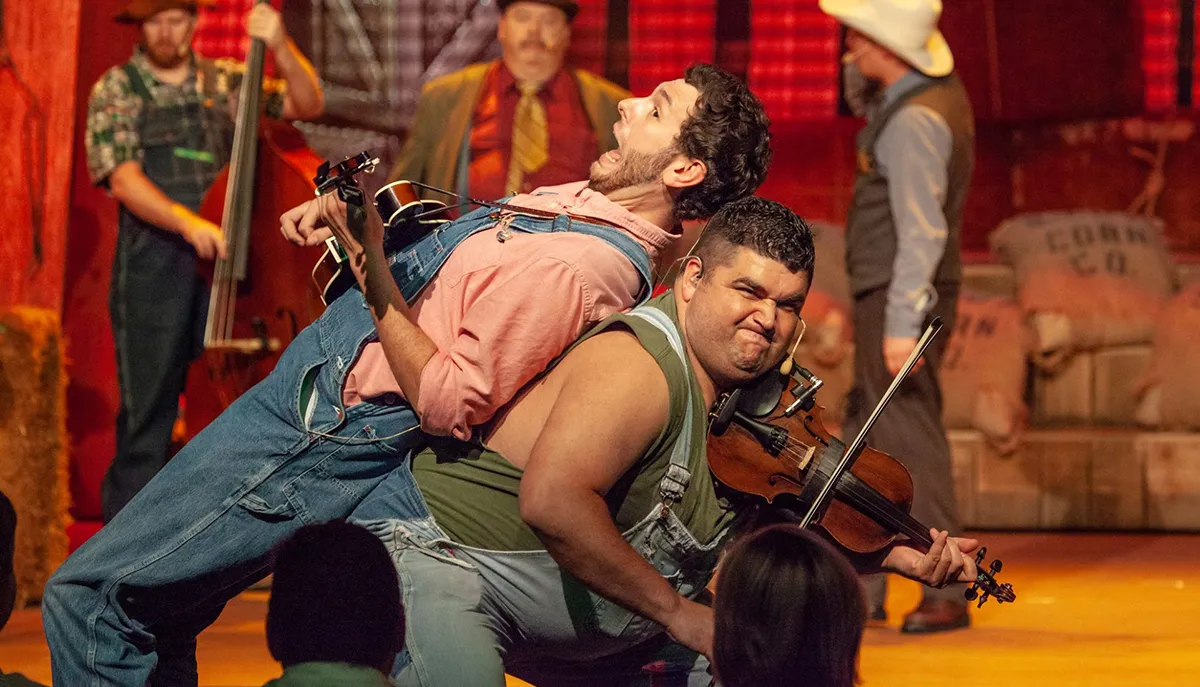 About the Brand New 2023 Holiday Show
Come see why the Hatfield & McCoy Dinner Feud puts the 'holler' in 'hollerdays' during the festive and fun Christmas show. Join Pa Hatfield and Ma McCoy for plenty of classic feudin' fun as they attempt to lay down the hatchet for the sake of the Christmas spirit. The show is entirely new for the 2023 season, and it features an array of lively holiday singing and dancing alongside feats of strength, comedy, and stunts that come together for a Christmas experience you definitely won't forget. Find out if the feudin' families can come together for the holiday season, see if Lil Hickory will head home for the holidays, and follow the heart-warming story of young love amongst the holiday shenanigans. You're certain to have an evening full of laughs and be sure to bring an appetite because you'll top off all the fun with a delicious holiday dinner featuring Granny's fried chicken, pulled-pork shoulder BBQ, and delicious sides.

After making your way to the Hatfields and McCoys Dinner theater, settle in for a delicious meal and a fun jaw-dropping Hatfioeevent. Become part of the longest-running feud in history as you try to help these fightin' cousins settle their differences that have become known as the infamous Hatfield and McCoy Show Feud! The audience is sure to be swept away by history and fun with these real-life events shown on the Pigeon Forge stage. You will see these clans duke (and dance) it out on the Smoky Mountains stage. They will perform amazing songs, thrill with dances, and display mighty feats to the awed audience. Plus, the stage comes to life with everything from pyrotechnics to a water feature. The production also utilizes the best in special effects and video and sound equipment to deliver an amazing performance. Of course, the Hatfield and McCoy Dinner Feud cast is full of talented performers including singers, dancers, actors and actresses, aerial stunt performers, and musicians. Your favorite bluegrass singin', rope flinging' hillbilly families will impress with everything from aerial tricks to bluegrass music dance numbers for an exciting and unforgettable adventure! The experience lasts approximately 1.5 hours in total.
About the Southern-Style Meal at the Hatfield and McCoy Dinner Show - Enjoy some amazing food at Hatfield McCoy Dinner Show. Sink your teeth into a feast at the Hatfield & McCoy Dinner SHow Pigeon Forge, TN.
The Hatfield and McCoy dinner show menu price includes a delicious dinner. After the Hatfields and McCoys Show seating chart is figured out and everyone is seated and enjoying the amazing entertainment, they will be able to enjoy a delicious Southern-style spread that is sure to satisfy each set of taste buds. This all-you-can-eat, back-country meal is included with the Hatfield & McCoy Dinner Show ticket price and includes some amazing Hatfields and McCoys Dinner Show menu options that will have your mouth watering and remind you of granny's cooking. Indulge in a southern feast that makes the Hatfields and McCoys Tennessee show famous, with dishes such as fried chicken, country pulled pork barbecue, 'smashed taters', creamy coleslaw, buttery corn on the cob, Ma's hot homemade rolls, creamy vegetable soup, and Granny's Famous Special Dessert. You get an unlimited amount of food served to you family-style in buckets and bowls at Hatfield and McCoys Pigeon Forge, and if you run out of a dish on your table, just ask the waiter or waitress for more! Alcohol is available to purchase by guests over 21. There are vegetarian and gluten-free options available as well for customers of the Hatfield McCoy Pigeon Forge show. Of course, it all comes with a smile and amazing service from your friendly Hatfield McCoy Show waiter! This great meal is an awesome way to enjoy the flavors of the area and is a highlight of the Hatfield and McCoy Dinner Show Pigeon Forge. You'll find plenty to enjoy on the Hatfields and McCoys dinner show menu.
About the Hatfield and McCoy Pigeon Forge Dinner Show Theater / Hatfields and McCoys Pigeon Forge Location
As this show is in partnership with other Dolly Parton shows like Comedy Barn and the Stampede as of 2019, it has the best showmanship in the Smokies! There are so many amazing shows to see at a variety of theaters in the Smoky Mountains area, with almost a million satisfied visitors having been served throughout the decades. The Hatfield and McCoy Dinner Theater venue in particular offers comfortable seated tables and a delicious meal that is cooked on site. As well as great comfort for guests, the Pigeon Forge Hatfield and McCoy theater utilizes a variety of special effects, a fantastic sound system, a water feature with a splash zone, and even pyrotechnics to make each performance an unforgettable time. Do not forget to stop by the gift shop to pick out a fun souvenir after the Hatfields and McCoy Dinner show! It's the perfect venue for Hatfield and McCoy show Pigeon Forge antics.
Zany antics, a delicious meal, and plenty of Hatfields and McCoys TN throw-downs are waiting! Don't miss out on all the crazy fun by booking your ticket to see the Hatfield & McCoy dinner feud. As it is one of the best adventures in the area, the Hatfield and McCoy Pigeon Forge TN location is bound to be a blast.
Whether you're city-folk or country cousins, you'll love the singin' and dancin', jaw-dropping stunts, and side-splitting comedy at the Hatfield and McCoy Gatlinburg / Pigeon Forge location. There's something here for everybody at this awesome Hatfields and McCoys Dinner Feud in Pigeon Forge / Gatlinburg, and there is nothing better than awesome fun and a satisfying homestyle meal. Your Smokies vacation package is sure to be a memorable one!
Reviews

Michael Greene
Loganville, Georgia
✓
Verified Traveler
"The food was amazing and the service was great!"
The food was amazing and the service was great! Booking at the tickets booth was very easy thanks to vacations made easy, just walk up, hand over the voucher and get your tickets, was in and out of the ticket line in 5 minutes! Would definitely go back again!

Heather Jacob
Independence, OH
✓
Verified Traveler
"great family experience"
First time ever going to a dinner show with a 9 year old boy and and 6 year old girl, was very nervous about how it was going to work but right from the start it was interactive with both kids so they loved it even before it started, kept them both entertained and the food was so good that i wish we had ate more, great family experience and would have paid more if asked to do again,
Tip: Must buy the dvd at the end, when we got home the whole family fell in love with the show

Holly Duvall
Newnan, GA
✓
Verified Traveler
"We will always go back."
Perfect clean fun for the whole family! While at hatfield and mccoys we won two tickets to comedy barn at which we stood up and yelled in front of everyone! It was a perfect moment. We were on our 9th wedding anniversary. They were both hilarious and some good ole' country folks! We will always go back.

Winifred Hernandez
Mandeville, LA
✓
Verified Traveler
"This is our second time there. The kids love it."
This is our second time there. The kids love it. The show is truly amazing. Funny slapstick humor too. Definitely fun for all ages! The hospitality was great and the food was never ending. Will definitely do this again.
Tip: Buy a bell and make some noise!
Frequently Asked Questions for Hatfield and McCoy Dinner Show in Pigeon Forge - Tickets, Schedule & Reviews:
What is the dress code?

The dress code is casual.

Is the meal all-you-can-eat?

Yes

Is the meal the same for both showtimes?

Yes. The meal is the same no matter which showtime you attend.

For what ages is Hatfield and McCoy Dinner Show in Pigeon Forge - Tickets, Schedule & Reviews appropriate?

It is great for all ages!

What is included in the admission price?

Includes dinner.

Approximately how long is it?

The entire experience lasts approximately 2 hours.

In what theater is it held?

It is held at the Hatfield & McCoy Theater.

Is there entertainment before the production?

Your meal takes place before the main event.

What is the length of intermission?

The intermission is between the meal and the entertainment and lasts approximately 10 minutes.

What type of parking do you have?

Parking is free.

Are alcoholic beverages served at Hatfield and McCoy Dinner Show in Pigeon Forge - Tickets, Schedule & Reviews?

Yes, alcohol is available for guests 21 and older with valid ID.

Is there a minimum number of tickets?

Yes, there is a minimum of 2 tickets.
Options:
Hatfield and McCoy Christmas Disaster
Available Now until 12/31/2023 View Detailed Schedule
Enjoy the holiday season with your favorite feudin' family at the Christmas Disaster!
Customers Who Bought This Also Bought


CALL

SCHEDULE