Dolly Parton's Stampede Dinner Show Pigeon Forge, TN

Location: Dolly Parton's Stampede Dinner Attraction, 3849 Parkway Pigeon Forge, TN 37863
1-800-987-9852
Description
Dolly Parton's Stampede Dinner Show Pigeon Forge, TN Photos (15)
Customer Photos (256)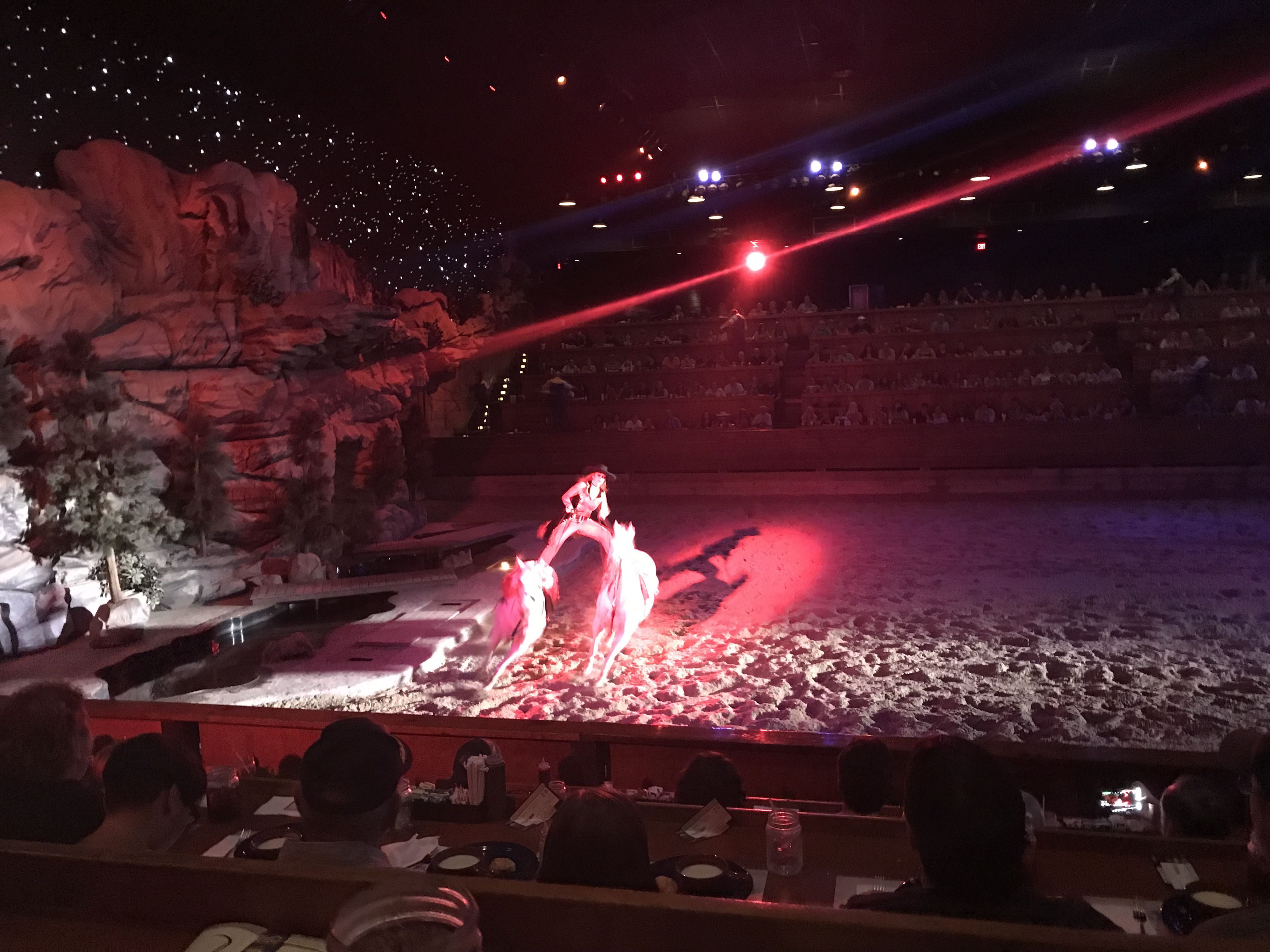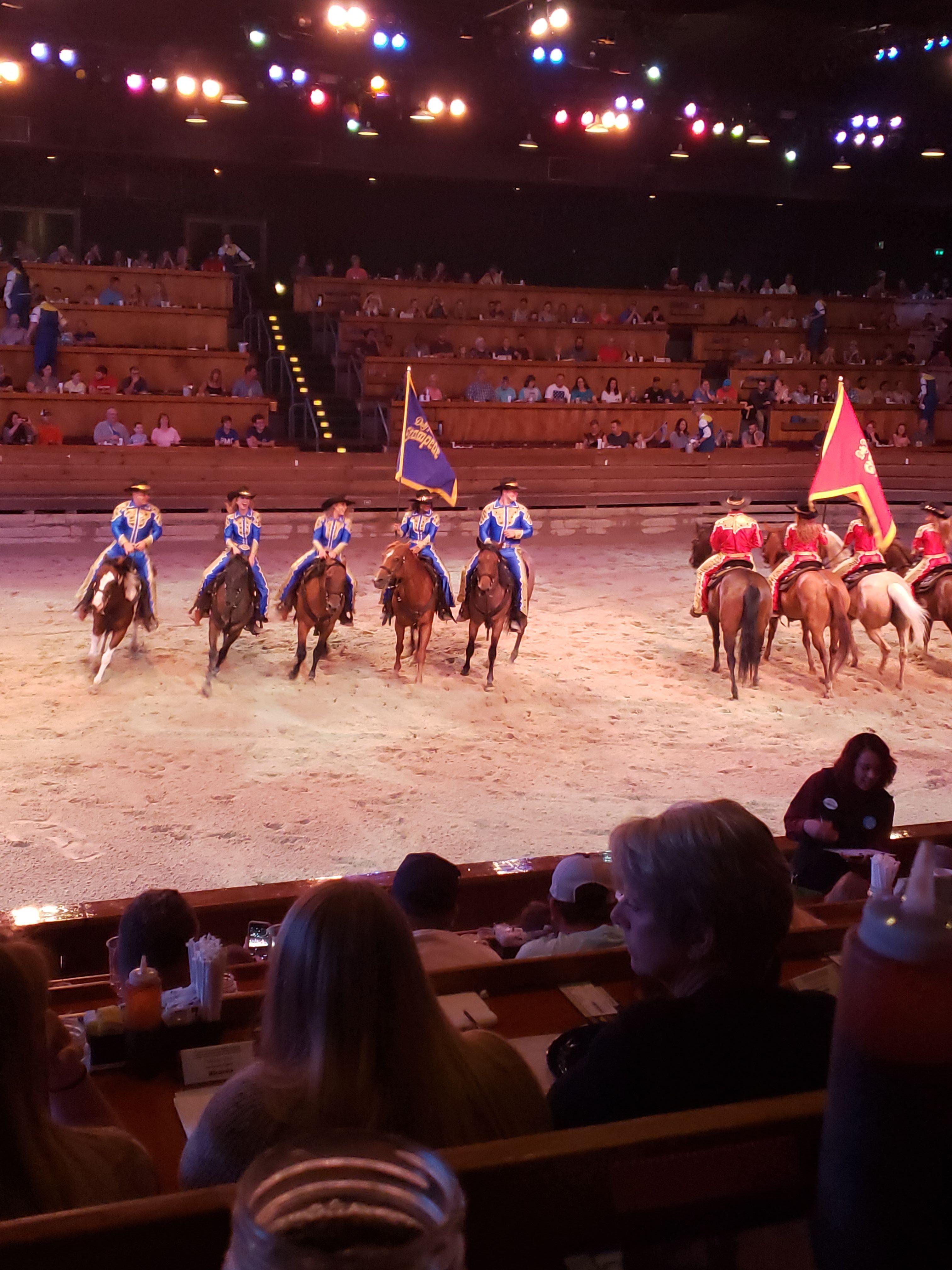 The Dolly Parton's Stampede Dinner show is one of the most beloved and well-known dinner shows in the country. This Smoky Mountain attraction allows visitors of all ages to come out and enjoy some of the best entertainment in the Pigeon Forge / Gatlinburg areas. You are sure to have an amazing time enjoying the thrilling show and enjoying a delicious feast fit for a king, right in this mountain town!
About the Saloon Opening Act Pre-Show
Fifty minutes before the main show, the pre-show offers up awesome entertainment for visitors to enjoy while they wait. The pre-show features the talents of Mountain Ruckus, a famous bluegrass band that is sure to impress. Guests of all ages will have a blast dancing and singing along with some amazing gospel and bluegrass hits from this talented band. The members Gary Davis and Matt Varhola are absolutely amazing, and Gary Davis is the only four-time banjo champ in the entire country. This uplifting and fun pre-show is sure to get you on your feet and ready for the main attraction! Guests will also be able to visit with the beautiful open-air stables to see the gorgeous Quarter horse and Palomino breed horses that are used in the shows. Guests can also choose to purchase refreshments and snacks like popcorn and nachos. Make sure you save room for the main courses though, because there is tons of food!
About the Main Show
The main show itself is one of the most thrilling experiences offered in the area. Here, guests will be treated to an evening of thrilling fun in the main arena featuring some of the most beloved performers. Guests will be able to enjoy the comedy of the side-splittingly hilarious Skeeter & Nugget who bring an array of family-friendly comedy that is sure to impress and have guests rolling around with laughter. During the show, guests will also be thrilled with the beautiful horses that star in the magnificent show, displaying trick riding and amazing feats to all who watch. Of course, you will be able to enjoy the show with awesome special effects such as a state of the art sound and light system as well as thrilling pyrotechnics that light up the stage.
Enjoy this fun and friendly competition between the North and South riders during this unforgettable adventure! Of course, this competition is all backed by an amazing music soundtrack from the Queen of Country herself - Dolly Parton - as guests are amazed with trick after trick and thrill after thrill. At the end, guests will be treated to an amazing patriotic celebration called "Color Me America" which pays homage to the Red, White, and Blue in a huge, dazzling grand finale. The show and dinner portion of this experience lasts approximately two hours, and guests can arrive 50 minutes early to catch the Mountain Ruckus pre-show in the Saloon Opening Act area. Be sure to stick around after the show to meet with the trick riders and performers or get your picture taken. Do not forget to purchase a fun souvenir from the gift shop!
About the Four-Course Meal
Of course, while you eat you will be treated to a mouthwatering meal (included in your ticket price) that is sure to leave every set of taste buds satisfied. This delicious southern-style meal features a hefty array of food. This meal features a mouthwatering tender whole rotisserie chicken, delicious hickory smoked barbecued pork loin, Dolly's original creamy vegetable soup, a scrumptious homemade biscuit, hot buttered corn on the cob, a tasty herb-basted potato, and the Stampede's special dessert. Each meal comes with unlimited Coke products, tea or coffee. There are also vegetarian and gluten-free options. The vegetarian option features a country garden vegetable pasta and the gluten-free menu features everything on the main menu except the biscuit and substitutes the specialty dessert for a gluten free cookie. No matter what sort of dietary needs you have, you will leave satisfied.
About the Theater
The Dolly Parton's Stampede Theater is an immaculate performance venue that is able to house this stunning performance. As well as offering comfortable seating, the theater features a gorgeous arena utilizing everything from state-of-the-art sound and light system to pyrotechnics and a huge LED video wall. The arena spans an astounding 32,000 square feet. The theater is completely handicapped accessible and can accommodate guests with varying special needs. It also features free parking and houses the gorgeous horses with onsite open-air stables. This theater truly has everything! Of course, there is also the Branson MO location which is just as wonderful, so do not miss out on the opportunity to see its sister show in the Ozark Mountain region. The company that owns Dolly Parton's Stampede is also responsible for other beloved shows including Pirates Voyage. They know how to bring you memorable entertainment!
The Dolly Parton's Stampede show is a beloved theatrical experience and for good reason. With an amazing array of music, fun, comedy, and trick riding thrills, guests of all ages can enjoy their time. See this thrilling show and enjoy a delicious four-course meal for an unforgettable evening in Gatlinburg / Pigeon Forge, TN. With so many things to do in the area, will have a vacation you will always remember!
Frequently Asked Questions for Dolly Parton's Stampede Dinner Show Pigeon Forge, TN:
What is included in the admission price for Dolly Parton's Stampede Dinner Show Pigeon Forge, TN?

Admission includes pre-show entertainment, a four-course dinner, and the main show.

Approximately how long is the Dolly Parton's Stampede Dinner Show Pigeon Forge, TN?

The dinner and main show last approximately 2 hours.

In what theater is the show held?

The show is held at Dolly Parton's Stampede Theater.

Is there a pre-show before the main show? If so, what are some details?

Yes. The Mountain Ruckus show is held at the Saloon Opening Act area and features awesome bluegrass music.

Do the performers of the Dolly Parton's Stampede Dinner Show Pigeon Forge, TN sign autographs and meet the audience after the show?

Yes. Before and after the show, guests can meet and greet the trick riders and animals.

What is the length of intermission at Dolly Parton's Stampede Dinner Show Pigeon Forge, TN?

There is no intermission, but there is a 15-minute break between the pre-show and the main show.

What type of parking do you have?

Parking is free.
Reviews
4.7 |
1201 reviews
Madeline Anderson
TN
✓
Verified Traveler
"Dolly never disappoints"
Dolly never disappoints - a quality show with singing, comedy, horse back riding and even audience participation when the north competes against the south! A patriotic ending that will bring tears to your eyes, and add to that an overly generous meal that you eat without utensils, but receive a wonderfully hot towel for cleaning your hands at the end. After the show the riders avail themselves for photos and autographs which the children particularly enjoy.
Kaye Schloemer
MS
✓
Verified Traveler
"It was great fun!"
It was great fun! The show was delightful and the multi-talented cast wowed us throughout with music, dance, stunt-riding, roping, racing, friendly competition and humor. Our almost ten-age granddaughter loved it! The servers were a well-oiled machine with precision timing, and super hospitality. Careful attention was paid to every detail. We had a peanut/tree nut/soy allergy and they had an option for that. In fact, they have about 6 menu options for special diets. There is waaaaay too much food, so come hungry. We did, and still had to ask for take out boxes. It was a most carefree, entertaining evening!
Tracy Randolph
OH
✓
Verified Traveler
"Loved the show, dinner, and preformers"
Loved the show, dinner, and performers.....Website for purchasing tickets, quick, easy, and applied coupons....Staff at ticket pickup, friendly, helpful, and courteous.....Overall wonderful experience, would recommend all three!!!
Brenda Craft
Pulaski, MS - Mississippi
✓
Verified Traveler
"Thanks for helping us make memories!!!!"
We were on our honeymoon and i have been to the dixie stampede several times, but my husband had never been......Nor had he ever been to pigeon forge or gatlinburg. He loved it? He said we will be back! Thanks for helping us make memories!!!!
Tip: Yes, go looking for a great time for it awaits you there....Also thank you to all the staff of vacations made easy.
Book Now!