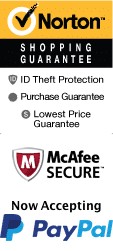 SIX Branson
Location: Dick Clark's American Bandstand Theater, 1600 W 76 Country Blvd Branson, MO 65616
1-800-987-9852
Chat Now
See the amazing talents of this a cappella group of brothers at this inspiring music show, where every sound you hear comes from the mouths of the performers. The sounds of instruments (drums, bass, and others) and beautiful harmonies coming from the talented vocalists creating a cappella versions of timeless songs. Considered an 'orchestra of human voices' and 'this is an awe-inspiring show that you won't want to miss while in the Ozarks.
Hear music of all gemres! The fabulous dance numbers will have you clapping, smiling, dancing, and singing along. This show seamlessly combines powerhouse vocals, high-energy performers, and family-friendly humor— you'll be wishing it never ends!
The History of SIX Branson MO
SIX is made up of brothers (the oldest of ten) who each have a natural gift for music. The brothers started by singing gospel music at their church before starting to create their own melodies and perform at community events and talent contests. Once they started becoming popular, SIX made their television debut on the Donnie and Marie show in 1978. The group did make a move out to Southern California to chase their dreams and while they did struggle for a while attempting to live off street performances, they eventually started landing steady gigs to perfect their sound. Since 1995, performing has been SIX's full-time career. This dynamic group took their love for music and created a home here in Branson, MO.
Awards & Accolades:
Harmony Sweepstakes - 1990
Several CASA (Contemporary A Cappella Society) Awards
'Best Show' - Branson
'Entertainers of the Year' - Branson
'Vocal Group of the Year' - Branson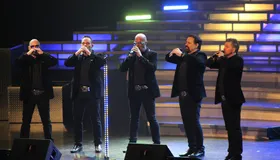 Meet the Performers

Barry Knudsen

: The oldest brother. Known for his falsetto and rich mid-range. Distinctive mouth made horn.
Lynn Knudsen

: The third-born brother. His rich vocals create authentic impersonations of artists such as Frank Sinatra and Louis Armstrong.
Jak Knudsen

: The fourth son, also known as 'Bass Man'. Provides all the rhythmic bass.
Owen Knudsen:

The fifth oldest son. Has an incredible vocal drum complete with spot-on rhythm and a baritone voice.
Curtis Knudsen

: The youngest of the performing brothers. Creates an amazing vocal electric guitar paired with his tenor vocals.
From their premiere performance on the Donny & Marie Show to their fantastic shows in Branson, these brothers have been very successful at entertaining crowds. Come see SIX and let the Knudsen brothers (Barry, Lynn, Jak, Owen, and Curtis) entertain you with their amazing voices and impeccable stage presence. You will have a night not easily forgotten when you experience the talented vocals of SIX.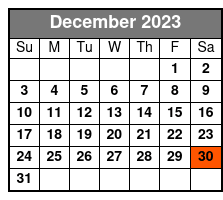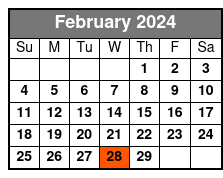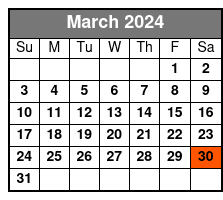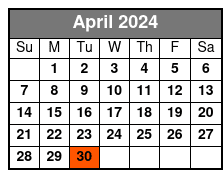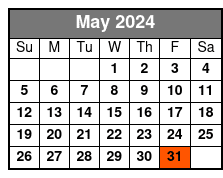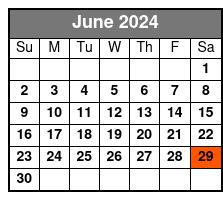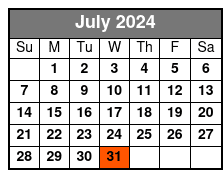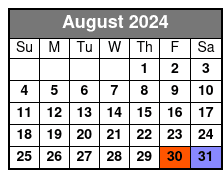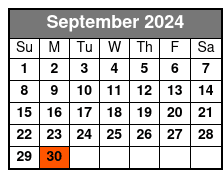 Options:
SIX Christmas Show
Available Now until 12/27/2025 View Detailed Schedule
Create brand new Christmas traditions this year with SIX! Featuring a troupe of talented siblings, the holiday-themed endeavor features their classic harmonies and unique musical styling. Each show is sure to be a blast with entirely new levels of entertainment! Sit back and get into the Christmas spirit with the beautiful harmonies, percussion beats, and more - all with your favorite Christmas classics!
Reviews

Anastacia Paver
Temecula, CA
✓
Verified Traveler
Show was awesome! Me and my son were traveling cross country to fort mill, sc as final destination with my dad. My dad made sure we stopped in branson, and i am sure glad he did! Enjoyed the city and most importantly we all had a good time at the show. Very impressive with what they can do with their voices. My 8 year old son has been watching the dvd ever since, and trying to make the same noises with his mouth. Will return again!

The LeMay Family
Pauls Valley, Oklahoma
✓
Verified Traveler
"absolutely loved the show"
My husband, son and i saw six for the first time in 2007 and we absolutely loved the show, the brothers, and the wonderful witness you gave about your loving christian mother. Such an awesome talent you have all been blessed with and a performance for all to see. Once again, branson has pulled in a true family of entertainers with an entire show that is funny, entertaining, and clean. We appreciate your willingness to bring family shows at a reasonable price. Dinner was not an option when we saw you the first time, so we hope to enjoy that and the show at a future date.

Pam Emons
Nebraska City, NE
✓
Verified Traveler
We just returned from a bus trip to branson after spending 3 days, 2 nights and seeing 5 different shows. I can tell you right now that the best show by far was six. The show was fabulous and the brothers were the greatest. They even came out to see out limousine bus and visited with our group. We will be telling every one how wonderful we were treated as well as seeing a wonderful show. I bought their 3 cd's and hope they come out with more.

Joni
Amarillo, Texas
✓
Verified Traveler
"highly recommend going to see them."
We saw six this summer and i have to say it is the best show we've ever seen! They are amazing entertainers and i highly recommend going to see them. Their talent is absolutely awesome!! I've never seen anything like it. They are also funny, wholesome and hip. It is my all time favorite show and i hope to see them again. Their cd's are wonderful too! They are so unique and so fun to watch!! I want everyone i know to see them!
Frequently Asked Questions for SIX Branson:
Approximately how long is it?

It is approximately 2 hours.

In what theater is it held?

It is held at Dick Clark's American Bandstand Theater.

Do the performers sign autographs and meet the audience afterwards?

Yes. After, guests can meet and greet with SIX in the theater lobby.

What is the length of intermission?

Intermission lasts approximately 15 minutes.

What type of parking do you have?

Parking is free.

What is the dress code?

Dress code is casual.
Book Now!