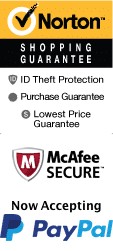 Dailey and Vincent All American Music Tour
Location: The Mansion Theatre, 189 Expressway Lane Branson , MO 65616
Dailey and Vincent All American Music Tour has finished its 2021 dates, it is unknown at this time if it will return in 2022.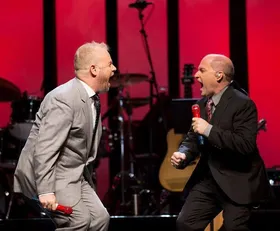 Sing, clap, and laugh along with Jamie Dailey and Darrin Vincent as they entertain you with their exciting musical variety show! The duo has been recognized by country, bluegrass, and gospel critics nationwide, delivering precision, clarity, and soul in every performance.
The duo has released 4 award-winning albums, and have given their lives to their music with charisma and focus that gives an entirely new performance each night they take the stage. Hear Dailey and Vincent and their exquisitely talented band members as they play their hearts out and give you a show to remember!
Listen to the duo perform hits like 'Brothers of the Highway' and 'Steel Drivin' Man' and hear their expertly arranged vocals taken from years of singing together before forming their partnership. Dailey and Vincent play nearly a hundred sold out shows every year and have a strong following of fans, you'll want to see them perform over and over again!
About Jamie Dailey
Dailey traveled all over Tennessee and Kentucky performing with his family. In 1998 he became into the national spotlight as lead, baritone, and tenor of Doyle Lawson & Quicksilver. From there, he went as far as recording with country legend Dolly Parton, as well as five appearances on Gaither Homecoming DVDs and tons of appearances on other artists' albums such as Ricky Skaggs' Grammy-winning album 'Brand New Strings.'
About Darrin Vincent
Vincent was the age of six when he joined his families band, The Sally Mountain Show. He was a member for more than 10 years with Ricky Skaggs and Kentucky Thunder where he was awarded five Grammy Awards and eight IBMA Awards for Instrumental Group of the Year. He has shared the stage with many stars such as Vince Gill, Nora Jones, and the legend Dolly Parton.
Reviews

Vernon Neumueller
Garden Prairie, IL
✓
Verified Traveler
"It was a wonderful show!"
It was a wonderful show! Glad we were able to see them.

Jack Stephens
Pryor, OK
✓
Verified Traveler
Outstanding show with fantastic featured musicians.
Tip: Arrive early.

Allen Elliott
Choctaw, OK
✓
Verified Traveler

Peter Peterson
Fayetville, AR
✓
Verified Traveler
"..these guys are always great!"
Great show, these guys are always great!
Frequently Asked Questions for Dailey and Vincent All American Music Tour:
Approximately how long is the Dailey and Vincent All American Music Tour?

The show lasts approximately 2 hours.

In what theater is the show held?

The show is held at The Mansion Theatre for the Performing Arts.

What type of parking do you have?

Parking is free.

What is the dress code?

Dress code is casual.