YOUR PEACE OF MIND IS OUR TOP PRIORITY
Should you need to cancel at any time, you have up to 48 hours from your vacation start date to do so for a 100% future travel credit.
Branson, MO Aquariums & Zoos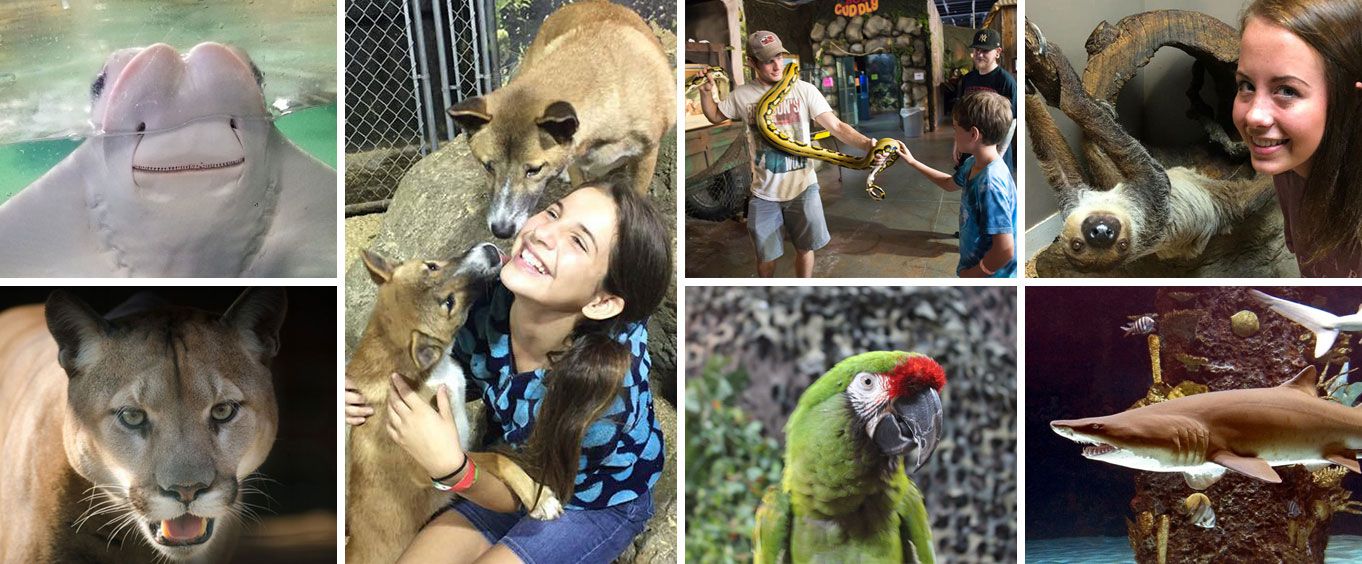 Get close to nature when you visit these aquariums and zoos in Branson, Missouri. Popular attractions include the Butterfly Palace and Rainforest Adventure, which features beautiful butterflies, exotic reptiles, and other incredible creatures.
Read More
Branson's Wild World offers visitors of all ages a one of a kind experience with a variety of exciting activities including an animal adventure, 3-D Adventure Blacklight Miniature Golf, and more! This family adventure is a wonderful way to make memories with your entire family. The Wild World Animal Exhibits include Cute But Not Cuddly and Wolf Woods. Guests can also see animals such as the Tiger Shovelnose catfish, sea turtles, the red-crested turaco bird, mountain lions, fennec foxes, and more. Take a trip to Branson's Wild World to experience escape mini golf, the mummy's curse, and more!
Available 393 days between Now & Dec 31
Nov 03
N/A
Sold Out
Nov 04
N/A
Sold Out
Nov 10
N/A
Sold Out
Nov 11
N/A
Sold Out
Nov 17
N/A
Sold Out
Nov 18
N/A
Sold Out
>
Founded in 2000, the National Tiger Sanctuary is located along highway 65 approximately 10 minutes outside of Branson to the north and approximately 20 minutes to the south of Springfield. The Sanctuary offers visitors a choice of four guided tours, each of which lasts approximately an hour, and starts from the Visitor Center. Each tour features visits to the tiger habitats with information about the individual cats, their health concerns, their diet, their personality, as well as how visitors can help to preserve the species for future generations, and some of the tours give visitors the opportunity to observe the cats enjoying a daily meal. The National Tiger Sanctuary is a one of a kind attraction that is fun for the whole family.
Available 42 days between Now & Dec 31
Oct 31
10:00 AM
12:00 PM
2:00 PM
4:00 PM
Nov 01
10:00 AM
12:00 PM
2:00 PM
4:00 PM
Nov 02
N/A
Sold Out
Nov 03
N/A
Sold Out
Nov 04
10:00 AM
12:00 PM
2:00 PM
4:00 PM
Nov 05
10:00 AM
12:00 PM
2:00 PM
4:00 PM
Nov 06
10:00 AM
12:00 PM
2:00 PM
4:00 PM
Nov 07
10:00 AM
12:00 PM
2:00 PM
4:00 PM
Nov 08
10:00 AM
12:00 PM
2:00 PM
4:00 PM
Nov 09
N/A
Sold Out
Nov 10
N/A
Sold Out
Nov 11
10:00 AM
12:00 PM
2:00 PM
4:00 PM
Nov 12
10:00 AM
12:00 PM
2:00 PM
4:00 PM
Nov 13
10:00 AM
12:00 PM
2:00 PM
4:00 PM
Nov 14
10:00 AM
12:00 PM
2:00 PM
4:00 PM
Nov 15
10:00 AM
12:00 PM
2:00 PM
4:00 PM
Nov 16
N/A
Sold Out
Nov 17
N/A
Sold Out
Nov 18
10:00 AM
12:00 PM
2:00 PM
4:00 PM
Nov 19
10:00 AM
12:00 PM
2:00 PM
4:00 PM
>