Dolly Parton's Stampede Delivers On Promise of Being 'Most Fun Place to Eat!'
Branson, MO and Pigeon Forge, TN. It is also a standing testament to the fact that legends can dream. Dolly Parton, the legend, owner, creator and dreamer of Dolly Parton's Stampede, has spoken often about her dream-come-true. "I wanted to recreate the family fun of my childhood, when we'd gather for a friendly competition then enjoy a more-than-filling meal," said Parton. As anyone who has been there can tell you, her dream has been realized. The 35,000 square foot arena has seen 25 years of laughs and awe-struck crowds, and with 1,100 seats, the place continues to fill up with its many fans in Branson, MO as well as Pigeon Forge, TN.
Dolly Parton's Stampede Dining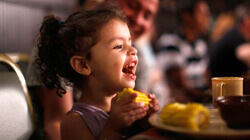 Known for its 'Fabulous Four-Course Feast,' Dolly Parton's Stampede is "Branson's Most Fun Place to Eat!" In peak season, the Stampede performs up to 5 shows daily. That's 5,500 one-pound rotisserie chickens, a thousand pounds of pork tenderloin, hundreds of pounds of fresh cut potatoes, corn on the cob and ten gallons of soup each day. In a year, that's 60 tons of pork, 60 tons of potatoes and 200 tons of rotisserie chicken, all prepared and served fresh. No one leaves Dolly Parton's Stampede hungry.
Reserve Early!