Dolly Parton's Stampede Delivers On Promise of Being 'Most Fun Place to Eat!'
Branson, MO and Pigeon Forge, TN. It is also a standing testament to the fact that legends can dream. Dolly Parton, the legend, owner, creator and dreamer of Dolly Parton's Stampede, has spoken often about her dream-come-true. "I wanted to recreate the family fun of my childhood, when we'd gather for a friendly competition then enjoy a more-than-filling meal," said Parton. As anyone who has been there can tell you, her dream has been realized. The 35,000 square foot arena has seen 25 years of laughs and awe-struck crowds, and with 1,100 seats, the place continues to fill up with its many fans in Branson, MO as well as Pigeon Forge, TN.
Dolly Parton's Stampede Dining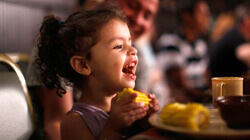 Known for its 'Fabulous Four-Course Feast', Dolly Parton's Stampede is the 'Most Fun Place to Eat'. With such a grand reputation, it is easy to see why the Stampede is the most visited show in the country. In its peak season, the Stampede performs up to five times a day, and each show exemplifies classic entertainment and theatrical wonder. Of course, the mouthwatering four-course meal is also one of the most coveted aspects of the show. Satisfy your appetite with a spread of homestyle food including a whole rotisserie chicken, juicy pork tenderloin, hot buttered corn on the cob, and the Stampede's famous creamy vegetable soup. Top it all off with a decadent specialty dessert!
Reserve Early!