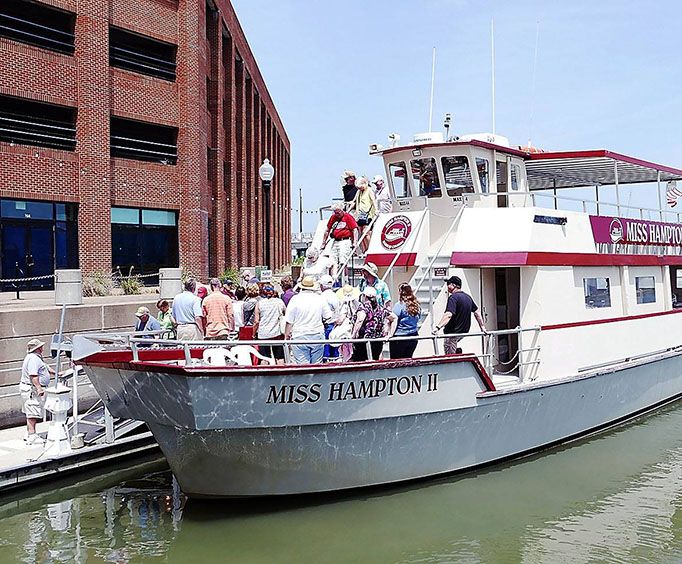 Williamsburg Virginia Weekend Getaway
Explore the city with the Williamsburg Virginia Weekend Getaway, which gives you admission to the Miss Hampton II Harbor Cruise, and admission to the Virginia Musical Museum as well as two nights' cozy lodging.

Create This Package in 3 Easy Steps:
1. Choose Dates & Times for Your Activities
2. Select Your Lodging from Over 26 Hotels
3. Confirm & Checkout
Details

2 Nights' Lodging in your choice of over 26 hotels.

Miss Hampton II Harbor Cruise

Virginia Musical Museum

Prices Starting at:
Ages 19 and Up: $132.00
Ages 13-19: $34.70
Ages 7-12: $23.70
Ages 5-6: $5.00
Ages 0-4: Free
Description
The Miss Hampton II Harbor Cruise is the only tour of the famous Hampton Roads Harbor, where the Battle of Monitor and Merrimac took place. Offering views of the gorgeous Chesapeake Bay, and a stop at the historic Civil War Island, Fort Wool, the cruise gives guests an in-depth look at historic areas and mighty warships of the past, as well as a look at where Blackbeard the pirate's head was allegedly mounted on a post.
The Virginia Musical Museum is the perfect place for those who love music and history all wrapped up into one. Explore iconic and rare instruments and exhibits that detail the history of music and impact that Virginian artists have had on the industry.
Feel the wind through your hair and sit back for a trip away from work and stress. You'll enjoy Williamsburg and its history more than ever, and your two nights' lodging will top off your experience perfectly.