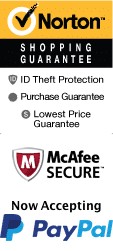 Halloween Activities and Ideas in Williamsburg, Virginia
ORDERING INFORMATION
Book by Phone:
1-800-987-9852
Book Online:
Halloween is a magical time of year in Williamsburg! The area's picturesque countryside and historic buildings set the perfect stage for a fall getaway. If you are going to be in the Williamsburg area this fall, be sure to check out all the activities in the area that bring a great fall feel to your vacation in Williamsburg.
In nearby Surry, Virgina, you will find Chippokes Farm and Forestry Museum. This farm is one of the oldest continually-farmed plantations in the country, and today is home to restored farm buildings from the 1850s, and exhibits and artifacts from farm life almost two centuries ago. Many long years ago, the fall months were harvest season at Chippokes Farm, and during your visit to the farm, you can imagine yourself enjoying the fall harvest just as residents in the area did in the mid 19th century! Admission to the farm is free, and the park is open daily until October 31, 2009.
From the end of September through October 31, 2009, give your family a real thrill at the Howl-O-Scream at Busch Gardens Williamsburg. The thrill rides, restaurants, shops, and live shows take on a uniquely haunting ambiance during Howl-O-Scream. Tour the haunted Italian palace of Masquerage, take a walk through the Wicked Woods, or lose your mind with fright in the haunted maze of Ripper Row. With over 15 frightening scare zones, Halloween-themed shows, and other attractions, Busch Gardens is the place to go for a real fright in Williamsburg!
For the whole month of October, you can take a guided tour of some of the Williamsburg area's most popular haunted plantations and historic houses with the Halloween with Virginia's James River Plantations. Some of the sites you will visit include the Appomattox Manor, Belle Air Plantation, the Flowerdew Hundred Plantation, and others.


The James River Plantation Progressive Ghost Tour takes you on a ghostly journey through the Tidewater and Hampton Roads area. This narrated tour features stories about the Legend of Rippons Run and the Beechwood Tragedy. You will visit the Southall slave grave sites, the Harwood graveyard, and the plantations of Piney Grove, Ashland, Ladysmith, and Duck Church. Tour departures run from through on select dates and times. Please call ahead for exact tour information. The length of the tour is two hours.
Your family will have a memorable Halloween this year when you make plans to enjoy some of the Williamsburg area's festive attractions and activities! Find the best lodging option for you and your family for easy access to all of these wonderful fall adventures.