Tampa Bay, FL Eco Tours

Explore the most delicate and undisturbed ecosystems of Tampa Bay with these eco tours! Make your reservation today for one of these exciting tours!
Eco Tours is an exciting activity for nature lovers and adventure seekers to explore the beautiful ecosystem of Tampa Bay. Led by experienced guides, visitors embark on a relaxing boat ride through the mangrove tunnels, spotting dolphins, manatees, and diverse bird species while learning about the area's unique environment. The tour also includes a stop at a secluded island, where guests can shell hunt or simply relax on the beach. It's an unforgettable experience for all ages.
Eco Tours' Barrier Island Beach Day on the Gulf of Mexico experience is a must-do for nature enthusiasts visiting Tampa Bay. Board a boat for a scenic cruise to a pristine, uninhabited barrier island where you can relax on the white sand beach, swim in the clear Gulf waters, and look for shells and marine life. The tour includes lunch, beach chairs, and umbrellas, making it a hassle-free and enjoyable day trip for all ages. So pack your sunscreen and get ready for a day of sun, sand, and sea.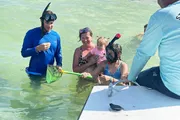 Eco Tours' 3-hour private eco activity in St. Petersburg is an ideal way to explore Florida's natural beauty with family and friends. This guided tour takes you through the serene waters of Tampa Bay, offering the perfect opportunity to spot dolphins, manatees, and sea turtles in their natural habitat. The tour also features a stop at a pristine beach, where you can collect unique shells and witness spectacular views of the Sunshine Skyway Bridge. With an expert guide and a personalized itinerary, this private eco activity ensures a memorable experience.