San Antonio, TX Winery Tours
Enjoy the fine taste of wine with a variety of tours that take you to the finest vineyards in Texas. Book your reservations for any of the Winery Tours online and enjoy the extra perks with a firsthand vineyard visit.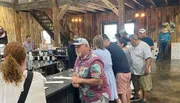 Winery Tours offer a Taste of Fredericksburg Wine Tour from San Antonio that is an unforgettable experience for wine enthusiasts. You will visit three wineries in the picturesque region of Fredericksburg and taste some of the finest wines renowned in Texas. An expert guide takes you to the gorgeous vineyards, telling you the stories about the wineries and the wine-making process. The tour includes door-to-door transportation, snacks, and a chance to witness the beauty of Texas's wine country.
San Antonio Winery, founded in 1881 by a German immigrant, is the oldest family-owned winery in Texas. The vineyard was a small farm back then – but over the years, it has grown into one of the top 12 family-owned wineries in America. You'll have an amazing time on this winery tour! Embark upon the San Antonio Winery Bus Tour with Lunch to learn all about various wineries that make up the local winery scene in Alamo City. On this 7 - 8 hour excursion, visitors will travel to places like Fredericksburg, Luckenbach, and more. There are plenty of tour options to choose from, each offering wine samples to help you appreciate the wine-making scene of San Antonio. Book this today and savor the tastes and flavors of Alamo City in a fun new way!